News
Roberts - Wiebe Team Takes Lead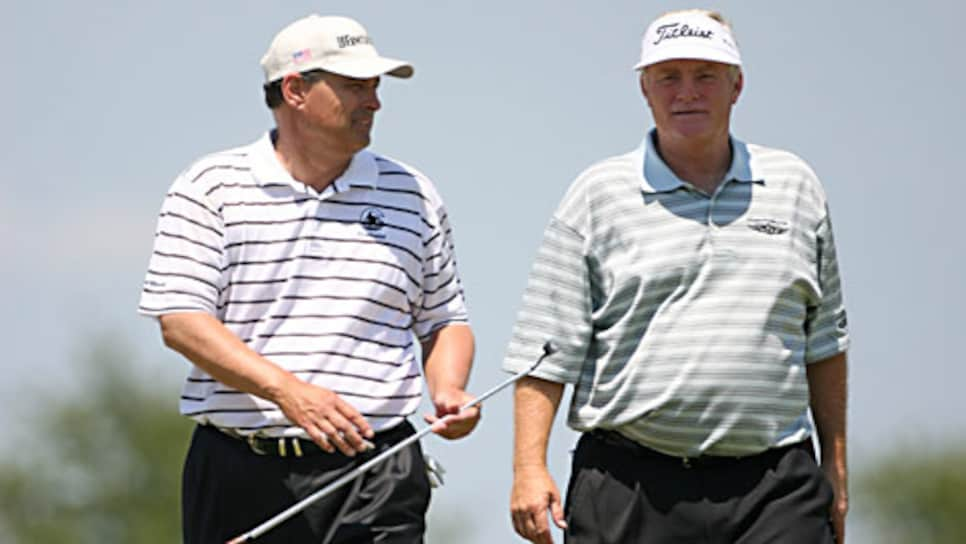 Roberts (right) and Wiebe led Saturday's assault with nine birdies and an eagle.
SAVANNAH, Ga. (AP) -- The birdie-fest continued under near perfect conditions at the Liberty Mutual Legends of Golf, with a few eagles and the event's first double-eagle tossed in Saturday.
Loren Roberts and Mark Wiebe reeled off five birdies and an eagle over the final nine holes for a better-ball 61 and 125 total, a stroke ahead of John Cook and Joey Sindelar (63) at The Club at Savannah Harbor.
First-round co-leaders Bernhard Langer and Tom Lehman (66) were tied for third with Mark O'Meara and Nick Price (64) at 127 on the island course in the middle of the Savannah River.
The leaders finished with birdies on the final two holes, Wiebe from 25 feet on the 17th, Roberts with a 30-footer on the 18th for the final margin.
"I think the real key to our round was the finish we had," Roberts said.
Wiebe had the eagle on the par-5 11th, hitting what he called "a soft 3-wood" from 250 yards to within 30 feet, then sinking the putt.
"My caddy kept saying, 'Keep your foot on the peddle,'" Wiebe recalled. "I said, 'Don't worry about it.' That's really all you can do in this format."
The Legends division of the tournament, an individual affair since 2002, switched back to team play last year and declared the earnings would be official money in the annual rankings. As a result, partners helping one another read greens and birdies are almost a must.
"It's too easy to get down out here if you're not making birdies," Sindelar said. "But, you can't do that. You've got to keep banging through it until you make another birdie."
Cook and Sindelar, who played together in college at Ohio State and helped the Buckeyes win the 1979 NCAA championship, ran off five birdies on Nos. 7-11.
"Every team goes through a stretch of 45 minutes or so when they don't make any birdies," Sindelar said. "I call that 'lunch hour.' But we had a good lunch hour today. We made five birdies instead."
The fun-loving duo of Fuzzy Zoeller and John Jacobs (67), who shared the first-round lead, somehow managed to make two bogies, slipping to 16-under 128.
Des Smyth and Mark James (62), playing the back nine first, reeled off six birdies and an eagle for an 8-under 28 on their first nine holes. They were in a large group that included defending champions Tom Watson and Andy North (64) tied at 14-under 130.
Jay Haas, using a 3-wood from 272 yards, holed it for a double-eagle on the par-5 11th. It was the first double-eagle in the history of the tournament. He and Ben Crenshaw (63) also were at 14-under.
Gary Koch and Roger Maltbie (64), who spend more time describing golf on TV than playing these days, won the two-day Raphael division with a 16-under 116, two strokes better than Lee Trevino and Mike Hill (66). Earlier in the week, Bob Charles and Gary Player teamed to win the two-day Demaret division for players 70 or older.
Notes: Since teaming up in 2005, Watson and North are a combined 95 under par after 11 rounds in the tournament. North's caddy this week is three-time Pulitzer Prize-winning writer Tom Friedman. ... Roberts was scheduled to play with Scott Simpson, with whom he finished T-11 last year. He hooked up with Wiebe after Simpson injured a wrist in an auto accident in January.