News
Langer-Lehman Team Shares Lead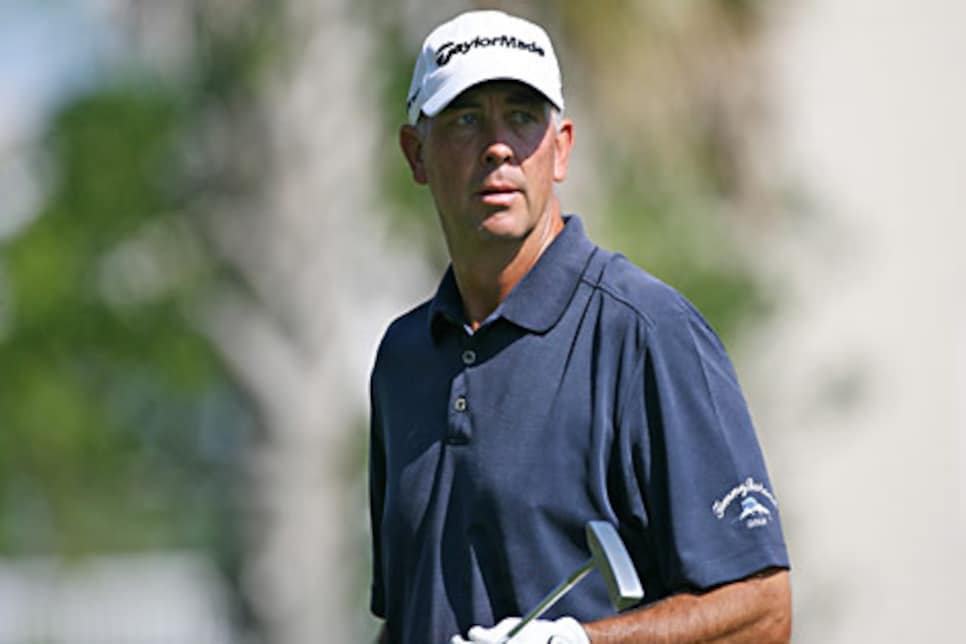 With slow greens and low rough, Lehman couldn't ask for better conditions for his debut on the senior circuit.
SAVANNAH, Ga. (AP) -- Tom Lehman's debut on the Champions Tour got off to a promising start, with some help from teammate Bernhard Langer.
They were tied for the lead at 11-under with Fuzzy Zoeller and John Jacobs after Friday's first round of the Liberty Mutual Legends of Golf.
Both teams shot a combined 61 in the better-ball event and led by a stroke at The Club at Savannah Harbor, an island course in the middle of the Savannah River.
Sandy Lyle and Ian Woosnam were at 10-under 62.
Mark O'Meara and Nick Price (63) were tied with John Cook-Joey Sindelar and Jeff Sluman-Craig Stadler under near perfect conditions.
"It's a great event to kind of break into the tour with," said Lehman, who became eligible for the senior circuit when he turned 50 in March.
Langer, the Champions Tour money leader with six top-10 finishes in seven events, holed his approach for an eagle at the par-4 ninth as he and Lehman made the turn at 7-under 29.
"I thought, 'If I catch it solid, it shouldn't be too far away (from the pin).' From the reaction of the crowd, I thought it might have lipped out," Langer said. "But, when we got there, it was in the cup."
Lehman hit a 4-iron to within 3 feet at the par-3 17th for the team's final birdie.
"It was a pretty stress-free round," Lehman said.
The second round promised to be more of the same, especially paired with the fun-loving Zoeller and Jacobs, both of whom sipped vodka and tonics during their post-round media session.
"Oh, I imagine Langer and Lehman will probably be intimidated," Zoeller said with his throaty laugh. "They probably won't sleep tonight. But, they'll just have to deal with it."
Lyle and Woosnam had one tense moment when both left their tee shots on the front edge of the par-3 eighth, where the pin was up on the back.
"That putt had to be at least 28 yards," Lyle said. "It took about 30 seconds to get there. I thought, 'Oh, God, it's not going to get there.' That could have been a bogey situation, but instead it was a birdie."
The whole day was one big birdie-fest under hear perfect conditions with little or no wind on the well-groomed course which has few trees and mild rough.
Price, who broke through for his first win on the senior circuit last week in Florida, said it would probably take 30-under or better to win this better-ball team event.
"It's hard to chase out there," Price said. "If you shoot a (team) 67, you might have to shoot a 59 or 58 to get back in it."
Chase is what defending champions Tom Watson and Andy North will have to do after an opening round of 6-under 66. They are capable, however. Watson and North have never bogeyed a hole in Legends competition.
They shot a better-ball 59 in the opening round last year and led wire-to-wire against another star-studded field.
Many fans followed Greg Norman, playing this event for the first time, and partner Keith Fergus; they were at 66.
The Legends Division of the tournament, an individual affair since 2002, switched back to team play last year and declared the earnings would be official money in the annual rankings. Watson and North moved up and won in 2008. It was their fourth straight team win; they won the Raphael Division the preceding three years.
Notes: The team of Watson and North might be the only one in the history of golf to own 10 major championships and three Pulitzer prizes. New York Times columnist Tom Friedman, who owns the Pulitzers, caddied for North. They became friends because both help raise money for ALS research. ... This was Liberty Mutual's 30th anniversary as title sponsor. ... The Legends of Golf was first played in 1978 at Onion Creek Country Club in Austin, Texas, and is considered the event that launched the Senior PGA Tour, now called the Champions Tour. The tournament was played in four different cities and on eight different courses before coming to Savannah in 2003.