News
Lexi Thompson's not over the infamous call-in ruling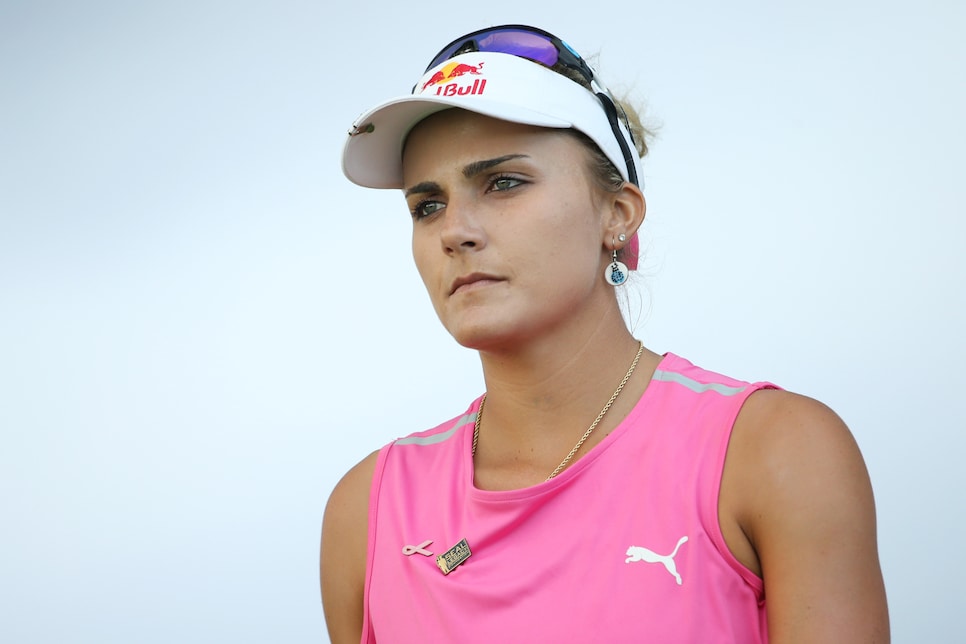 IRVING, Texas — In her first public remarks since a rules flap that cost her another major, Lexi Thompson said once again that she had no intention of moving her ball three weeks ago at the ANA Inspiration. She relived the moment she received the four-stroke penalty and the emotion of losing what would have been a major championship throughout the press conference, an experience that moved her to tears.
"I've always played by the rules of golf," Thompson said Wednesday at the Volunteers of America Texas Shootout. "There was no need for me to improve anything. Those greens were absolutely perfect and the whole week there was nothing in my line to be moving it from anything. So I have no reason behind it. I did not mean it at all."
When looking at the video, rules officials saw enough movement from the original position and where Thompson put it down after she marked it to give her the penalty. The ball was put an estimated inch away from its original position, enough to wonder if Thompson even realized what she'd done.
When talking through her process of marking and replacing her ball that day, Thompson said she initially marked the ball instead of tapping it in because she was upset with her first putt.
"I was pretty mad after my first putt because I put a terrible stroke on it," Thompson said. "My dad always told me I've missed a lot of putts by just going up and tapping them in."
She marked it and picked up the ball.
"I mark my ball with a dot and that's where I focus my eyes on where I want to make contact. So when I went to mark it, I just rotated my ball to line up my dot to where my putter would make contact."
It's not conclusive, but it's the closest thing to an explanation we've heard as to why the ball ended up in a position different from where it started.
As for the rules change limiting the use of video in rules decisions that has come down in the wake of the incident, Thompson says that she hasn't talked it over with any rules officials and doesn't know the specifics.
"Any rule to make the game more simple is great for golf," said Thompson.
Thompson has appreciated the support she's received from fans, family, friends and other professional players. But the wound was still very much fresh. Thompson broke down and cried as she spoke about the missed opportunity to win the major.
"That's one of my favorite tournaments," said Thompson. "It's always a dream of mine to see myself jumping into Poppie's Pond, and I worked my whole life to have my name on major champ trophies, especially that one with the history behind it. I played amazing that week. I don't think I've ever played any better. For that to happen, it was kind of a nightmare."