News
Lexi Thompson's major season can come full circle at the Evian Championship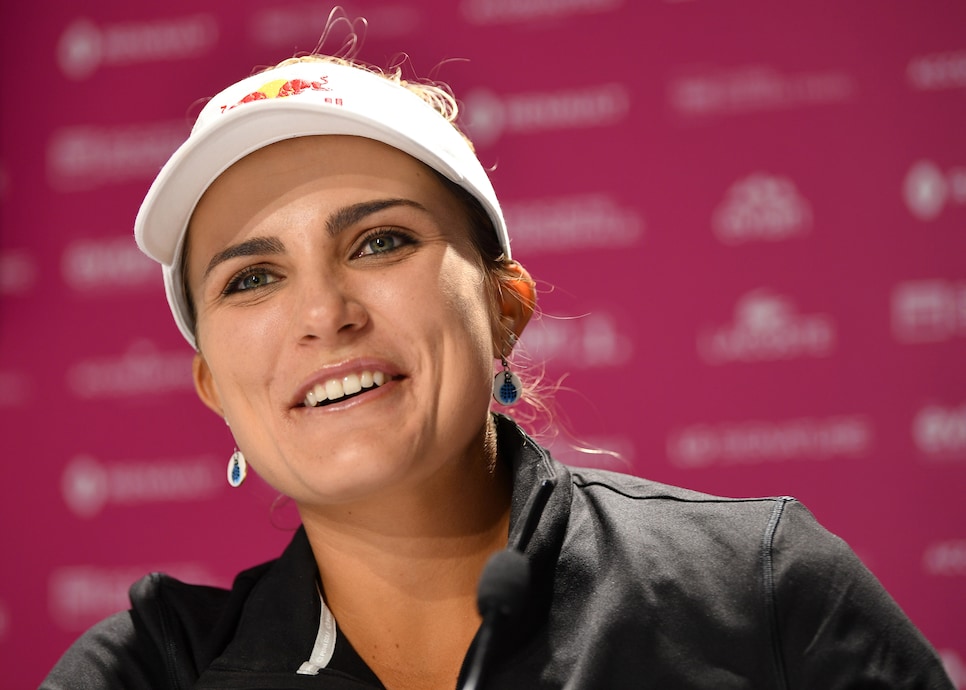 Photo By: Stuart Franklin/Getty Images
There have been 19 different winners in 25 LPGA tournaments this season, and a different player—So-Yeon Ryu, Danielle Kang, Sung-Hyun Park and In-Kyung Kim—has won each major. You'd be on safe ground, then, to say that this week's the Evian Championship, the LPGA's final major of 2017, is anyone's tournament.
So why then does it also feel like it's Lexi Thompson's to lose?
A victory at last week's Indy Women in Tech Championship was the 22-year-old Florida native's second title of the season, to go with nine top-five finishes 17 starts. She's the only American to win more than once on the LPGA in 2017, and as she is set to tee it up at the Evian Resort Golf Club, she's ranked No.1 in greens in regulation, No. 3 in driving, No. 1 in scoring average, No. 1 in the Race to the CME Globe and No. 2 in the world, with the chance to leap to No. 1 depending on her finish in France.
With her impressive play has come a renewed swagger for the nine-time LPGA winner. Throughout this season, Thompson has specifically said she's playing some of the best golf of her life, and you can tell it's not just a line, but something she truly believes. You can see it in the way she carries herself, the way she approaches tournaments knowing she's capable of winning each one she plays. It's intimidating.
So where has this come from? The obvious answer may the most accurate one: The disappointment of the loss at the ANA Inspiration has fueled a new found determination.
Recall that at the first major of the year, Thompson was cruising to what most thought would be a comfortable win when she was assessed a four-stroke penalty on the back nine of the final round at Mission Hills for a rules violation brought to the LPGA's attention by a fan watching the competition on TV. Thompson went from two strokes in the lead to two behind in an instant, rallied to birdie two of the next three holes and force a playoff, but ultimately lost to Ryu in heartbreaking fashion.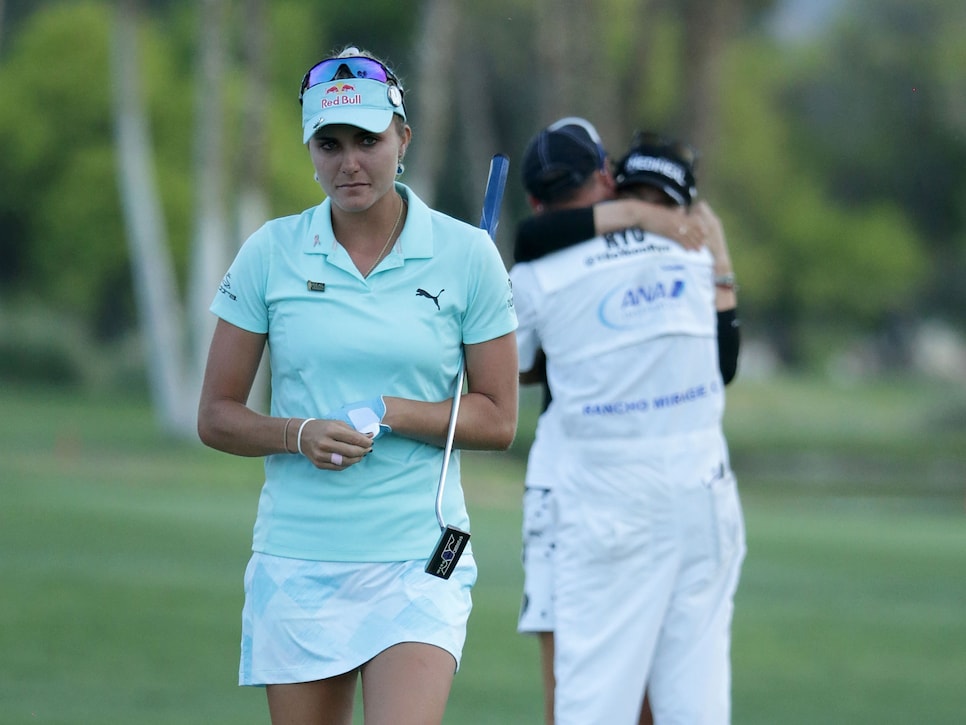 There were a lot of tears that day, understandably. The next time she spoke about the ruling was at a press conference three weeks later at the Volunteers of America Texas Shootout. It was again an emotional moment. She reiterated that she never intended to break the rules.
"Just for that to happen, it was just—it was kind of a nightmare," said Thompson.
Yet that was the last time she talked about the incident in public. Whether emotionally she has truly put the incident behind her—or still hasn't—is unclear, but there was no more need to relive it.
Unfortunately, the season has had more emotional hardship for Thompson. In June, she revealed that her mom, Judy, was undergoing treatment for cancer, a situation that put her on-course issues into a different context.
"She's always been a role model of mine," Thompson said while playing at the KPMG Women's PGA Championship. "I always aspire to be the woman—half the woman that she is. She just says: 'No matter what, I love you, just go out, do your best, that's all you can do.' That's her message every week and that's why I absolutely love her."
Four months later, Judy is doing well and has been out on the course following her daughter as she competes.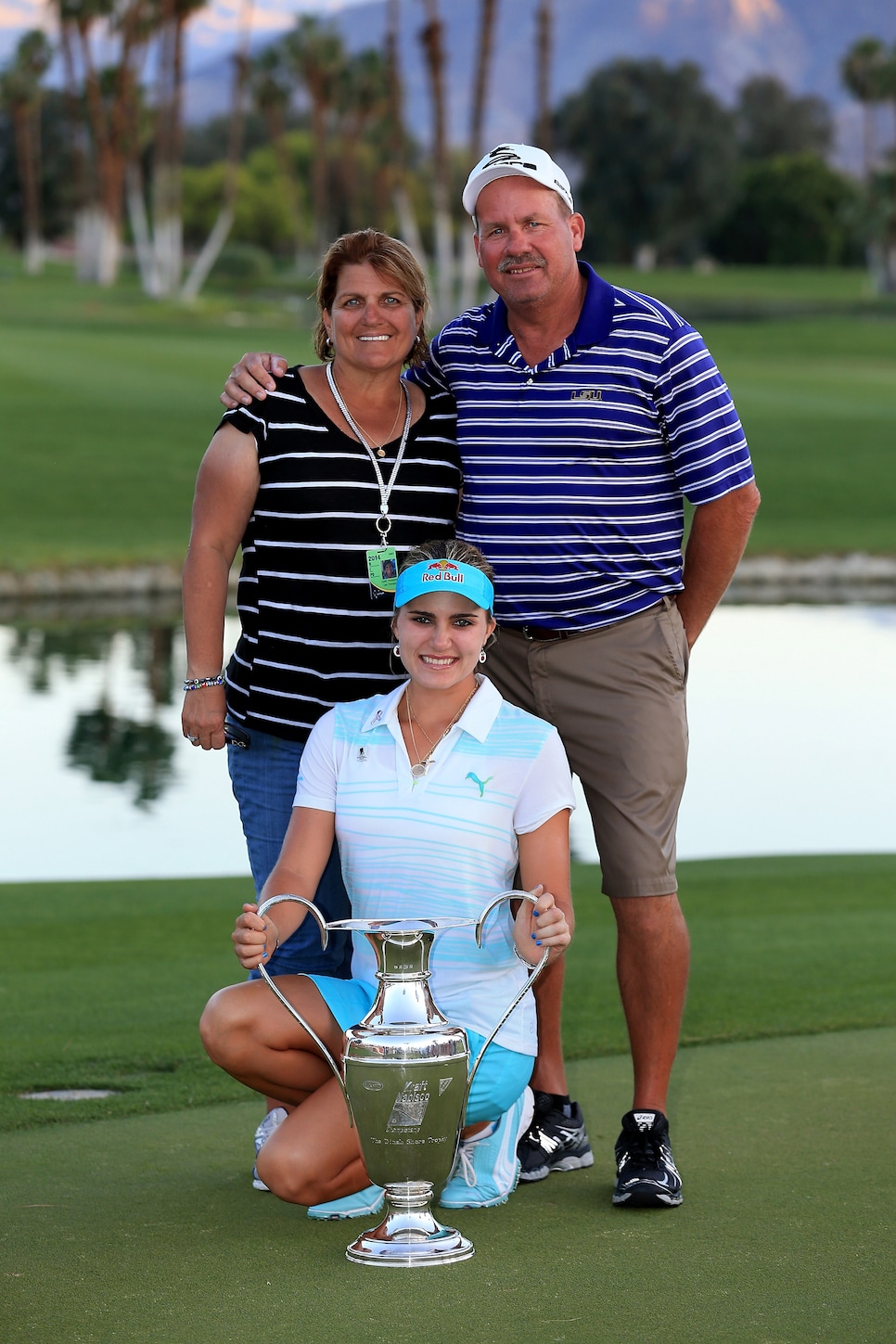 David Cannon/Getty Images
Dealing with something like that changes a person. Especially when you're young, it makes you grow up. And as a lot of successful professional golfers will tell you, a little bit of maturity can go a long way on the golf course.
"I think a lot of these things have given her perspective," Cristie Kerr said at the U.S. Women's Open in July. "That's what happens when you get older. You go through things or family members go through things or you become a parent. You don't want to have bad things happen, but all those things are little pebbles that you collect and you put into your pocket and they give you different perspective on life. … She's getting to that point now where she's starting to collect those rocks and putting them in her pocket and those memories and those life-perspective changing events that makes golf not seem such a big deal. So, I think that's why she's starting to play better consistently."
While on-course maturity is a huge asset, there are a few other factors you can point to as well for Thompson's improvement. Specifically, she's changed her caddie, bringing on veteran Kevin McAlpine, and her putting stroke, working with Kevin Kirk, whom she connected with at the end of 2016.
"Back in November, she was at the end of her year and frustrated with the direction things were going," said Kirk, who teaches out of The Woodlands in Texas. "So I went down there to help see if we could clear her head up a bit. There were a couple technical things she was confused about and why she wasn't getting more out of her game. Several things about here game were quite good—but she was unclear as to how to get more out of her scores. We spent three days in Florida going through everything. We talked about her physicality, her equipment, how she generates her scores."   Indeed, putting is a statistical sore spot for Thompson, who still ranks just 50th on the LPGA in the category. But it wasn't the only thing to blame.
"The pressure on her putting was coming from other parts in her game," Kirk said. "Second shot proximity wasn't where it needed to be. She can hit it a mile, but we talked about being able to control the golf ball. Making sure whatever club you choose, that second shot was going to be a nice clean shot into the green."
Thompson is a powerful player. Take a quick look at her Instagram page and you'll see countless photos and videos of her at the gym. But when it comes to golf, you need more than just being powerful. Kirk said he worked with Thompson on finding, "the optimum mixture of horsepower and technique."
Stacy Revere/Getty Images
In Thompson's case, that meant getting her eyes more over the ball when she putts, working on course management off the tee, and adding variation to her short-game shots. It's those types of things that you put together to take a great golfer and turn them into a great scorer.
"There aren't many Lexi Thompson's," said Kirk. "She's very physically gifted. She's a fierce competitor."
And a proud one, too. The chance to make amends for the ANA disappointment is something Thompson might not talk about, but no doubt will motivate her this week. Then again, it's a major, which is motivation enough. Regardless, Thompson arrives this week a confident golfer, and one who'll be hard to beat.