The Loop
Lexi Thompson's heartbreak, Snoop Dogg's Masters party, and all eyes on Augusta National
Welcome to another edition of The Grind, where fortunately, we aren't governed by golf's rules. Do you know how many times I've misplaced a comma or made a typo and been reminded about it the next day by someone on Twitter -- or worse, by my mom? It's embarrassing, but I don't get a four-stroke penalty. Or get docked four days pay. Or get barred from using the frozen yogurt machine in our cafeteria for four days. Again, phew.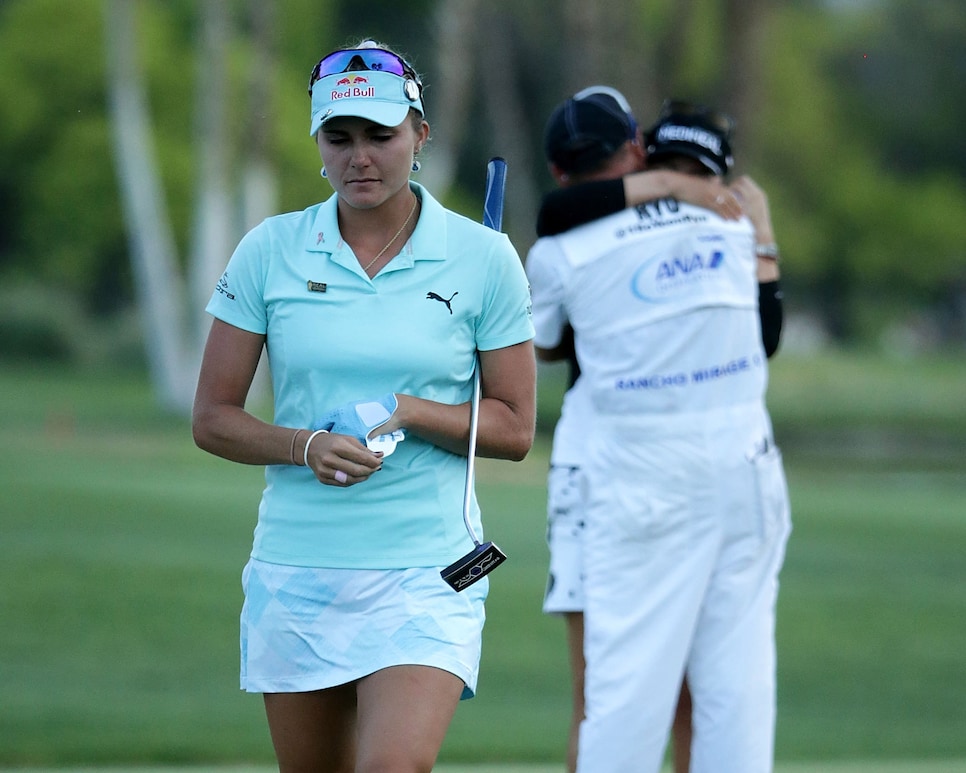 Fortunately, golf fans have arguably the best week of the year to help them forget about that unfortunate incident (and the unfortunate officiating in Monday night's National Championship Game). Here's what has us talking as we get ready for an exciting -- and hopefully, controversy-free -- week at Augusta National.
Lexi Thompson: The 22-year-old suffered one of the most brutal losses imaginable, but how she handled the situation was incredible. First, by rallying with three birdies over her final six holes to get into a playoff and then by acting gracious in defeat and sticking around to sign autographs for her fans.
Oh yeah, and she played well enough to win the year's first major by four shots.
Russell Henley: Four shots was the deficit Henley faced heading into Sunday's final round at the Shell Houston Open, but he rallied for his third PGA Tour win and first in nearly three years. It was also Henley's timeliest performance since the victory earned him the last spot in the field at the Masters.
Miguel Angel Jimenez: The Most Interesting Golfer in the World certainly made things interesting with a final-hole double bogey that included a missed two-footer. But Jimenez bounced back to win a playoff and capture his fourth PGA Tour Champions title. We're assuming plenty of red wine and cigars followed.
Lexi-gate: This stunk all around. The fact that Lexi was careless enough to misplace her ball by a fraction of an inch stinks (and yes, ultimately, it's her fault). A TV viewer emailing about a possible rules violation a day after the fact stinks. The fact that TV viewers can affect golf tournaments stinks (Imagine if this could happen for that UNC-Gonzaga game?!). The two-stroke penalty for signing an incorrect scorecard stinks. Lexi getting screwed out of a second major championship stinks. Even So-Yeon Ryu (Congrats to her, by the way) kind of admitted winning a second major in this fashion stinks. STINKS!
Big names in Houston: Jordan Spieth, Henrik Stenson, Adam Scott and Patrick Reed all missed the cut in their final Masters tune-ups. Scott's performance in particular raised the most red flags, shooting a second-round 77 thanks in larger part to poor putting. Earlier in the season, Scott was leading the PGA Tour in strokes gained putting, but he's fallen to 79th.
Rickie Fowler's accuracy: On his fastball, that is. Fowler played well in Houston, but "Ryder Cup level nerves" (even for a Spring Training game?) got to him when he threw out the first pitch for a Houston Astros game.
The scouts were impressed by his hitting 70 miles per hour on the radar gun, though.
Kendrick Lamar's golf swing: It was surprising to see Kendrick Lamar swinging a golf club in his new music video for "Humble," especially since his swing – if you can call it that – is so bad. Check it out: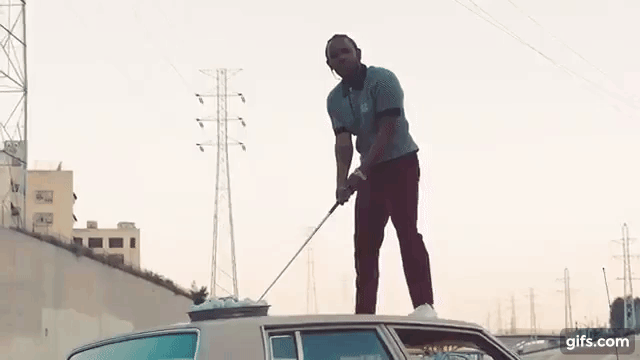 Jon Rahm says listening to Lamar helped him learn English. But now it's time for Kendrick to learn how to play golf from Rahm.
HELLO, FRIENDS! Masters week is finally here! Tiger Woods isn't playing, but the exciting storylines are endless. Can Dustin Johnson make it four wins in a row? Can Jordan Spieth recover from last year's meltdown? Can Rory McIlroy complete the career Grand Slam? How many pounds will I gain eating in the new Masters media center? It's going to be a fun week.
Random tournament fact: Jack Nicklaus is the oldest Masters champ at 46 years, and nearly three months in 1986. Phil Mickelson is 46 years and nearly 10 months. Just saying. . .
RANDOM PROP BETS OF THE WEEK
-- Sunday's leader will be assessed a four-stroke penalty: 1 MILLION-to-1 odds 100-to-1 odds (These days, who knows?)
-- Phil Mickelson will win the 2017 Masters: 20-to-1 odds (Actual odds)
-- Phil Mickelson knows what his odds are: LOCK
It's an oldie, but a goodie: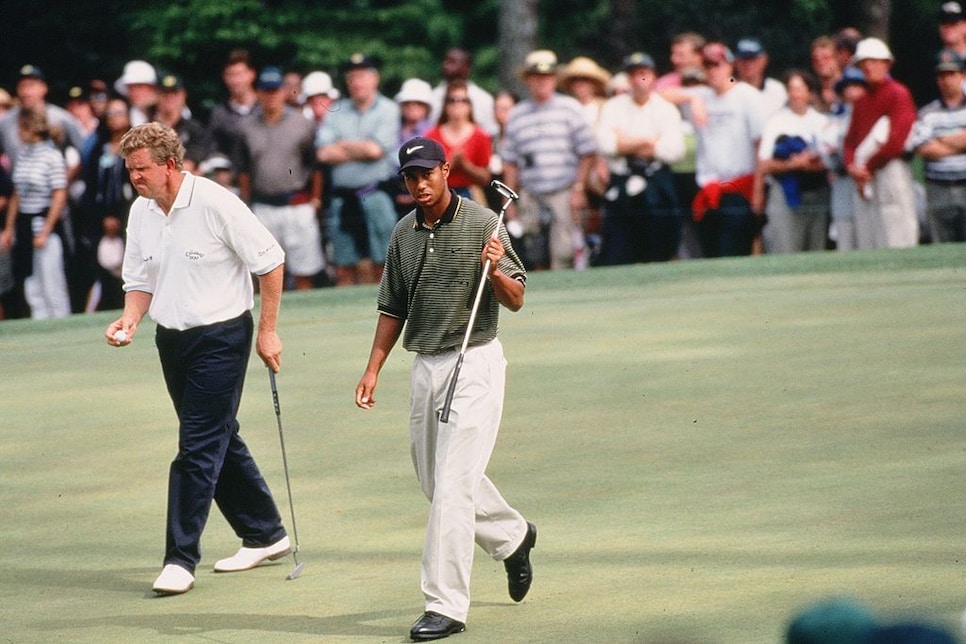 Augusta National/Getty Images
I can't believe it's been 20 years since Tiger Woods dusted Monty and everyone else at Augusta National.
Move over Phil Mickelson, European Tour pro Sebastien Gros is the new masters of the backwards flop shot:
And move over, everyone else. Minju Kim, an LPGA-certified pro, may have pulled off the most creative trick shot of the year:
If it's even physically possible to do that. Can someone ask Bryson DeChambeau?
"Is this a joke?" – Lexi Thompson when informed she would be hit with a four-stroke penalty. Unfortunately, it wasn't a joke.
THIS WEEK IN DUSTIN JOHNSON-PAULINA GRETZKY-TATUM PUBLIC DISPLAYS OF AFFECTION
That really is laser-like focus. The rest of the field at Augusta National might be in trouble.
THIS WEEK IN AUSTIN JOHNSON-SAMANTHA MADDOX PUBLIC DISPLAYS OF AFFECTION
And it looks like that Masters focus has spread through the rest of Team DJ:
THIS WEEK IN CELEBRITIES PLAYING GOLF
Will Smith played golf and gave a plug for PXG Equipment:
Even The Fresh Prince is willing to give himself for some of those clubs. Hey, they're expensive!
And Snoop Dogg is hosting a Masters party on the eve of the tournament -- just a mile down the road from Augusta National!
Tiger Woods withdrew on the Friday night before the Masters for a second consecutive year, but this time, he announced it 32 minutes earlier. Progress. . . . Jon Rahm has yet to open his official Masters invitation. He's been too busy kicking ass all around the world to go home. . . . Scott Van Pelt doesn't like pimento cheese sandwiches, but can eat "about 14" of the classic chicken. Join the club, Scott. . . . The new Masters media center is as lavish as advertised. No detail was overlooked. Look at the freakin' waste baskets in their own little wooden cubbies behind each desk!
And here's what the bathrooms look like--never mind. I've probably shared too much already.
RANDOM QUESTIONS TO PONDER
What's Phil Mickelson's go-to meal in the Augusta National clubhouse?
Who emailed the LPGA about Lexi Thompson's mistake?
How is he/she sleeping at night?