News
Lexi Thompson—and her six final-round birdies—push her past Lydia Ko at Indy Women in Tech Championship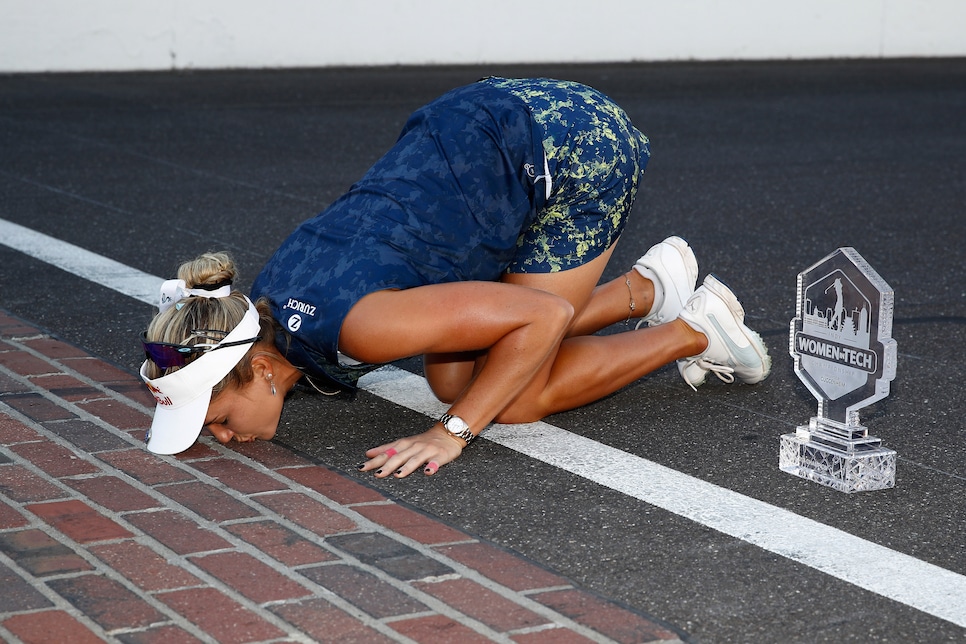 Thompson, 22, followed up an opening-round 63 and bogey-free 66 on Friday with a closing 68 to finish 19-under 197 for the tournament. The 20-year-old Ko stayed on her heels until a double-bogey 6 on the par-4 11th, thanks to awkward lie from a divot hole that thwarted her chances of a late-round rally as Thompson pulled away on back nine with three birdies. Ko finished with a 72 on Saturday.
"I knew my game was in a good spot," Thompson said. "I didn't play my best golf last week in Portland, but I knew if I worked on it on Monday, Tuesday, Wednesday coming into the week, I knew I would have a good chance."
It was Thompson's second win of the season after five runner-up finishes, including the controversial loss at the ANA Inspiration in April. This victory maintains her first-place standing in the Race to the CME Globe and will help her surpass Sung Hyun Park to become World No. 2 in the Rolex Women's World Golf Rankings.
The pair started the final round at Brickyard Crossing Golf Club, adjacent to the Indianapolis Motor Speedway, tied at 15 under, the tournament ending on Saturday to alleviate travel issues for players headed to France for next week's Evian Championship, the fifth and final major of the 2017 LPGA season.
Despite finishing second, Ko, who fell from the No. 1 ranking in June, had her best performance in 2017—a season riddled with adjustment issues after switching coaches, caddies and equipment. Ko's touch around the greens seemed strong as ever, she admitted to struggling with her putter. She noted a three-putt on the third hole—her first of the week—as a sign that she might have trouble on Saturday.
"I just wasn't putting as well as I did the last few days and that makes a huge difference," Ko said. "When you're in the final round, final group, you kind of want those putts to drop and unfortunately that wasn't happening for me."
Candie Kung started the day trailing Thompson and Ko by one, but after posting two bogeys and a double bogey, she fell to a T-12 finish.
Minjee Lee's impressive eagle on the par-5 fourth helped cement her third-place finish, five strokes back of Thompson, after starting the round tied for seventh. Rookie Olafia Kristinsdottir, the first Icelandic golf to quailfying for the LPGA, finished fourth after a chip-in eagle on 18.
To celebrate her win, Thompson took a victory lap around the Indy 500 track in a Corvette Stingray.
"I got it up to 122 [miles per hour]," Thompson said. "It felt good."
Also keeping with the traditions of victories at the racetrack, Thompson poured milk over her head and kissed the bricks at the finish line. She was the first woman to kiss the bricks after a victory in competition.
"It was a huge honor to be here in Indiana to be able to kiss those bricks," Thompson said. "Definitely a memory that I'll never forget."