PGA Tour
In face of controversial invite, Lexi Thompson playing for more than just a score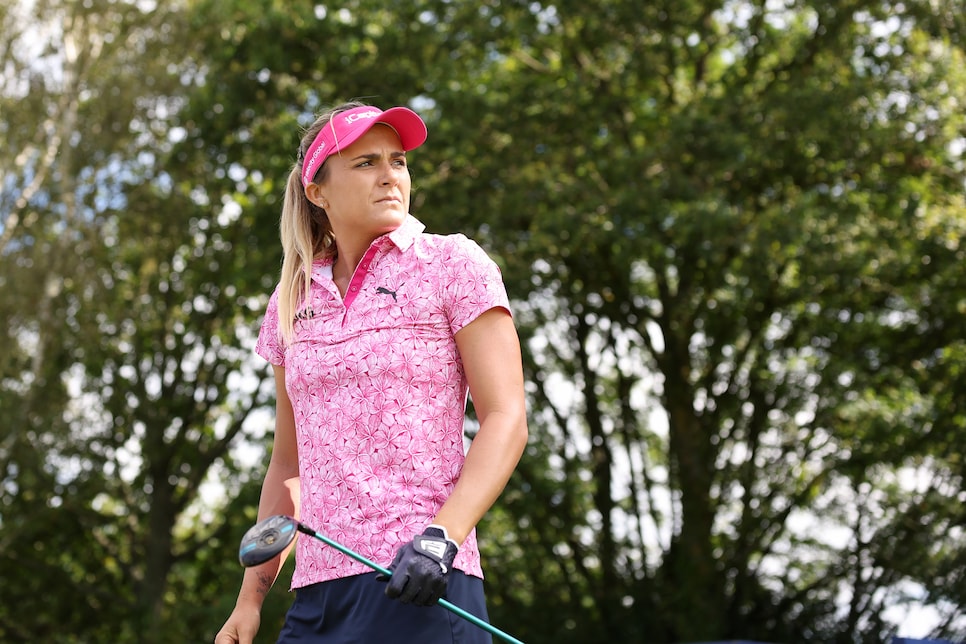 It happens every year at the Shriners Children's Open in Las Vegas. PGA Tour players meet and interact with kids who are sometimes suffering grave or debilitating illnesses. This year, for the first time, the young girls among that group will see someone who most resembles them, and LPGA Tour player Lexi Thompson insists she's focusing on that connection more than how she'll play at TPC Summerlin as only the seventh woman to compete in a PGA Tour event.
"Yes, good golf is a successful week," Thompson, 28, said on Tuesday in a press conference. But, she added, "If I can leave here inspiring others, and especially the kids, the Shriners kids, that's what it's all about and what this tournament is. There is more than just playing golf."
Thompson, an 11-time winner on the LPGA, received the invite from the Shriners in late September and said on Tuesday that playing in a PGA Tour event "means the world to me."
Predictably, she and the tournament organizers faced some backlash for taking a spot in the field from a male player who could use the opportunity to further his earnings in the fall events that are critical to players attempting to re-earn their PGA Tour cards for next season. Veteran Peter Malnati, a member of the PGA Tour Policy Board, initially reacted by calling Thompson's inclusion a "gimmick." But he back peddled on those comments later, adding, "I shouldn't have said that. I don't know that having Lexi play is a gimmick, but I don't think the tournaments are going to have to go to those kind of lengths to drum up interest and get storylines that they can sell because I think these events are actually going to have a lot of meaning."
Asked about her reaction to the comments on Tuesday, Thompson said, "No reaction. I knew some comments were going to happen with anything. Like I said, I'm out here playing of course with the men, but I want to leave a message just to the kids that I'm following my dreams and to go after what you want with a positive mindset and don't let anybody's comments or reaction get in the way of that.
"But it's all good," she added with a smile. "I mean, I expected it."
The invite may be controversial, but its place in history is noteworthy. Six women have preceded Thompson in teeing it up against the men—the last being Brittany Lincicome on a sponsor's invite in the 2018 Barbasol Championship. Lincicome missed the cut, though she shot 71 in the second round to join Michelle Wie West as the only women to break par in a PGA Tour event. Wie West holds the record of eight starts against the men, but she never reached the weekend. The only woman to make the cut is Babe Didrikson Zaharias, who pulled it off twice in 1945.
Those who followed Zaharias in playing against the men were Shirley Spork, Annika Sorenstam, Suzy Whaley, Wie West and Lincicome.
Thompson, who struggled badly for much of the LPGA season but is coming off resurgent play in which she went 3-1-0 in the Solheim Cup and finished solo fifth last week in Texas, faces long odds to make the weekend in Las Vegas. Last year, the cut came at four under par at TPC Summerlin, which is listed at 7,225 yards—or about 700 yards longer than Old American Golf Club was set up in last week's LPGA Ascendent.
Though Thompson is among the longest hitters on the LPGA, ranking 12th in driving distance at 270 yards, there are six par 4s at Summerlin that measure more than 440 yards and two that are longer than 460. (One par 5 is listed at 606.) That will put a lot of long irons and fairway woods in her hands.
Still, Thompson said she is relishing the opportunity to "bomb driver everywhere."
"The last few weeks I didn't hit too many drivers, but you still have to hit the golf shots on the LPGA Tour," Thompson said. "It's just I don't get to take advantage of sometimes my length on a few of those holes.
"Here, it's driver on every hole, and I definitely like that. Fire away and swing, get the most distance I can on a few of those holes."
On Tuesday, Thompson played in a practice round with Michael Kim and Ben Griffin, and both came away impressed.
"I thought she's hitting it great," Kim said on the LPGA's Instagram account. "This course is probably a little longer than she's used to, but I thought she was hitting it well."
Added Griffin, "She was striping it. She was hitting it closer than us on a few holes. That's to be expected; she has a ton of talent. She can handle it out there. Being firmer conditions, it's a little different, but I think she's adjusting well. She played awesome today and I think she can compete this week and have a chance to at least make it to the weekend."
In his interview last week, Malnati said what many are probably thinking about Thompson's appearance: "Who knows what'll happen; she may go play really well, and it'll be huge. She may play absolutely terrible and finish 132nd."
At least for Thompson, the results seem hardly the point.
"If I can inspire one individual, I would feel like I'm making progress," she said. "Of course, yes, I want to play good. That's a whole 'nother story. There is more to life than performing well. That's what I want to do, inspire others."