The Loop
Lexi loving life: 'It has been a blast'
ORLANDO - Sixteen years, seven months, eight days.
Golf denotes its young and its old, rightly so, when they do something spectacular, and with some time to reflect on it, Lexi Thompson's victory in the Navistar LPGA Classic on Sept. 18 seems no less remarkable.
The Florida teenager shattered by more than two years the record as youngest to win a multiple-round LPGA tournament - a brief lifetime of hard work, gifted athleticism and no small measure of smart golf parenting by her father, Scott, and mother, Judy, combining to tilt a sport's youthful landscape ever more.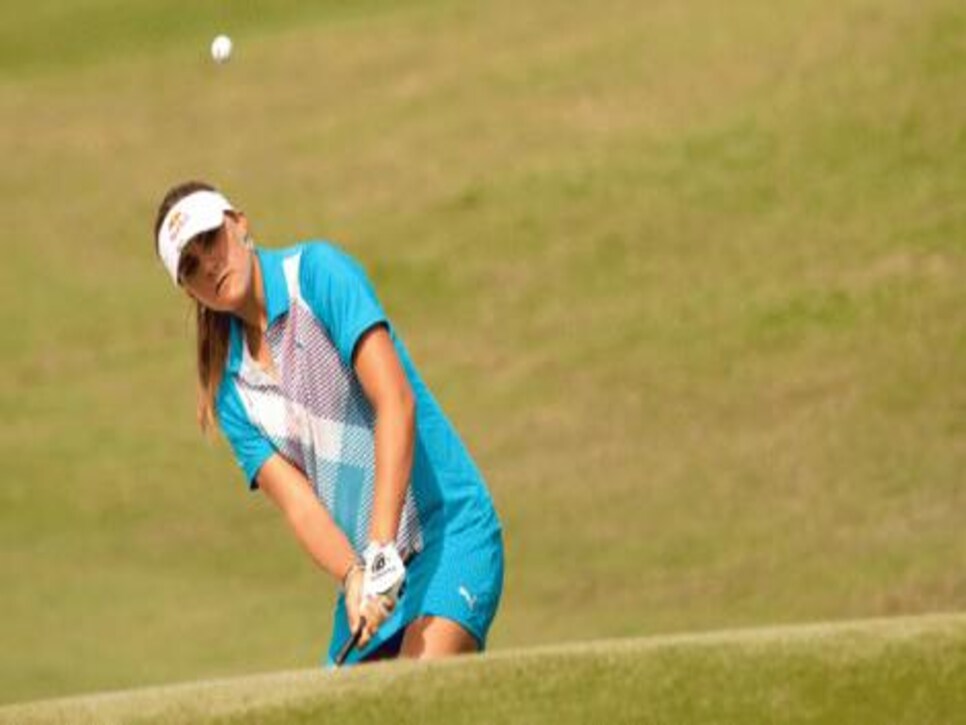 Thompson will be an LPGA member in 2012, having successfully petitioned for a waiver from the minimum age of 18. But before next year there is punctuation to be put on this year, the CME Group Titleholders this week at Grand Cypress Resort. For Thompson, since her historic win, there have been whirlwind publicity visits to New York City, plenty of fan mail and time to savor what she accomplished.
"It has always been my dream to win on the LPGA and play full-time," Thompson said Tuesday in a media room populated not only by reporters but LPGA tournament directors curious what the precocious teen's effect will be on the circuit. "Having my Dad on the bag that week, sharing the experience with me, was everything I could ask for. I worked so hard those few weeks before that tournament - everything just came together."
The aftermath of that magical weekend in Alabama has included some "pretty cool" moments, foremost meeting young actors Taylor Lautner and Jonah Hill when Thompson went to the "Today" show. "It has been a lot of my decisions doing a lot of the media stuff," she said. "I love traveling and doing TV shows and things like that. It has been a lot of fun for me since [the Navistar], throughout this whole journey. It has been a blast."
As Thompson sets off in earnest on her LPGA career, it is worth pausing to consider how joy has been an ingredient in her precocious golf development - an element the family (which also includes tour pro Nick and college player Curtis) touched on Tuesday.
"We made it fun," Judy Thompson said. "It was never a chore, like you have to go hit two pyramids [of range balls], or go chip for four hours. Go do what you want to do. If you want to play 36 holes with the guys, go do it. If you want to hit balls all day, do it. It was up to them, what their practice was for the day. We never said, 'You have to do this or this.' It was always up to them."
"It is never a chore or a duty," Lexi said. "I just love going out and practicing."
And to this juncture, Thompson, who works with noted instructor Jim McLean - he helped Lexi cure a nasty case of the hooks earlier this season - has largely worked on the basics, cultivating her feel and doing her best to avoid getting bogged down with complicated swing thoughts.
"I haven't changed the way I [think] over the the golf ball," Lexi said when asked how her game has evolved in the last couple of years. "Maybe [I think] a little less. I don't usually think about anything over the golf ball, maybe tempo and maybe posture, but that's it. I keep it real simple - I've always done that."
Scott says: "I think it's been a large part of her success, keeping it simple." He will continue caddieing for his daughter for the foreseeable future, a partnership that Judy said isn't always perfect but that works for now.
"She respects him as her father, and he respects her as his boss," Judy said, "so they have that respect for each other and their feelings. I'm not saying it's never gone bad. I'm not going to sugar coat it. But they never bring it home. He knows her. Until she matures and grows up, he's the best thing for her. And she's accepted that. Until it's broken, why fix it?"
Not that Lexi hasn't already grown up the last few years. She is working on course management, trying to avoid big numbers, playing away from a flagstick when it's prudent. "Still go for shots," she said, "but if you're over a tough golf shot, you think about where you can get up-and-down and where your miss should be."
"I've noticed a lot in the last year and a half," Judy said. "I don't know where she went to that new level of maturity and handling stuff."
There have been lessons, nothing to do with golf, along the way.
When Lexi was 10 or 11, Judy and Scott recalled, their daughter misbehaved at a big junior tournament in Texas. "She wasn't nice in the practice round, and then when the pro-am came she was really not nice," Judy said. Scott put Lexi's clubs in the trunk. Instead of competing that week, Lexi was made to do her homework in a hotel room. "People looked at Scott like he had five heads," Judy said. " 'Are you kidding me? You're taking your kid out of a tournament that you paid for and flew out here for?' It's tough love. You fix it, early."
Of course there will be other things to fix, on and off the course, as Lexi Thompson grows up. But at 16 years, nine months and five days, life is pretty cool and then some.