The Loop
Let's recall the time Seattle (yes, Seattle) won the Stanley Cup
Hockey-passionate Minnesota, which provided coach Herb Brooks and roughly half the players to the 1980 "Do You Believe in Miracles?'' Olympic gold medal team, has never won a Stanley Cup despite a combined 43 seasons with two NHL teams (the North Stars and the Wild). Neither has St. Louis after 50 seasons in the NHL, nor Buffalo, after 47 seasons. Nor Washington DC, San Jose or Winnipeg/Atlanta.
Seattle, on the other hand, has.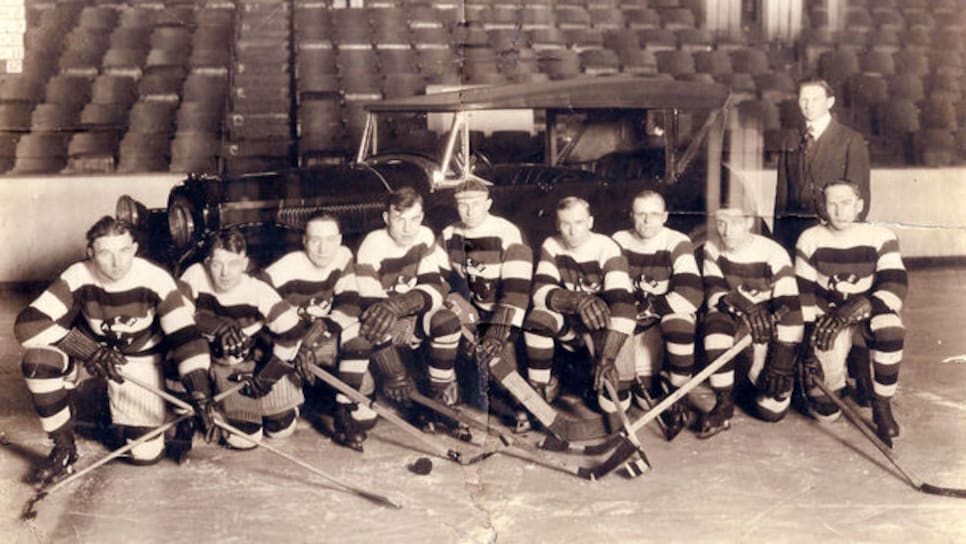 Yes. It's true. Seattle, which has never even had an NHL team, actually won the Stanley Cup in 1917 when the Metropolitans of the Pacific Coast Hockey Association beat the Montreal Canadiens in four games.
The first U.S. city to win the Cup, Seattle played in the final again in 1919, but that series was canceled after five games due to a Spanish Flu epidemic that infected most of the Canadiens players and led to the death of one. The Metropolitans lost to the Ottawa Senators in the 1920 finals and the hockey team, which reportedly averaged barely a thousand fans per game, folded after 1924.
Three Stanley Cup finals in four years and the first U.S champion? Pretty impressive, if not widely known. (Perhaps Seattle's Microsoft should display the Cup on its Bing home page.)
The Stanley Cup returned to Seattle this Dec. 21 to honor the 100-year anniversary of that 1917 championship, in good part because of Paul Kim, who has helped increase knowledge the city won it. The 26-year-old hockey buff also helped get the Cup back to the city two years ago.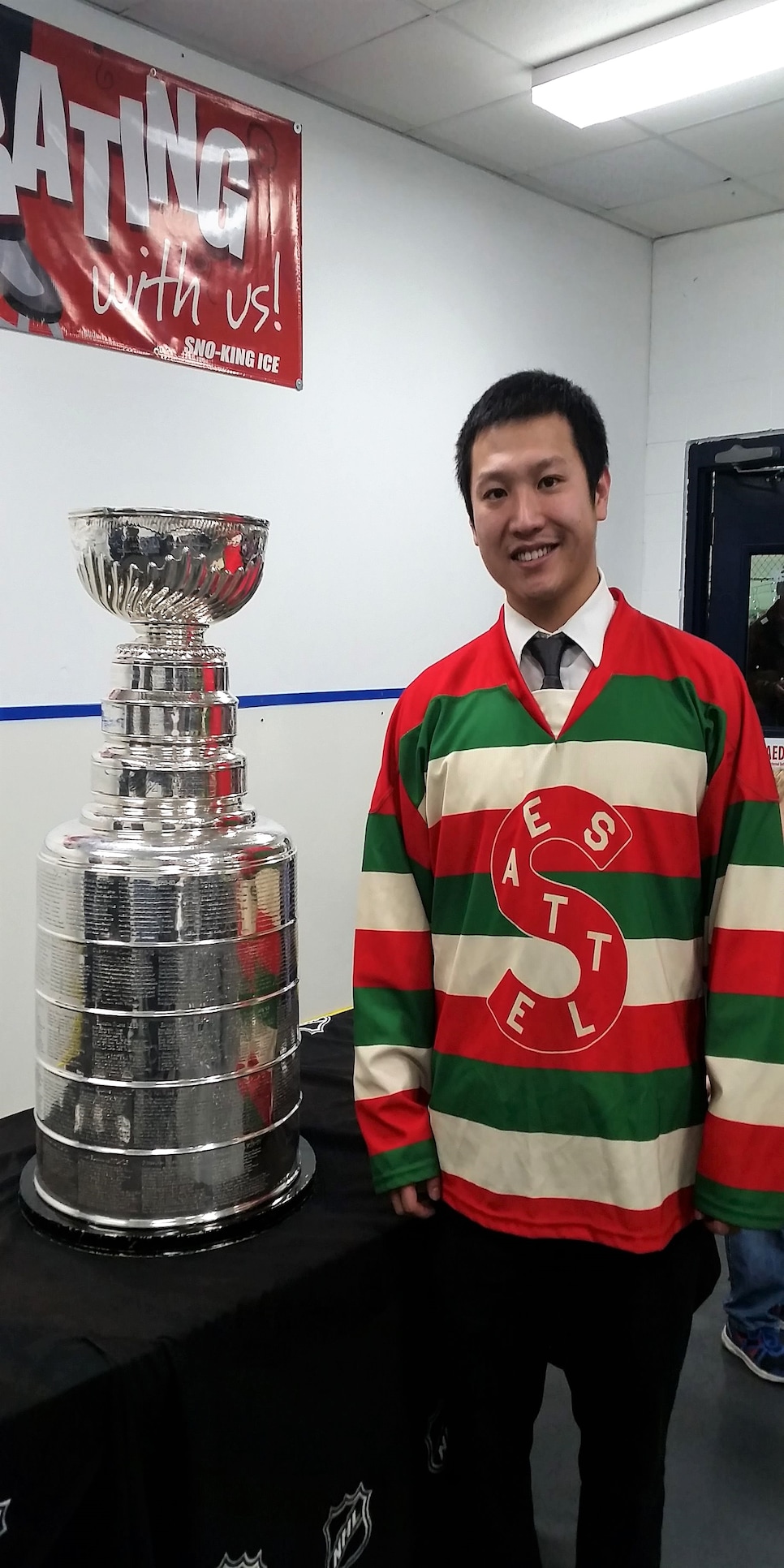 Loving the sport and having played on traveling teams, Kim says called the hockey Hall of Fame in 2015 and asked to get a picture of the Stanley Cup as part of the 100th anniversary of the Metropolitans' first season in 1915. He got more than a picture.
"They were like, 'You're doing a very good project. Let's see if you can bring the Stanley Cup over.' And they did in 2015,'' he said. "And that's how my relationship with the hockey Hall of Fame got started.''
The Cup was displayed in December of 2015 before a sellout crowd at a game for the Western Hockey League Seattle Thunderbirds, who wore replica jerseys of the Metropolitans.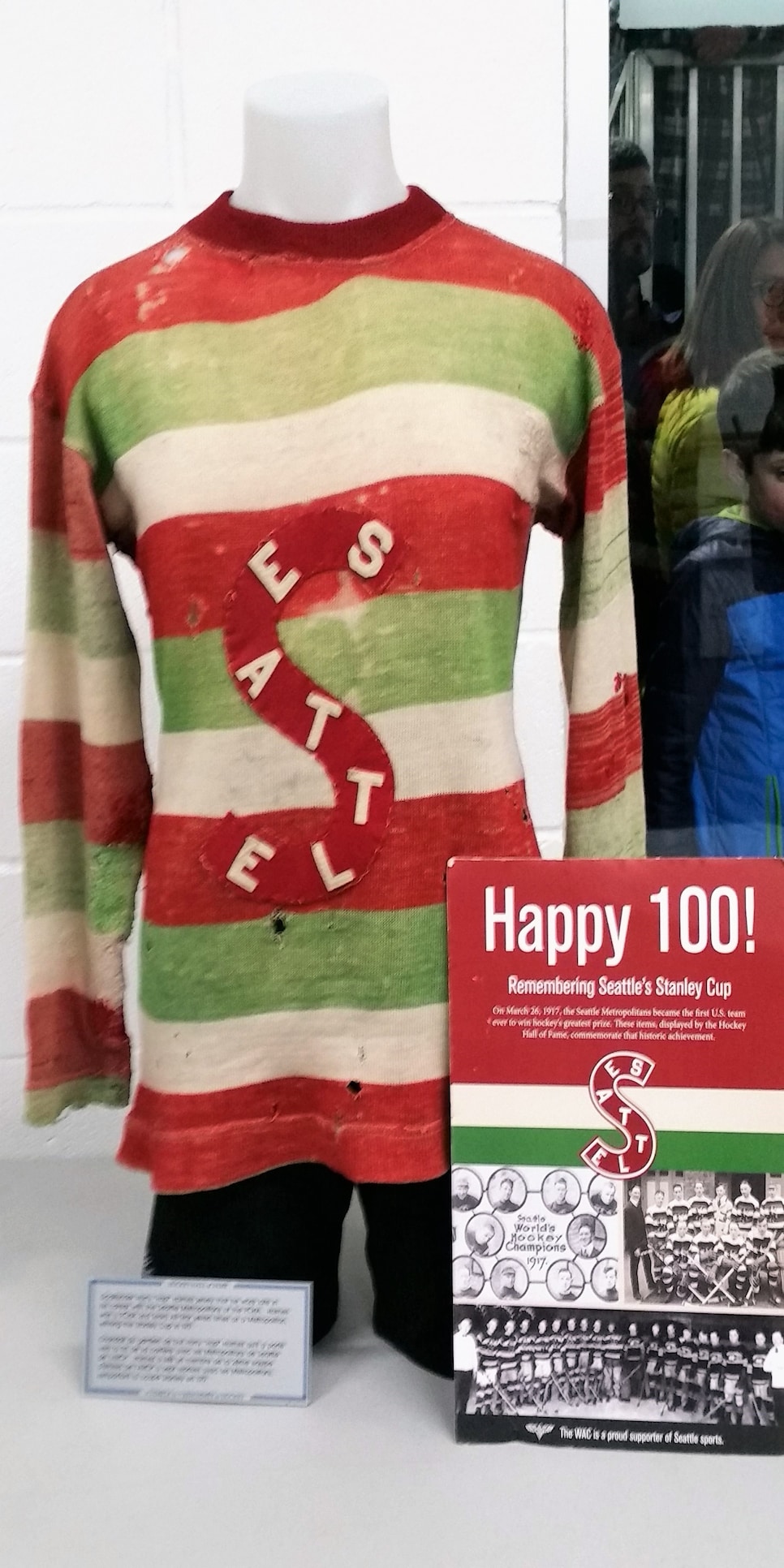 The Stanley Cup was brought back to the city again this month and displayed in several places, including the former downtown location where those 1917 finals were played (the arena no longer exists). A great many people went to take photos of the Cup, including 300-400 lined up when it was brought to Sno-King ice arena in the suburb of Renton that evening. Kim helped almost all of them take photos of themselves with the Cup.
Seattle is not considered a huge hockey city but there are two current WHL teams in the area. The Thunderbirds play in the suburb of Kent, about 20 miles south of Seattle, while the Everett Silvertips play about 25 miles north.
The city also is trying to get an NHL expansion team, probably beginning in 2020. The league announced the expansion fee for a team would be $650 million but Seattle can afford it since it is one of the country's most expensive cities and home to the two richest men in the world – Bill Gates and Jeff Bezos – as well as Microsoft, Amazon, Starbuck's and other corporations.
In fact, a couple people taking photos of the Stanley Cup said that Microsoft and Amazon have helped bring many hockey fans to the region.
"I think it's because a lot of folks aren't from here (originally),'' Boston native Chris Hughes said. "A lot of folks from other parts of the country and Canada, from hockey areas like Pittsburgh and Boston where we grew up as hockey fans. A lot of people are here because of Amazon and Microsoft and all that, (they) came here and are hockey fans.''
"It's a lot bigger than people think,'' said Suman Chakrabarti, a Pittsburgh native and Microsoft senior software engineer. "It's kind of an underground community that's starting to get a lot more presence. We have so many kids here that we coach.''
Jamie Huscroft played 10 seasons in the NHL and now is the facilities manager at Sno-King. He says the non-profit local hockey association has roughly 700 to 800 youth players and close to 500 adult players. There would be more players if there were more ice rinks in the area.
"We're at max capacity right now,'' Huscroft said. "We need more rinks and when they do get built, we'll grow the game. As soon as they start building more rinks we'll fill them right up.''
The city recently approved a $660 million privately-funded renovation of KeyArena, where the SuperSonics played before moving to Oklahoma City. The goal is to get an NBA team back in addition to an NHL expansion team. New Seattle mayor Jenny Durkan has spoken out in support of an NHL team and speculation is rising that the city will get a team.
Kim, who amazingly obtained the rights to the Seattle Metropolitans name and logo in 2015 when he was majoring in economics at the University of Washington, says the sport is definitely growing here.
"Yes, a hundred percent,'' he said. "I grew up playing youth hockey here and there were two groups when I wasplaying and now they have like 10. It's exploding. I definitely think it's growing and once a hockey team comes here I think it will grow exponentially real quick.''
Until Seattle finally gets an NHL team, at least it has a Stanley Cup title, which many hockey passionate cities cannot match. The Cup was displayed Thursday at City Hall along with Seattle's other pro trophies: the Sonics' 1979 NBA title, the Seahawks' 2014 Super Bowl win, the Storm's 2040 and 2010 WNBA titles and the Sounders' 2016 MSL championship.
Alas, there was no World Series trophy because, well, Seattle is the only current MLB city that has never even had a World Series let alone win one (Washington, D.C. hosted it long ago when the Senators played there). Hmmm. Maybe the Mariners' Robinson Cano and Felix Hernandez should put on some skates.