The Loop
Let's look back at the memorable times Donald Trump has been in Golf Digest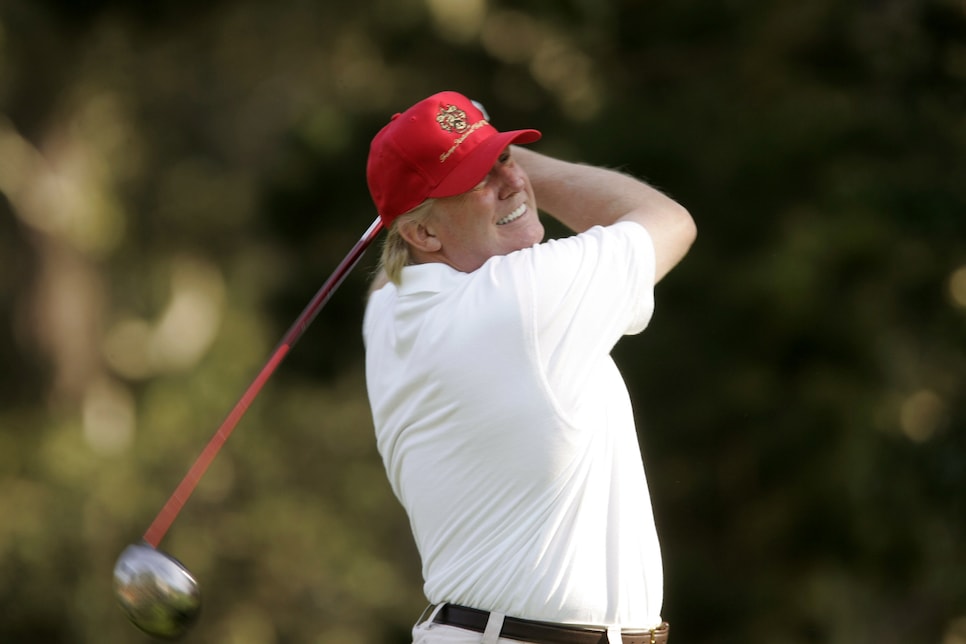 Donald Trump has ascended from real-estate magnate to reality TV star to the frontrunner for the Republican presidential nomination. As his political star continues to rise, many non-golf fans are finding out how linked Trump is to the sport.
For those wanting to know more about Trump's affiliation and affinity with golf, we felt it necessary to highlight some of our interactions and reports through the years that showcase The Donald's ties to the game.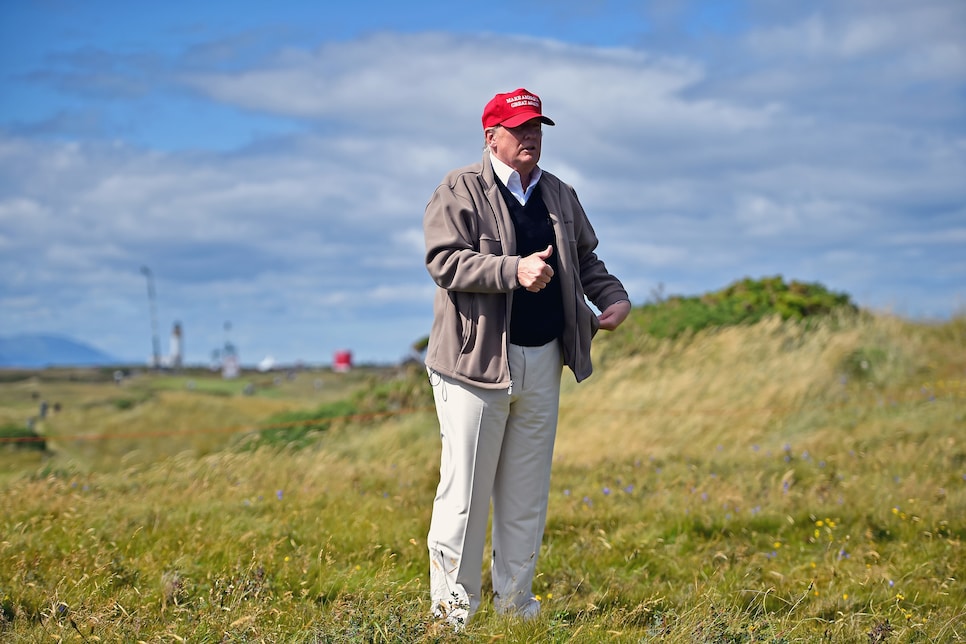 Trump wants the cover - June 2004
Golf Digest's Ron Whitten met with Trump in '04 to discuss his aspirations to host a U.S. Open. Rather than simply list Trump's growing portfolio of courses, Whitten's piece showed another side of the billionaire. Yes, there's a sense of vanity in desiring the "people's championship" at one of his courses, but Whitten portrayed Trump as one who harbors a genuine love and care for golf's well-being. Not to say Whitten hid Trump's infamous self-promotion:
In his corner office overlooking Central Park, in the Trump Organization headquarters in the Trump Tower on Fifth Avenue in Trumpville (also known as New York City), Donald Trump has the ultimate vanity wall. It's not pictures of himself with other famous and powerful people, it's just pictures of himself, on magazine covers...All the usual suspects are framed: Newsweek, Time, Forbes, Fortune, BusinessWeek, Worth, GQ, People, Playboy, Biography.
That bugs Donald Trump because, having conquered the world of real estate and the world of television (in his mind, at least), he has set his sights on the world of golf. And one of his goals is to be on the cover of Golf Digest.
"That recent issue of Newsweek with me on the cover?" he says. "Biggest seller in over a year. My TV Guide cover last February? Biggest seller in three years. (Newsweek and TV Guide tell us that's not the case. But The Donald is on a roll.) I'm telling you, I sell magazines."
It's not going to happen, I tell him. Golf Digest hasn't had a golf course on its cover since 1985.
"Who say anything about my effin' golf course? I'm talking about me on the cover!"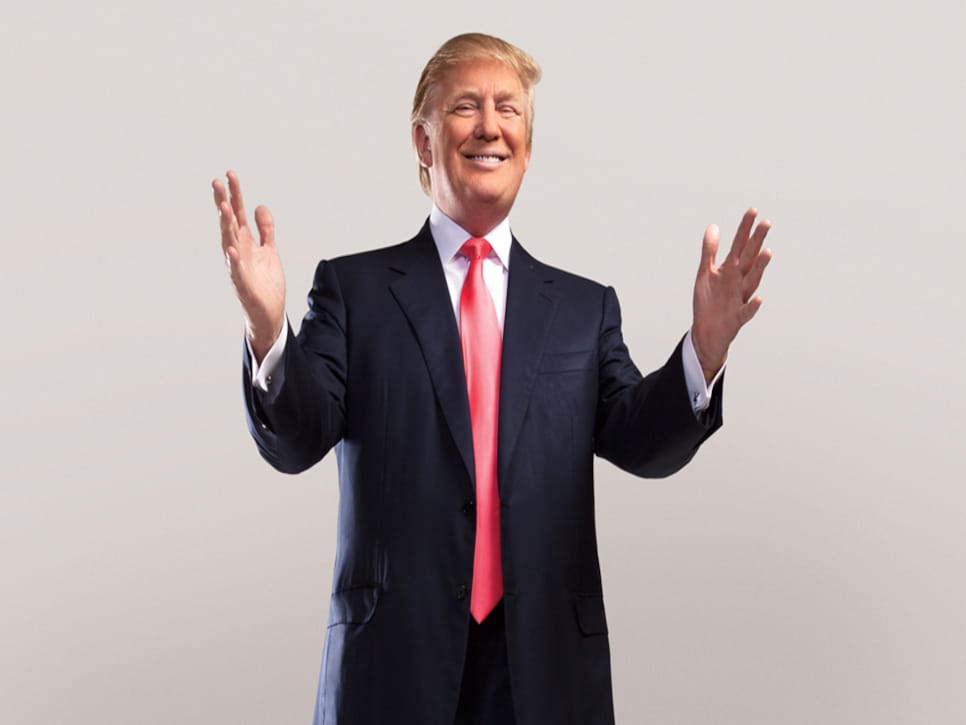 We're fired. Well, sort of - August 2004
Neutral parties would agree Whitten's article painted Trump in a flattering light. The man himself, however, thought otherwise. The following was published in the "Letters to the Editor" section of the August 2004 issue:
While I greatly appreciate your story on me, certain facts were incorrect.
The golf course I'm building along the Pacific Ocean in Los Angeles (Rancho Palos Verdes) will be an entirely new course when it opens in late 2004 as Trump National Golf Course, Los Angeles. The writer stated that the three waterfalls that "Trump has added" are built of "fake rock tinted to the hues of the Pacific coastline that the course edges for two miles." In fact, they are being built with Palos Verdes stone, a beautiful material taken directly from the site. How can waterfalls be criticized when they have not even been built? When completed, they will be magnificent, not fake, cheap or tacky, as you portrayed them.
Again, thanks for the article.
Donald Trump, New York City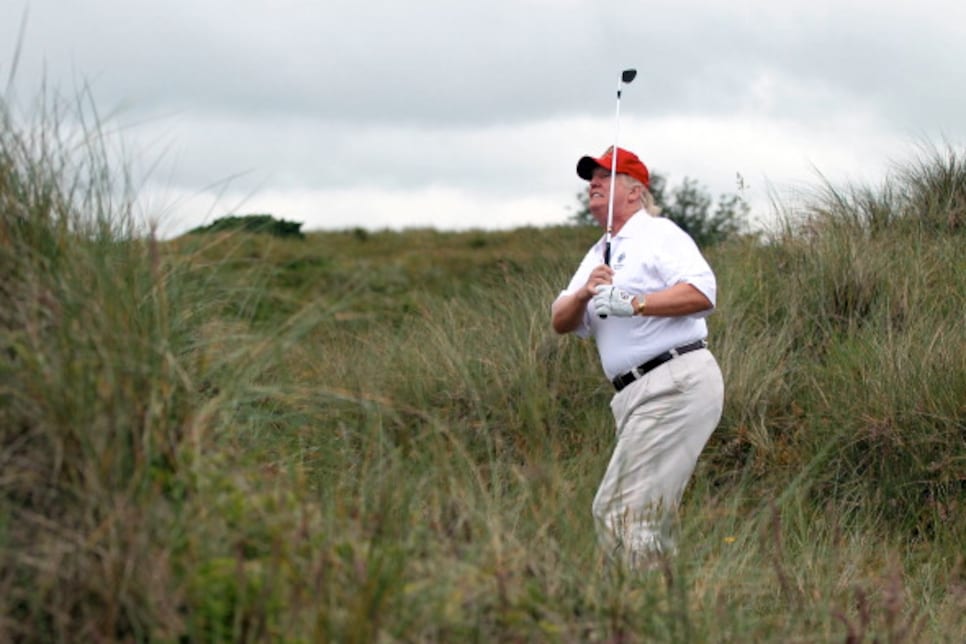 He pays his bets, albeit in an unusual way - November 2006
In his letter to readers in the November 2006 money-themed issue, Golf Digest chairman and editor-in-chief Jerry Tarde discussed his thoughts and experiences with financial matters on the course. Specifically, some of his gambling endeavors. Tarde relays a story on the time he battled Trump in a friendly match:
The exception to the rule, of course, is Donald Trump. We played a $20 nassau at his course in Florida last year. When the match was over, it must be said, Donald was fast pay. He walked into the golf shop, stepped behind the counter and pulled two crisp twenties from the cash register, signing his name across Andrew Jackson with a black Sharpie.
"It's all my money, you know," he said.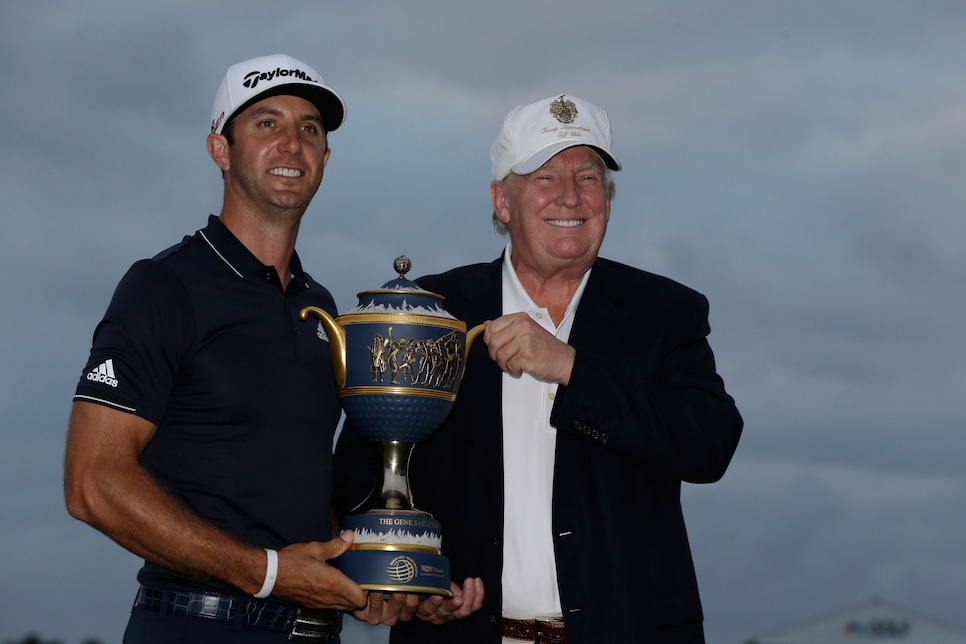 Trump adds Doral - March 2012
Whitten returns to report on Trump's acquisition of Doral Golf Resort. Whitten's inflection is noticeably different towards Trump, which is revealed in Trump's dealings with architects:
The word on the wire is that Donald Trump is purchasing the famed Doral Resort in Miami and has tabbed Gil Hanse with the task of remodeling its lynchpin Blue Monster Course, originally designed by Dick Wilson in 1962.
Trump Scotland was designed by Martin Hawtree, a third generation United Kingdom architect with a solid reputation of his own. I wonder if Trump gave any thought to giving Hawtree the Doral job? Or maybe Trump did offer Hawtree the job and Hawtree turned it down...I still remember how excited Tommy (Fazio) was when Trump offered him the job of designing and building a world-class course in Scotland, how pumped he was when he described his preliminary tours of the mammoth dunes, and how deflated he was when Trump pulled the rug out from under him by publicly announcing that he'd hired Martin Hawtree to design his Scottish empire. Hawtree, Trump later explained, was better equipped to deal successfully with the massive permitting requirements and environmental regulations of Scotland.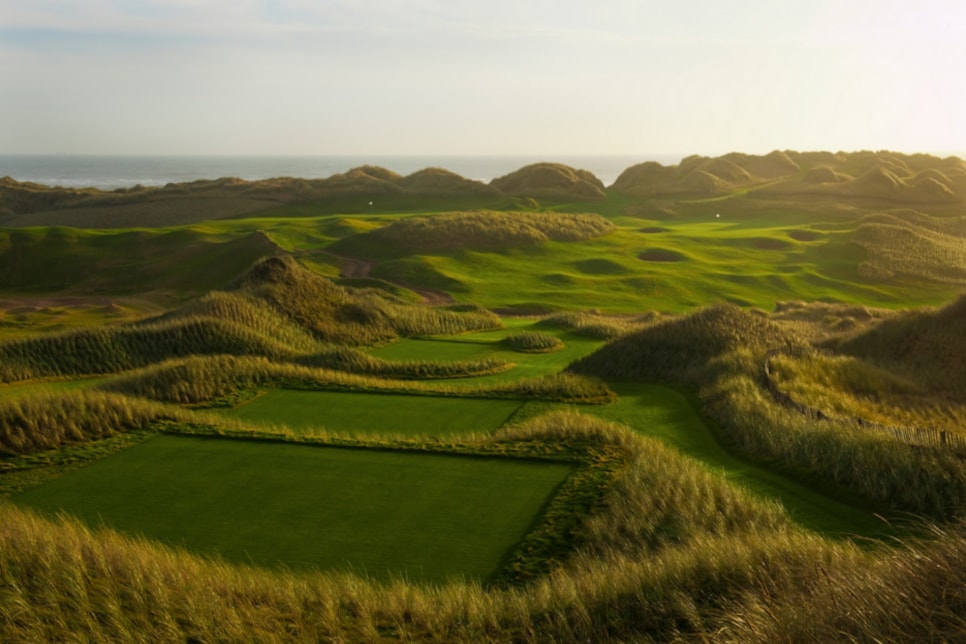 New course in old Scotland - January 2013
Trump's latest course, Trump International in Aberdeen, Scotland, earns Golf Digest honors as one of the best new venues in the sport. While some critics condemn the course as not falling into the backdrop and landscape of Scotland golf, it's this variation that gives Trump International its gravitas:
For starters, Trump International claims to be the "World's Greatest Golf Course." It says so right there on the first page of its yardage book...Trump International looks astonishingly natural, routed within an environmentally protected pocket of wetlands and majestic sand dunes that reach up to 120 feet. For immediate visual impact, Trump International tops Birkdale, Royal St. George's and even Ballybunion.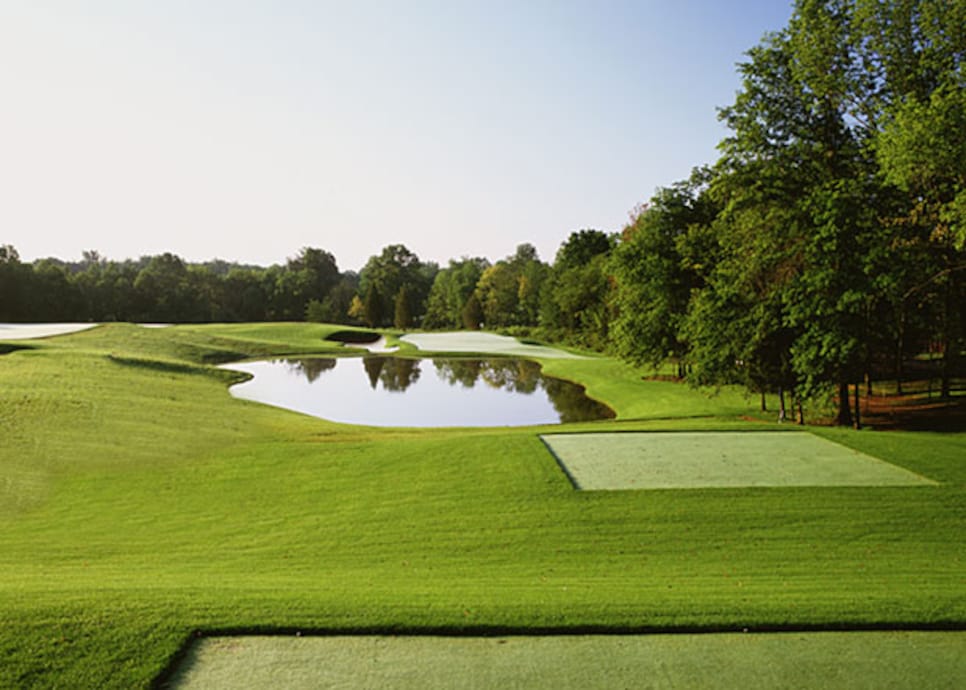 Courtesy of Trump Bedminster
The Donald gets his major - April 2014
Following years of positioning and campaigning, Trump gets a major championship under his belt, as the 2022 PGA Championship is awarded to Trump National Golf Club in Bedminster, N.J. Opened in 2004, Bedminster has been a perennial fixture on the Golf Digest top courses in New Jersey list:
The PGA of America will host the major championship in the shadows of Golf House and just three years after taking the PGA Championship to Bethpage State Park on Long Island and only two years prior to the 2024 Ryder Cup at Bethpage. The U.S. Open will be played at Long Island's Shinnecock Hills in 2018 and outside New York City at Westchester County's Winged Foot in 2020.
"Certainly when you have courses, when you get acknowledged to have one of the majors ... having the PGA is a very, very big deal," Trump said. "So it's very important to me. It's a great honor for me and it's a tremendous honor for both of those clubs."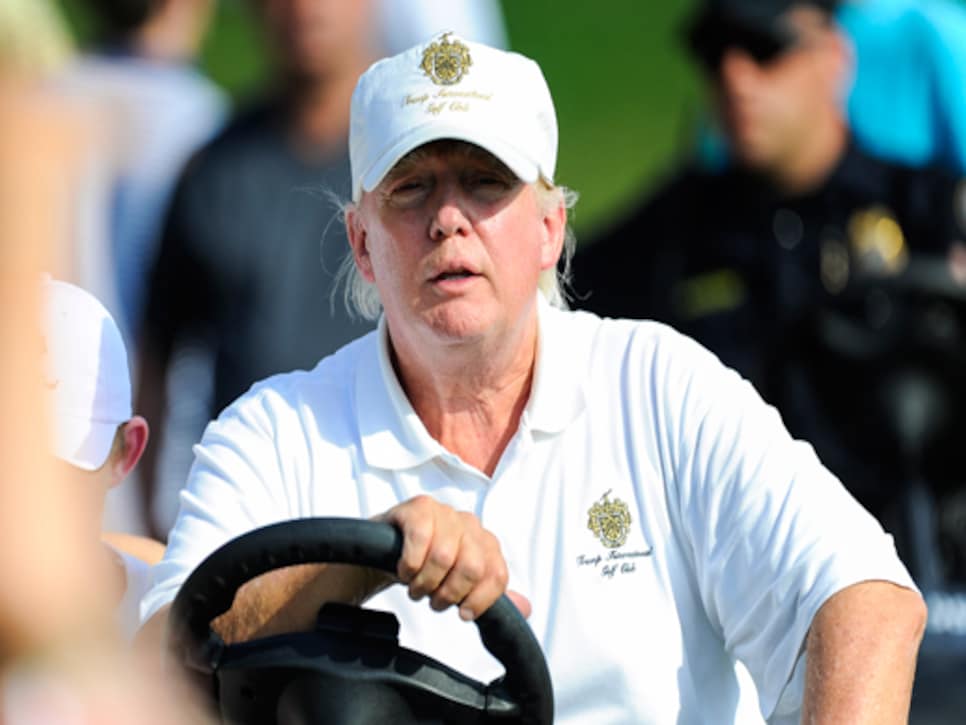 Golf's one-man brand - October 2014
This was perhaps the most revealing interview regarding his beliefs and ambitions in golf that Trump has ever conducted. Golf Digest's John Barton holds an engaging, spirited, fun and, at times, contentious, conversation with Trump. Whether you love him or hate him, his personality is in full view:
Let's say you wake up in the morning to discover that you're in charge of all of golf. What do you do?
First of all, golf should be an aspirational game. And I think that bringing golf down to the lowest common denominator by trying to make courses ugly because they want to save water, in a state that has more water ...
OK, but Pinehurst aside, what would you do?
I would make golf aspirational, instead of trying to bring everybody into golf, people that are never gonna be able to be there anyway. You know, they're working so hard to make golf, as they say, a game of the people. And I think golf should be a game that the people want to aspire to through success.
So you'd like it to be an elitist activity.
It was always meant to be, and people get there through success. The great athletes, they all are golfers. They all want to play golf.
Golf in Scotland, when it started, was a game of the people. It's meant to be a game of the people.
It can still be. But they cheapen the game with what they're doing, in my opinion. Golf should be an aspirational game, and they're taking aspiration out of it. And it's also a game of great beauty. There was nothing beautiful about Pinehurst. I will tell you, as somebody that understands selling, courses like that will kill golf. Because nobody wants to play it.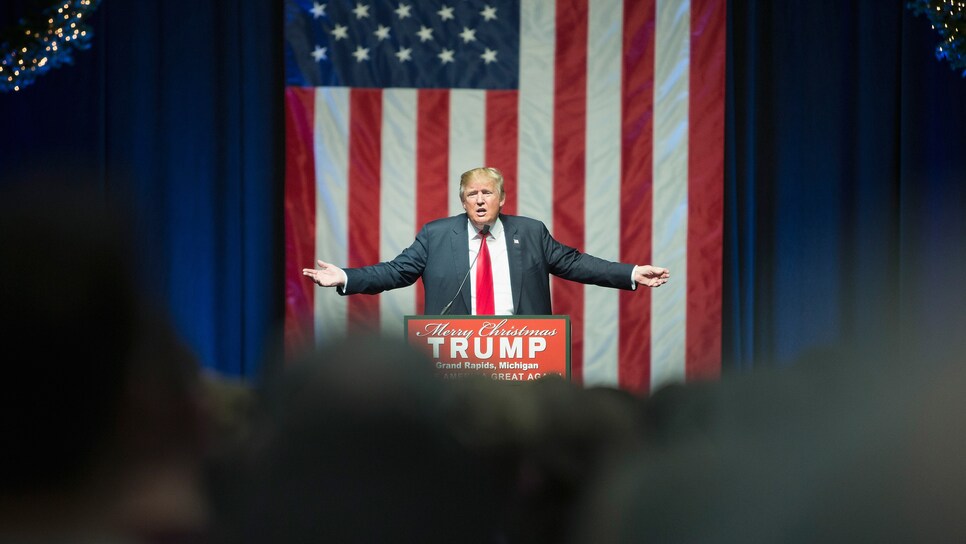 On the campaign trail - September 2015
Jaime Diaz caught up with Trump three months after he announced his run for the Republican nomination. Trump rehashes much of the same rhetoric seen in the Barton interview, yet Trump's answers to Diaz regarding the presidency and golf are enlightening, to say the least:
What have you learned from the presidential experience?
Well, I had no idea it would be this big, number one. Because when you look at what's happened in terms of the level of popularity and the polls, I didn't think it would be that fast. And once I announced it was like a rocket ship. Nobody thought I was going to run, and once I announced, it's gone very fast.
Number two, it's a nasty business. It's nasty. I find great dishonesty. Sort of the opposite of golf, I find great dishonesty in the world of politics.
Does it give you hesitancy in terms of what you've gotten into?
No. If anything, I'm much more glad I did it now. It's what I say -- make America great again. Although that first two weeks was pretty rough. When I first came out with the whole thing on illegal immigration, I was getting massive [criticism]. Rough even in the sense of the golf world reaction.
How did you react when golf organizations distanced themselves when you made your comments about Mexican immigrants?
Well, I was disappointed in them. I was little disappointed because I didn't think it was necessary. But at the same time I know it's part of a process. And I have great respect for Pete Bevacqua, Mike Davis, Tim Finchem. And I understand that the statements I made were very incendiary. And they had to be made, because they turned out to be true. And there was a period of one month where there was a lot of what I call incoming. Golf was very mild in comparison. And I understood the golf. I got it. I understood it.
And those golf leaders, I believe, have seen that what I was saying was right, and I've gotten to No. 1 in all the polls, which is telling you that the country thinks I'm right. I can't speak for them [the golf leaders], but I feel they're much more comfortable.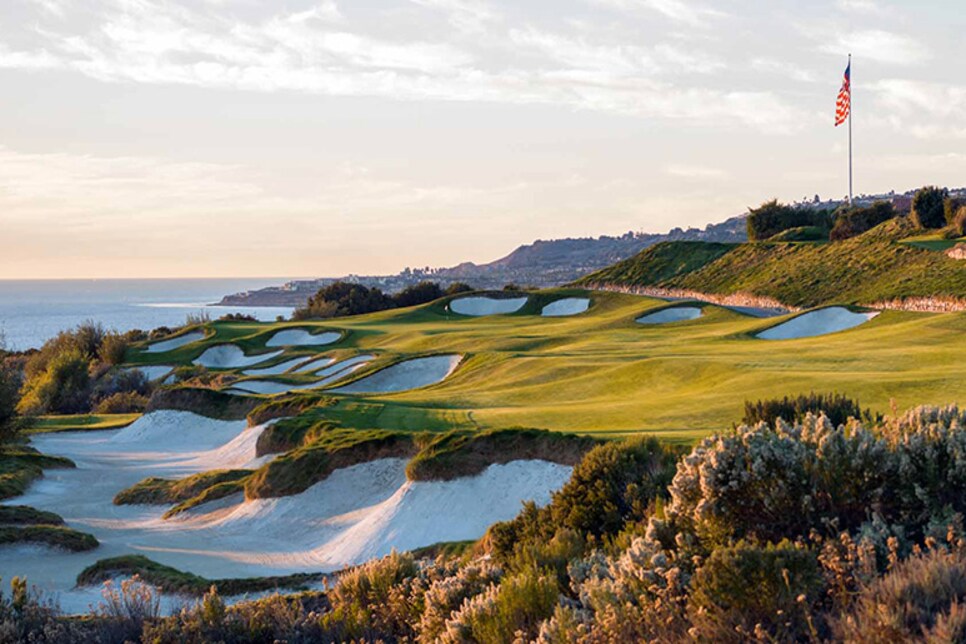 PGA of America cancels Grand Slam of Golf - September 2015
Following a series of controversial remarks, the PGA of America pulls the plug on hosting its Grand Slam of Golf event at one of Trump's venues:
Finding a home for the event became an issue this summer when, following controversial statements by Donald Trump, the PGA of America announced it would not hold this year's tournament at Trump National Golf Club in Los Angeles. The PGA of America and Trump still have an arrangement in place to hold the event at the L.A. course, however, for the next three years.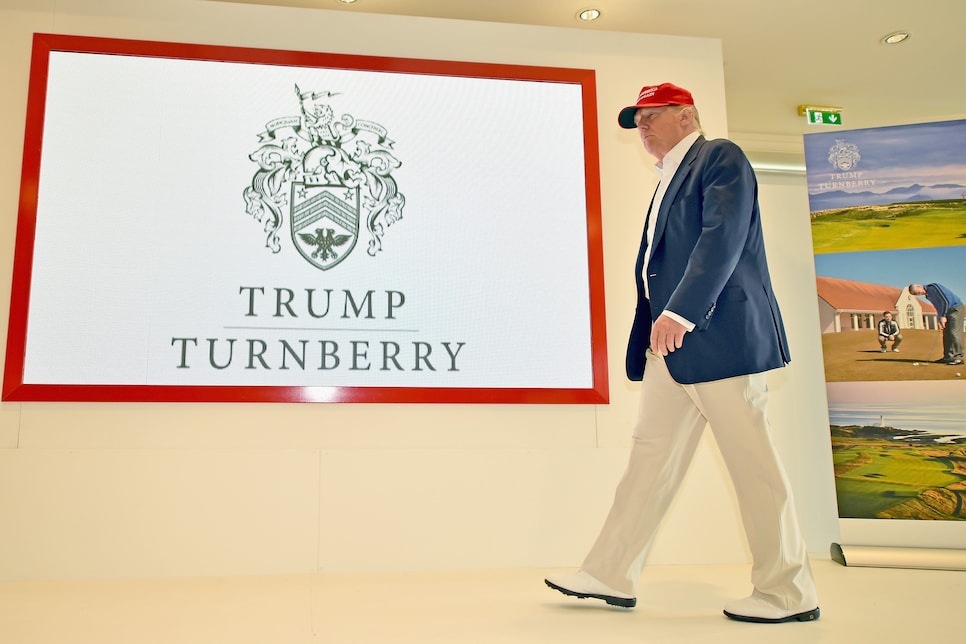 Turnberry Trouble - 2015-2016
Trump suffers multiple blows regarding his Turnberry estate. Due to his controversial and offensive comments, the course will reportedly be passed over as an Open venue candidate. These same comments forced the United Kingdom to evaluate its relationship with Trump:
The Republican presidential candidate is facing a ban from the United Kingdom due to his comments, which the country has deemed "hate speech." If he is denied entry -- the debate will be held in British parliament on Jan. 18 -- Trump is threatening to pull $1 billion in Scotland investments.
"Any action to restrict travel would force the Trump Organization to immediately end these and all future investments we are currently contemplating in the United Kingdom," read a statement from Trump's office.
This includes $300 million towards Trump Turnberry, which has hosted the British Open four times. Turnberry was recently pulled from consideration for the 2020 event due to Trump's controversial statements.
Then, Trump loses in court against the construction of wind turbines close to his course:
"He has created a fine golf course but it does not even have a permanent clubhouse at present, far less the claims of thousands of jobs and billions of investment," said Scottish National Party's foreign affairs spokesperson Alex Salmond.
Trump has argued the wind turbines will hurt the area's tourism and thus, adversely affect the economy. The European Offshore Wind Deployment Centre, however, says the farm would provide enough electricity to power 68,000 UK households per year. Trump's organization says it will "continue to fight" the proposal.