The Loop
Let's break down the World Series by reverting to typical (and deadly accurate) L.A. & Boston stereotypes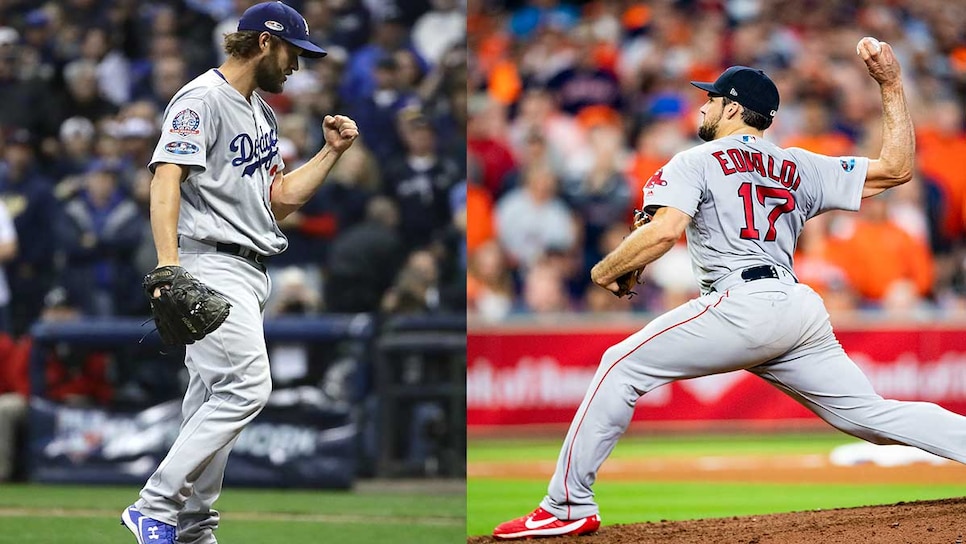 It's World Series time in America, which means that if you're a baseball fan, your team is probably not playing anymore! Maybe they haven't been playing for months! Maybe they were bounced out of the ALCS or NLCS in damning fashion! Maybe they were five games up in the NL Central in September, and then forgot to bring their bats to most games and ended up watching two separate teams celebrate playoff berths on their home turf. WHATEVER JERKS, WE STILL HAVE EDDIE VEDDER.
At any rate, the pending World Series between the Red Sox and Dodgers means that most of us have to pick a team that we probably don't care about all that much. Herewith, then, some helpful suggestions about how to pick a horse in a race you'll be watching via phone notifications while paying way more attention to football:
SHORT VERSION OF EACH TEAM
L.A.: Perennial and oft-bearded winners in a godless sea of hippie gridlock who plundered baseball's most pathetic losers for a midseason score.
Red Sox: Former jokes who are now a large part of a New England sports dynasty that's become appropriately obnoxious.
WHAT IS THE CITY THINKING RIGHT NOW?
L.A.: "The World Series will be nice."
Boston: (sound of bearded men roaring, glass breaking, Molotov cocktails being thrown through saloon windows, etc.)
WHAT ARE THE REST OF US THINKING RIGHT NOW?
L.A.: "For the amount of times they go to the postseason, we should really know more players besides Clayton Kershaw."
Boston: "We miss when you sucked. Also if you win Tom Brady will probably be a little pleased, and we simply cannot have that."
L.A.: Spent the better part of the first half of the season sucking lava rocks, starting with a Padres-esque record of 16-26 and once being a full 10 games under .500. After the All-Star Break, they visited a dark shaman, ate some Pac-Man power pills, rescued Manny Machado from the steaming geyser-hole that is Baltimore and then won 95 of their remaining 81 games.
Boston: Couldn't lose a game this year if you paid them, and some people probably tried. Finished the regular season with 298 wins. Probably hit 30 HRs in batting practice while you were reading this.
GAME DAY BEVERAGE OF CHOICE
L.A.: Wheatgrass acai avocado cold brew with extra ginseng and a hug.
Boston: Whatever it is, 18 of them, out of a shoe.
WHERE MOST PEOPLE WILL BE WATCHING
L.A.: Well, East Coast games are on at like 5 p.m., so everybody will be in f—king traffic. Actually, if the games were on at 8 p.m., they'd still be in f—king traffic, so never mind.
Boston: Entire city will be shut down for 10 days, no one will work, civic services will cease, hospitals and schools will close, churches will cease to issue baptisms and confessions, and everybody will be 100% OK with all this.
L.A.: From the sounds of things, they're still stuck on the Randy Newman song. Look, we love Randy Newman, but that came out in 1856.
Boston: Sweet mother of Fisk, Boston has like 9 of them now. They still do "Sweet Caroline." The Dropkick Murphys song is still a thing, and we're not gonna make fun of it because they'll jump us, and with good cause. Honestly, their version of "Tessie," an old-timey baseball song that comes from a no-joke 1902 musical, makes me jump out of my car, and I'm not even a Red Sox fan. Hell, Theo Epstein's band plays here all the time, and he hasn't lived in Boston in 30 years. Also wait, that band's singer is Kay Hanley from Letters to Cleo? That was EASILY the best one-hit-wonder song of the '90s. Next time they play, I am totally shipping up to Boston.
L.A.: EASILY "The Naked Gun," when Leslie Nielsen impersonates an umpire, and yes we are aware that's technically an Angels game because Reggie Jackson gets turned into a brainless killing machine, but it was shot in Dodgers Stadium and we're not the god damn Farmer's Almanac, so everyone calm down.
Boston: You're all waiting for us to say "Fever Pitch," right? Yeah we can't get past Fallon as a romantic lead, ever, for any reason, no matter how aggressively adorable the story's supposed to be. Besides, that means you have TOTALLY FORGOTTEN about "The Babe," which fulfilled John Goodman's reason for being on this planet by having him star as Babe Ruth.
L.A.: Showed last year they can't beat baseball's best team.
Boston: Clear favorites often satisfyingly choke when it counts.
L.A.: Having been beaten by the Astros in the Series last year, it's their time.
Boston: The universe is hopeless and unfair.