The Loop
Playing in the rain stinks. Here are seven reasons why
LOUISVILLE, Ky. -- As Bubba Watson sulked his way through the rain on Friday, evoking all sorts of "suck it up" sentiments on social media, it was perhaps lost that golf in the rain is not fun. Or at least it's not fun when there's a $10 million purse at stake and people are jabbing at you on Twitter.
Watson's histrionics aside, rain is not a perceived nuisance, but a real one -- testing everything from your patience to your caddie's ability to balance an umbrella, a yardage book and a bag all at once. Asked what was the most difficult part of playing in the rain, Henrik Stenson responded in typical deadpan, "Uh, staying dry?"
Which technically is true. But if you broke it down even more, the challenges go something like this:
1. The balancing act. So if we agree that "staying dry" is the goal, then you have to consider all that entails. Umbrellas, towels, rain gear -- they all have to be put on, held on to, constantly wiped down. Meanwhile,* it just keeps raining*. "The main thing is it's just kind of a nuisance," Graham Delaet said. "It's more just trying to juggle the umbrella, keeping dry and all that stuff."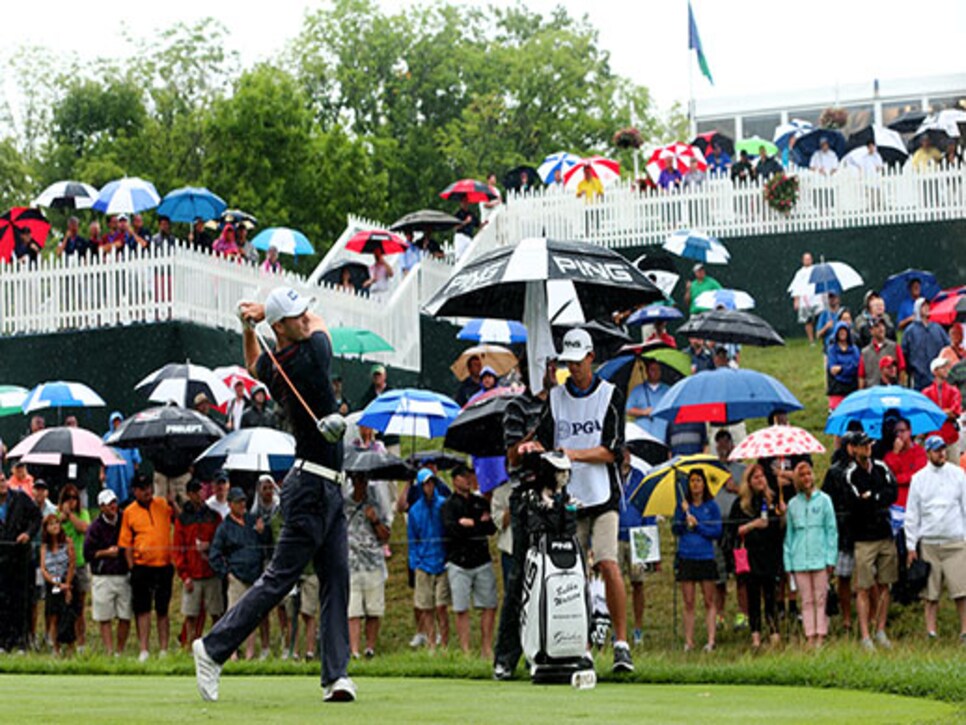 2. Rain gear sucks. Even the best rain gear, expertly made and drawing on years of scientific research, isn't as effective as playing in short sleeves. You can look it up. "There's always that break even point when you have to play and swing in the rain jacket," Stenson said. "Even though we've got good gear, it feels like it slows you down a bit."
__3. The uncertainty causes you to rush.__You can have the best caddie in the world, shielding you from the rain like your own personal Astrodome, and yet at some point, he has to pull away and leave you to fend for yourself. "The hardest part for me is I get a little quick," Ryan Palmer said. "I guess you're wondering if your hands are wet or if it's going to slip."
__4. The dreaded mud ball.__Talk to most tour players about what happens when mud cakes on the ball and they'll say they can't tell for sure where the ball is headed. In other words, it devolves into the type of golf the rest of us play. In a profession that demands precision, such guesswork is unnerving.
5. The ground changes. Our science education never got past high school, but we've been told rain causes the consistency of a surface to change. That, too, is an adjustment. From the fairway ("The ball sticks in the ground a little bit more," J.B. Holmes said) to the rough ("It's more grabby") to the sand  ("The sand has got really compacted and it's hard to slide your club underneath the ball," leader Rory McIlroy said), it's all new, relatively untested terrain. On the plus side, rain makes firm greens more receptive to approach shots. But for some players, it also means . . .
6. A long golf course gets* looonger.* Valhalla is playing to 7,458 yards, but when you add the rain that fell early Friday, it felt like closer to 8,000. That's particularly damning for those players who rely on roll off the tee to close the gap with their more powerful counterparts.  "Because I'm not a very long hitter, I think it's a very long golf course," said Jim Furyk. "I would say it's playing right into the bomber's hands right now."
7. Rain is unpleasant. Need we state the obvious here? Rain is annoying. You're left to dodge mud puddles. When you want to distract yourself by checking out the gallery, you're instead left to look at a sea of umbrellas. Golf is a hard enough game when it's 75 degrees and sunny. In rain, it can be, well, water torture.
Bubba, we feel your pain.