The Loop
Let us now safely relive the Chicago Cubs' 2017 costume road trips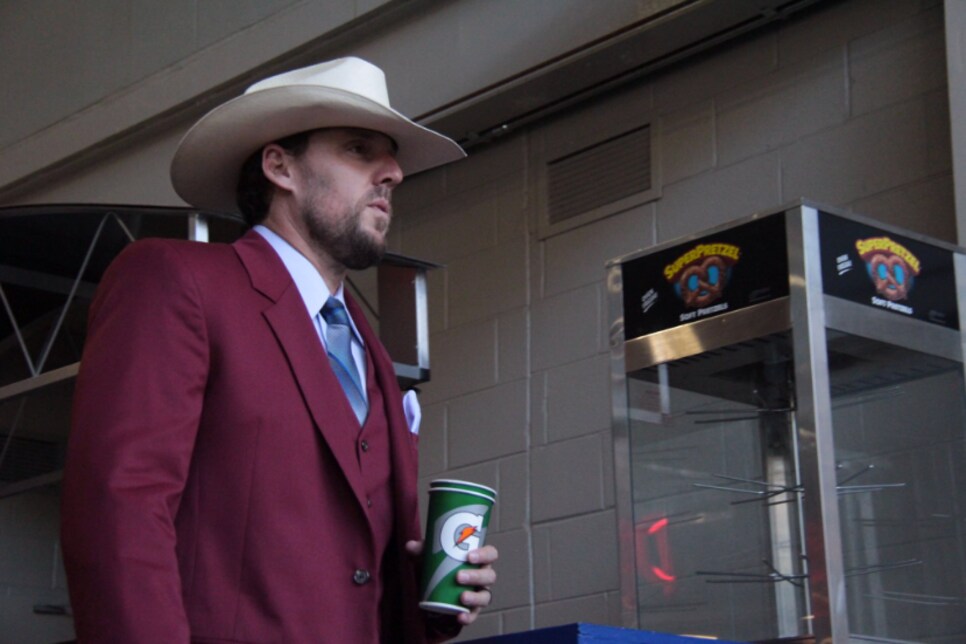 The 2017 Cubs haven't exactly been the 2016 Cubs, but even with engines maybe not firing on all cylinders for the first, erm, five months of the season, they'd have to work hard to lose the NL Central pennant this year NOT THAT IT HASN'T HAPPENED BEFORE, OR THAT I'M DARING THE UNIVERSE TO DO ANYTHING, CALM DOWN, ANGRY BASEBALL GOD. The slightly more normalized Cubs — just good as opposed to historically ridiculous — even cut back on manager Joe Maddon's famous costumed road trips, something which Maddon admitted to the Chicago Tribune in August. "I don't know that we've had enough fun this year, quite frankly," Maddon said. "And a lot of that comes with winning, obviously. That's just the natural residue of winning…Anything you can do to unify the group, it's always a good thing. It's fun. And for the group that doesn't understand it, that's too bad that you've forgotten what it's like to be a kid."
As fans of the defending world champions, a phrase you'd really think would have sunk in by now, prepare for their third playoff run in three years, a look back on the Cubs' 2017 costumes:
Seven months after a mic'd-up Anthony Rizzo confessed to being a "glass case of emotion" to David Ross in Game 7 (and shortly before the light meltdown that resulted in a tied ballgame and Cubs fans throwing actual glass cases around their living rooms) the Cubs went full classy on a road trip to say-it-with-us San Diego. Honorable mentions must be made to Kyle Schwarber's hat as Champ Kind, Anthony Rizzo's afro and Jon Lester and John Lackey, who briefly paused from being terrifyingly intense to wear funny colored suits. Also Joe Maddon dyed his hair. The Cubs went 0-6 in L.A. and San Diego on the road trip, leading a solid number of folks on social media to wonder if it was time to pump the brakes. But can you put a win-loss figure on an in-character Will Ferrell response video in which he refers to strength coach Tim Buss as "Orange Batman"? NO YOU CANNOT.
With their legs under them, and at the suggestion of their strength coach, the Cubs donned black-leather vests and motorcycle attire from a movie that 90% of the fan base had to probably Google. Points here to Javier Baez's glasses, Pedro Strop's efficiently deployed bandanas, and Jason Heyward looking basically just like a badass. The Cubs went 3-3 against the Giants and Diamondbacks.
August: American Legion Week
Less costume-y than the others, but once a year Maddon institutes an "American Legion Week," in which players are allowed to show up basically right before the first pitch if they want to, much like they did when playing Legion ball. The idea: Professional baseball players know how to play the game pretty well, so knocking out a week of pre-game warm-ups probably shouldn't affect their fundamentals too much. Also, sleeping in is good. "I think Joe does a good job of knowing it's the part of the year where you got about three or four more weeks until the final stretch," Rizzo told the Chicago Tribune. So getting through the dog days always is a challenge in itself. Guys knowing they don't have to be here at 1 or 2 p.m. is nice." Also, RESULTS: The Cubs went 5-2 during Legion Week 2017, and have gone 14-2 during Maddon's sleep-in weeks dating back to 2015.
September: Football Jerseys
For the last Sunday without football in a while, the Cubs went the football-jersey route, sort-of echoing the Blackhawks jersey-themed trip from 2015. Not surprisingly, a lot of guys stuck close to home, with Jason Heyward as Gale Sayers and Jake Arrieta as Dick Butkus, while Jon Jay threw it back to his Miami background with a Sean Taylor jersey and John Lackey (and his son) repped Dak Prescott. Our winner: 100 points to Rizzo for going as the fictional Dolphin Ray Finkle from Ace Ventura. Also, because champs recognize champs, Hector Rondon emerged in a Gronk jersey and Jose Quintana went so far as to don Brady gear, leaving much of the city wondering if it was possible to theoretically support anyone wearing a Tom Brady jersey. (Scientific answer: Hell no.) The Cubs went 2-2 in Pittsburgh, but they didn't cheat, so that was good.