Ten Questions With Joe Ogilvie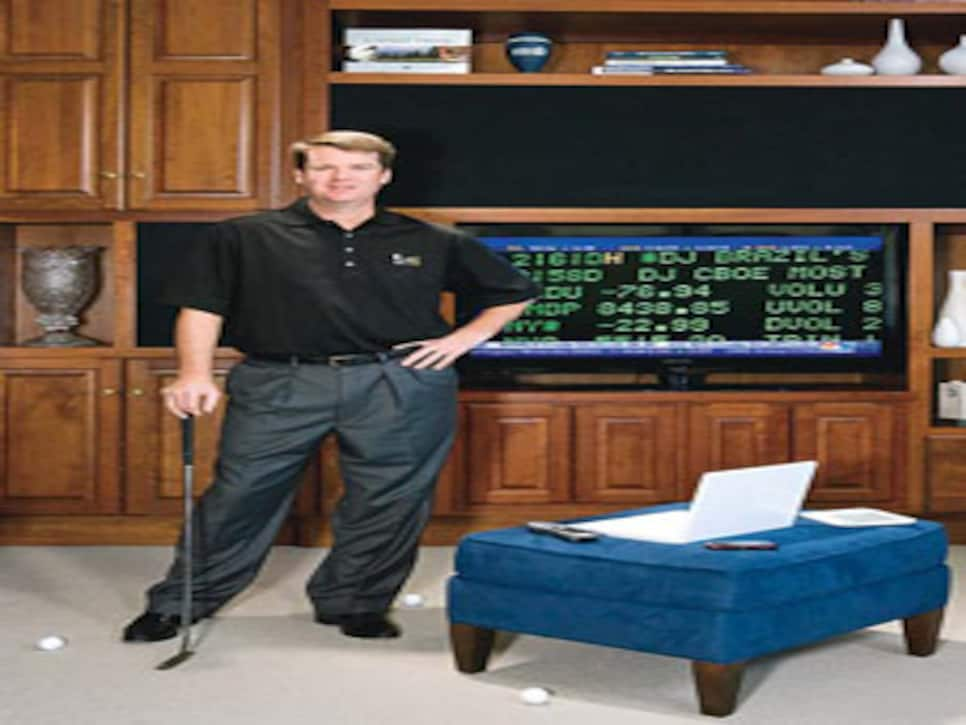 'I've been around two of the best at what they do: Warren [Buffett] and Tiger."
It's fitting that Joe Ogilvie's lone PGA Tour win came at an event sponsored by a bank: the U.S. Bank Championship in Milwaukee in 2007. A graduate of Duke University, where he jumped up and down at Blue Devils basketball games but denies ever painting his chest or face, Ogilvie, 34, looks and sounds like a fast-rising executive at a financial institution. He's as comfortable talking high yields as he is high-spin rates. In fact, Ogilvie started an investment-advisory firm and lists Warren Buffett and Bill Gates as his heroes. Ask tour players who's the brightest among them, and Ogilvie gets the most votes (see survey, "What Tour Pros Really Think").
1. You're known in golf circles as a stock-market guru. How'd you weather the past six months?
I certainly wasn't unscathed, but luckily I hedged in the right places. Fortunately, I can still pay the bills. I met with some private-wealth people in the last 18 months, and a lot of them predicted this, so I was able to take a considerable amount of money off the table.
I'm bullish long-term but bearish short-term. I'd be looking into corporate debt space in the next year. Tips? Basically a relatively cheap inflation hedge.
3. What's the best financial move you've made?
Saving my money and not leveraging up. I've invested with people who don't use a lot of leverage.
In 2000 and '01, I knew the market was overvalued but didn't invest with a margin of safety. I was pretty much a speculator.
5. How'd you become friendly with Warren Buffett?
I was on the Nationwide Tour in 1998 and leading money-winner when the Omaha World-Herald did a story on me that discussed my interest in investing. Mr. Buffett read it and tracked me down. We talked. He invited me to Berkshire Hathaway the next day. I've spent quite a bit of time with him since then.
6. What's the best lesson you learned from Mr. Buffett?
I've been around two of the best at what they do: Warren and Tiger. What they have in common and what separates them from the rest is discipline.
7. You played some junior golf with Tiger. What stood out?
I played against Tiger in the [American Junior Golf Association] Canon Cup in the early '90s. We were on the ninth at Eisenhower Golf Club in Colorado. He had 265 uphill at elevation. He hit the most beautiful 3-iron I've seen to this day to four feet. I remember turning to my partner and saying, "That guy might be the best player in the world right now, and he's 15." Granted, I was 17, and you're not that smart at that age, but, still, I knew he was special.
8. Your name comes up as a future commissioner of the PGA Tour. Interested in the job someday?
I could see myself in 15 years, in my late 40s, stepping into that role.
9. Ever consider a career in politics?
I have now and again, but I don't think it's my calling. I do diplomacy with a blunt object. I'm not diplomatic. I'd rub people the wrong way.
10. What rubs you at the moment?
What I'd like to see is someone telling the American people that you have to sacrifice. My generation really hasn't had to sacrifice or been asked to give something. Certainly young men and women in the armed services have, but the rest of us have not. If Obama asks for sacrifice, like paying higher taxes to pay off all the money we're borrowing, I think they'd do it. But it can't be a soak-the-rich, give-to-the-poor deal. Everyone will have to sacrifice.