Seven Questions With Daniel Chopra
My first really good golf lesson was dispensed by the vulgar but effective old pro at my dad's driving range in Allentown, Pa., when I was 15. Stuck in a rut, I tried explaining that my swing plane was off, even though I didn't know a swing plane from an airplane. Disgusted, Frank glared at me, unfiltered Pall Mall dangling from the corner of his mouth. His advice? "Hit the %#* ball already!" He was the first great character I'd come to know in golf. During the past 12 years covering the PGA Tour at the Golf Channel, I've met countless others. I'll bring their stories to you in the coming year, beginning with Daniel Chopra, the defending champion at the Mercedes-Benz Championship.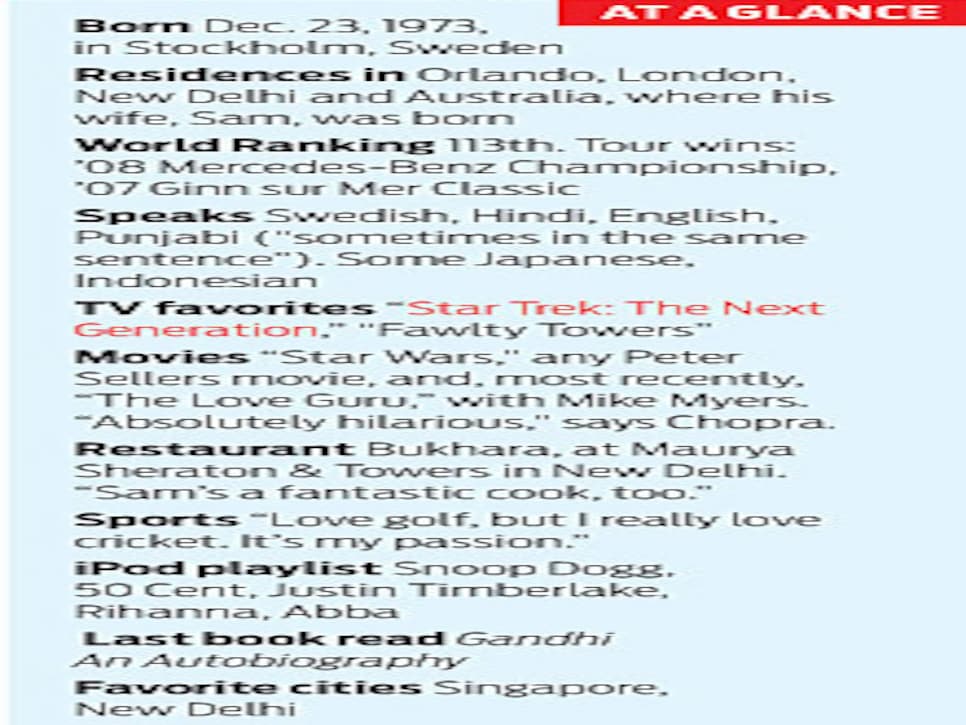 A few years ago at Westchester, my wife, Sam, was shopping in Chappaqua, N.Y., where the Clintons live. President Clinton happened to be out for a stroll, so Sam introduced herself and said, "Excuse me, Mr. President, but my husband is Daniel Chopra, a professional golfer, and he's a big fan of yours and has always wanted to play golf with you."
Look, even as the former President of the United States, he's a busy man. The only time he gets to practice is on the course. So, yeah, if he misses one he sometimes takes another. He plays for the fun of it, loves it. If the president wants to take a mulligan, go forth, I say. He makes you feel like you're the only person in the world when you're with him.
My father's brother, my Uncle Praveen. He belonged to Delhi Golf Club, the only true, non-military golf club in Delhi. A fantastic course—one of my favorites of all the courses that I play.
I was born in Sweden and moved to India at age 7. My mother's Swedish, and my father's Indian. They met while studying in London. Dad's an electrical engineer. Mom's a teacher whoused to design clothes. I went to visit my grandparents to learn a bit about the Indian side of my heritage when I was 7 and wound up staying seven years.
I wouldn't characterize myself as left or right. I agree with views on both sides. That comes from my upbringing. Indian culture is more conservative and respectful of traditions, and Sweden is more modern and technologically advanced. My views are all based on world peace. For me, America is a land of incredible opportunity, and I like to view the world as a place we should all be proud of. Obviously, our earnings as tour players are on the high side, but I'd gladly pay higher taxes for the government to prioritize peace around the world.
' wife's always telling me, "Don't take your Trekkie knowledge out to the public."'
A Lamborghini Gallardo, candy-apple red; black Mercedes SL65 AMG, off-white Lincoln Navigator and a red Mini Cooper S. We have names for them: Lambo, Vader, Kashmir [from the state of Kashmir] and Akachan [meaning baby red in Japanese]. I'm looking at electric cars now. Lexus and Cadillac have cool ones coming out.
7.__ If you were commissioner of the PGA Tour, what would be your first order of business?__
Rich Lerner is a commentator and essayist for the Golf Channel, where he has worked since 1997.