The Loop
Leonard Fournette got in a fender bender and the internet thinks the Patriots are behind it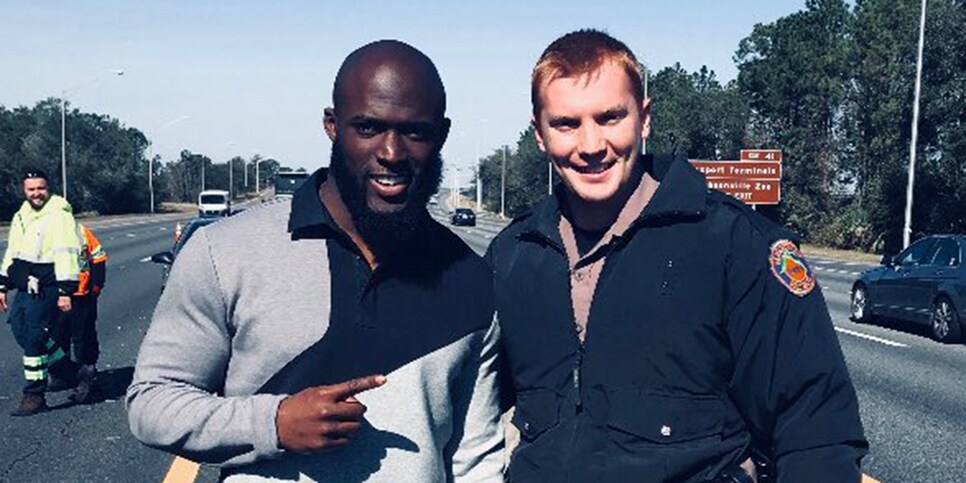 First came Spygate, then Deflategate, and now, if the internet is to be believed (which it probably isn't), Fender-Bender Gate. On Tuesday morning, less than 48 hours after Jaguars' stunning 45-42 beatdown of the Pittsburgh Steelahs, rookie RB and human pneumatic hammer Leonard Fournette was involved in a minor car accident just outside of Jacksonville. On its own, this wouldn't be totally out of the ordinary. Traffic accidents in this country are tallied in the thousands every day. Given the timing and driver and recent confirmed reports of a Pentagon alien research program, however, the NFL's famously sensitive alarm systems went into immediate self-destruct mode:
Thankfully, Fournette wasn't injured in the accident, hanging around afterward to sign some mangled bumpers (yes, really) and take a quick photo with a Department of Sanitation worker who Jaguars Twitter also noticed is A. huge and B. packing serious heat for any sanitation employee not from the great state of Florida.
So even if the driver of the other vehicle told authorities his name was William Smellichick and was seen discarding a fake glasses/mustache setup as he left the scene, it wouldn't really matter. Barring a slick, strategically placed ice patch outside the Foxborough Marriott, Fournette will suit up Sunday afternoon in the hotly anticipated 1996 AFC Championship rematch the whole world has been waiting for. JAGS UP!