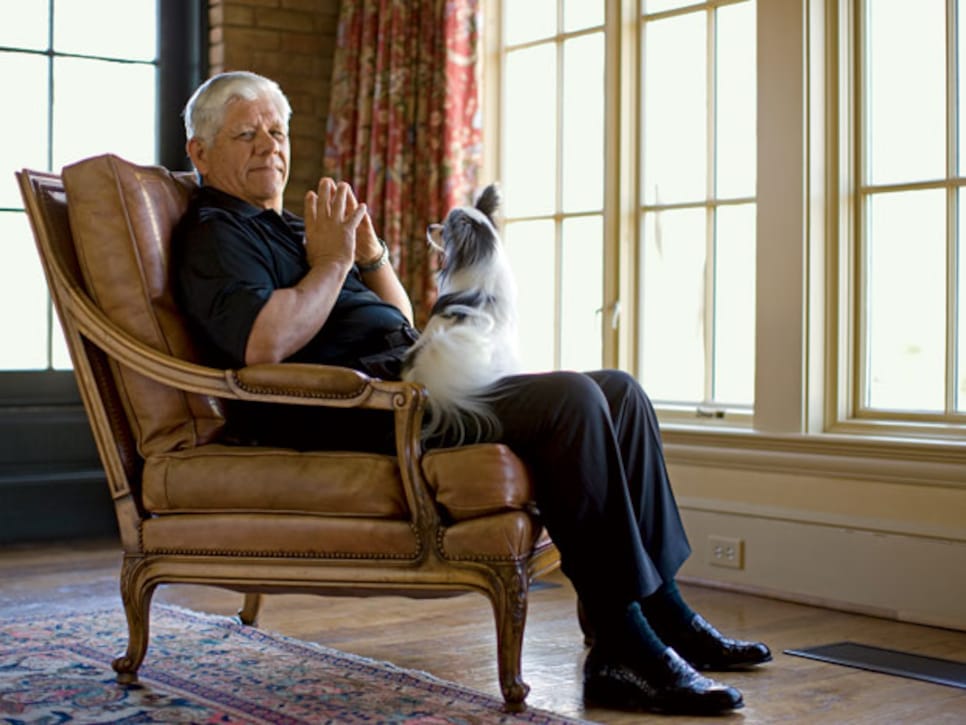 Lee Trevino with Minnie, photographed at home in North Dallas by Walter Iooss Jr.
Lee Trevino is out on the manicured grounds of his expansive French-colonial mansion in North Dallas when a visitor is admitted through the front gate. Trevino is wearing shorts and a T-shirt, kibitzing with his two Papillons, Minnie and Lulu, and holding a custom-made putter after filling it with lead. At the moment, he's thinking of doing the same to a beaver that has been taking chunks out of his property.
"All my life living around here, never seen a beaver," says Trevino, on the verge of turning 70. "I've been doing research on them, but it's been hard to find him. I know one thing: He never stops working. Tough little dude."
Trevino could have been describing himself, for no golfer has ever come farther on industriousness and grit. After picking cotton in Texas fields when he was 5 years old, dividing his golf baptism between the caddie yard and the range, beating all comers on a par-3 course with a taped-up Dr Pepper bottle, and then becoming a man in the Marines, Trevino joined the tour at 27, a folk hero in the making. In his second year he won the 1968 U.S. Open, the first of four times Jack Nicklaus finished second to Trevino in a major. Trevino would win 29 times, including six majors, on the PGA Tour. Amid the success, he lost two fortunes and then lost his game after being hit by lightning. But he fought back with a second act that included winning 29 more tournaments on the Champions Tour.
These days, Trevino plays only a few tournaments and shoots over par more than he's under, but he's more engaging and entertaining with fans than ever. His focus is on his wife of 26 years, Claudia, and their children, Olivia, 20, a drama major at Southern Cal, and Daniel, 17, who lives at home and is on track to play college lacrosse.
Golf Digest prompted Trevino's mercurial mind to reflect on such things as his Dickensian background, Nicklaus, Tiger Woods and occasional golf partners George W. Bush and Condoleezza Rice. In the process, Trevino issued an impromptu manifesto on the state of golf. He also had a message for Paul Goydos, who in defending the current era of players opined that "there are 10 Lee Trevinos" on tour today.
"Tell him you were at my house," Trevino said with a smile, "and you tell him to send me the list of the 10 guys out there who have won six majors and 29 tournaments. Give him my address."
Golf Digest: What's the story on this house?
Lee Trevino: I was meant to be in this house. I grew up about five miles from here. I used torabbit hunt around these creeks as a kid. There wasn't nothin', just cattle and ranch land. This house was built in 1939, same year I was born. And we'd come down here, see this house, and we thought it was a castle. Never seen anything this big. Then when we moved back to Dallas a few years ago, this house was Claudia's favorite of the ones she looked at. We drive up, and I say, "I've seen this house before." She says, "When? Where?" So I told her the story. I'm back to my roots, man.
Those roots included a lot of tough times. Is it hard for you to look back?
I never think of yesterday. Can't do anything about it. I'm a positive guy. When you really deep down look at it, we go to bed every night, get up every morning, stay here for 70 or 80 years, and then we die. What the hell were we doing? [Laughs.] Claudia taught me the answer: Those two kids. To make them the best people, so they'll be productive, help others.
You know, I'm going to be cremated. I've got two steel spacers in my back, and I have a steel plate in my neck with six screws. I told Claudia, when they deliver the ashes, I want her to reach in the urn, and if she doesn't find two spacers, a plate and six screws, it's not me. Claudia will spread my ashes somewhere. St. Andrews would be great.
What does hitting 70 mean?
Nothing. A number. Actually, I'm making it a positive. I like to go to the gym, and practice, and shoot these scores with my friends, and people say, "I can't believe you're almost 70."
Have you left competitive golf behind, mentally?
Oh, yeah. I left that quite a while ago. When I realized I couldn't win, that took everything out of it. The only reason I go out on the Champions Tour is to talk to the guys, have some fun. I still get all the people in the gallery walking around with me because they know they're going to hear some stories.
How do you know when your competitive days are over?
Every shot feels like the first shot of the day. If I'm on the range hitting shot after shot, I can hit them just as good as I did when I was 30. But out on the course, your body changes between shots. You get out of the cart, and you've got this 170-yard 5-iron over a bunker, and it goes about 138. [Laughs.]
How much recreational golf do you play?
Not a lot. I play with an old friend, Wendell Condit, a car dealer I've known over 50 years. We play at Diamond Oaks in Fort Worth, not a fancy course. Greens probably about a seven on the Stimpmeter. My partner is Orville, a bail bondsman, and then we've got John, a heavy-equipment operator in Alaska. They treat me great. I'm just one of the guys. That's how I like to play golf.
I love to play with my wife. I play with my son, Daniel, who has a great game. George Bush—the son—and I have been good friends for a long time. He lives right down the road. He called the other day; he's going to go play some golf. He's about a 12-handicap, but he can be good when he practices. We haven't been to the range yet, but I'd like to help him. I took him and Condoleezza Rice out to Dallas National not long ago. She loves golf, is very competitive, and a good athlete. We had a great time.
You've said Barack Obama's election last year was emotional for you.
I cried. I thought the country had arrived, to elect a black president. I didn't think I'd see it in my lifetime.
Was the election personal in terms of race and your background?
Sure, I've felt racism. I think everybody has prejudice. When I was growing up, the dark Mexican kids weren't allowed in the public swimming pool in Dallas. My light-skinned friend got in, and he laughed at us. It didn't seem like a big deal, because we didn't know any different. So I never ran into anything that actually scarred me.
Growing up, did you have a lot of fights with other kids?
Yeah, but back in our day, fights were nothing. There were no weapons. Now it's shoot somebody or cut somebody. It was a different story back then. The drugs weren't around. They probably were, but they were for people with more money than us. Never messed with them.
What was the caddie yard like back then?
We had about 80 caddies at Glen Lakes Country Club. I lived right next to the course, across from the seventh hole, in a little house with my grandfather, my mother, my uncle and my two sisters. No running water, no electricity. There were a couple of white caddies, maybe three Mexican kids. Everyone else was black, all from Second Avenue, because that was the only place blacks could be in Dallas at the time. Sometimes, three or four of them would come over and sleep on our porch so we'd be first off in the morning.
All my life I had a rapport with black caddies. Herman [Mitchell, Trevino's longtime caddie ontour], all of them.
My mentor at Glen Lakes was a guy called Cryin' Jessie. I took care of him until he died about four years ago. He was a caddiemaster around here forever, but when I was 8 years old, he took me under his wing, taught me how to caddie, kept me out of trouble, made sure nobody messed with me. He taught me that caddieing is basically a bunch of bull----. Always tell the player that he's swinging good, make an excuse for him, keep him positive. And just get in the game with him, give him a little information.
You were a good caddie, and you beat the other kids in golf. Did it occur to you that you might have special ability?
Hell, no. When you're poor, you know nothing about the future, you know nothing about the world, nothing that goes on outside 300 yards around you. See, it's not very hard for me to understand people in some of these small countries that are isolated, that have dictators, and nobody lets them have anything. Think of North Korea: There are people in those mountains who have no idea what the rest of the world is like. So why dream? What are you going to dream about?
But you were good at everything you did?
I thought that was just the way you were supposed to be. In those days, nobody ever told me "Good job" or gave me a compliment. You did it until you did it right.
Why were the Marines so important to you?
The Marine Corps was the greatest thing that ever happened to me. Back when I went in, they tested to see if you were tough enough to be a Marine, and to stay there. So they would beat you up all the time. The drill instructors would hit you with sticks, and they'd kick you, they'd knock you down. I got hit in the jaw the first 15 minutes I was there. One of the drill instructors said I wasn't being still. We were standing at attention, and it was the receiving hall in San Diego. And the guy hit me right in the mouth with his fist. Knocked me down. I got back up and just stood there, at attention. It wasn't going to discourage me. I'd been hit harder than that at home.
The thing is, I was looking for discipline. A lot of kids today who end up getting in trouble and going to jail, they actually want discipline. See, discipline is actually attention, you know what I'm saying? That's what I lacked. If they told me I had to go back in the Marines now, hell, I'd love it.
Yet you dropped out of school in eighth grade. Why?
I was pretty smart, but I had no support cast. Nothing at home and nothing at school. Everybody was from a farm, and if you didn't come to school, nobody gave a damn.
When you got out of the Marine Corps, golf was your main thing?
That was when I really started improving. I figured out how to keep the back of my left hand aimed at the target through impact, just holding on to that thing, a blocker, and I could really play. I hit the ball dead straight. People thought I faded the ball because my body was aligned about 30 degrees left of the target, but when the swing starts down, my body goes toward the target. So I was extremely straight.
At the time did you have a long-range plan?
No, I didn't know anything about the tour or that you could make a living playing golf. I saw Jack Nicklaus at the 1963 PGA that he won at the Dallas Athletic Club, but I had never heard of him. I was just trying to beat the guys I played with at Tenison Park. I wasn't winning a helluva lot of money, but I was paying rent and having a good life. I think the most I ever won in one day was less than $100.
It was success to me, but it made me like Dracula: Once I tasted a little bit of blood, I wanted more. I guess I was smart enough to understand that if I was going to get more, I was going to have to give more. Getting out there and doing it. Mastering it. Figuring it out on your own. And the more I practiced, the more I could see the improvement. In leaps and bounds.
Because I learned how to teach myself. When you're doing something really well, if you don't have it on film where you can see it, you'd better be able to close your eyes and see it, so you can dissect why you're doing that. I didn't have any film, so my stuff was all in my mind. See, if something happened to me in the middle of a tournament, I didn't have to call Butch Harmon or somebody to say, "What am I doing wrong?"
When I learned a shot, I wanted to know why. And I would test things in practice until I knew exactly why. That's how I earned my confidence.
What's so remarkable is that because you stayed around Dallas, you never really tested your game against the best players. You got out on tour by qualifying for the 1967 U.S. Open at Baltusrol and finishing fifth. As soon as you did, you had great success, ending up as the Rookie of the Year. Were you surprised?
I didn't know what to think. For a long time I had this doubt that I belonged because of where I came from. And I would hear a lot of pros say I couldn't last with that swing. My safety net was work.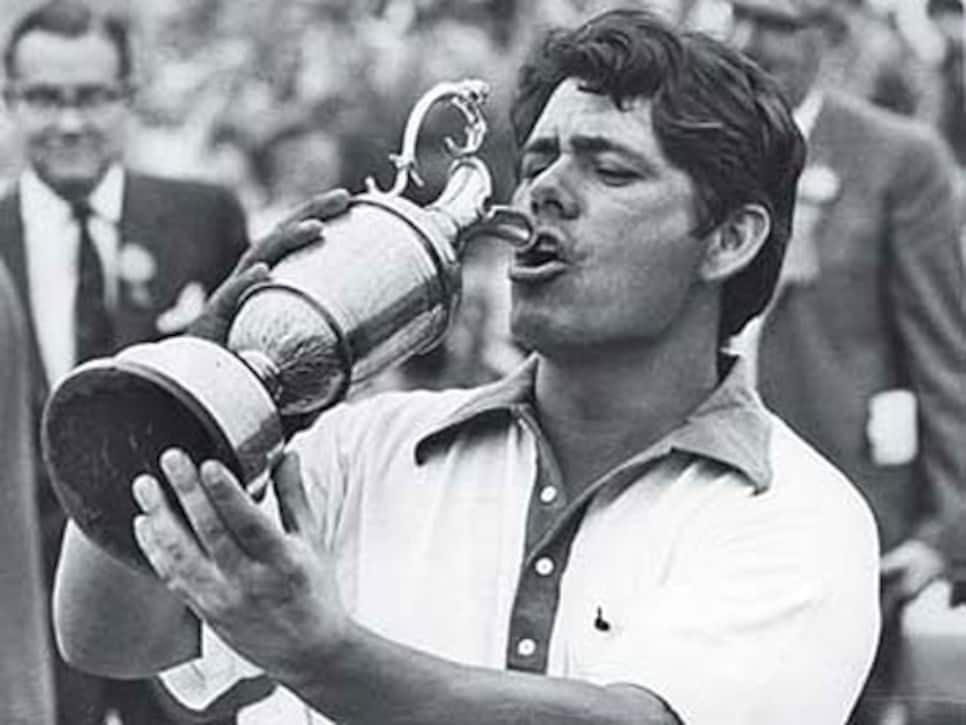 What's your main memory of winning the 1968 U.S. Open at Oak Hill?
Oak Hill, it was kind of like playing at home in Dallas. No one noticed me; no one cared. They actually thought I was with the grounds crew. When I finished playing the first day after shooting 69, I sat by the practice green in a golf cart drinking a beer, and not one person came by to say hello, how you doing, nice round or anything. They had no idea who I was. Hell, I had only 13 clubs in my bag—I carried only one wedge—and one of them was a Bert Dargie 6-wood. The same thing happened after the 68 in the second round. Of course, that's the last time it happened.
A lot of stories from those days involve drinking, which you quit about 20 years ago. Did drinking hurt your career?
I don't think so. I could drink for seven straight days and then not touch a drink for weeks. I remember Albert Salinas [former business associate] traveling with me, and I was drinking scotch and soda, and every night we'd have two or three or four, get a little buzz on, and I'd go to bed. Never bothered me because I ran a lot to stay in shape—usually three miles at an eight-minute pace—although I might have had three beers right after, so in a way I ran to drink. I remember we were in Tucson, and I told him, "I'm not going to drink another drink until I win a tournament." He says, "Good." And that week I won. [Laughs.]
Too much alcohol might have hurt you at the 1968 PGA in San Antonio.
That was an accident. That was when Gatorade first came out, and they put a case of it in my room. I was right there by the ninth green. And we were having a party Saturday night, and they were mixing tequila with this stuff, and it was pretty good. And they had all this Gatorade in the refrigerator in a big pot. I went to bed early, because I was in the hunt, only a stroke or two off the lead, and I got up thirsty about 3 in the morning. And I saw this pot of Gatorade in the refrigerator, and I started chug-a-lugging, not knowing there was tequila in it. I woke up blind drunk. It was a scorching-hot day, and I don't know if I ever felt so bad on a golf course. I think I shot 76.
Winning the 1971 U.S. Open at Merion, beating Nicklaus in a playoff, changed your self-image?
That was the pinnacle, the turning point of my career. When I beat the best in the world—not only tied him in four rounds but then beat him in a playoff—that was when I actually believed in myself for the first time: 1971.
Jack says you were the toughest to play against head-to-head because he knew you were always going to be in the fairway. Could you sense he felt that way?
No question. That can wear on you. I didn't make a lot of mistakes. But really, it was reverse psychology. That's why I beat him. Because every time we'd lock horns, I know he was thinking, No way this guy should beat me. . . . No way do I want to lose to this guy. And that's all he's thinking about. Me, I'm not thinking about anything. I'm not supposed to beat him.
Nicklaus indirectly helped you win the British Open the next month.
I loved Royal Birkdale. I had played it the year before, and it had five par 5s, and because we played the small ball then, I could reach all of them in two. And I just could not wait to get there and play it. Because for the first time in my life, I knew what Jack felt like. In those days, when Jack parked his car he was already four under.
You won the British Open again the next year, 1972, at Muirfield.
Well, my chili was really running hot before I hit that chip on 17. But I hadn't quit. I was aiming at the hole, and it was a simple shot. I was just trying to hit it before I got any hotter. I was actually inside [Tony] Jacklin, but being polite, he asked me if I wanted to chip. So it goes in for par, and he three-putts for bogey. And then I piped my drive on 18 and closed it out.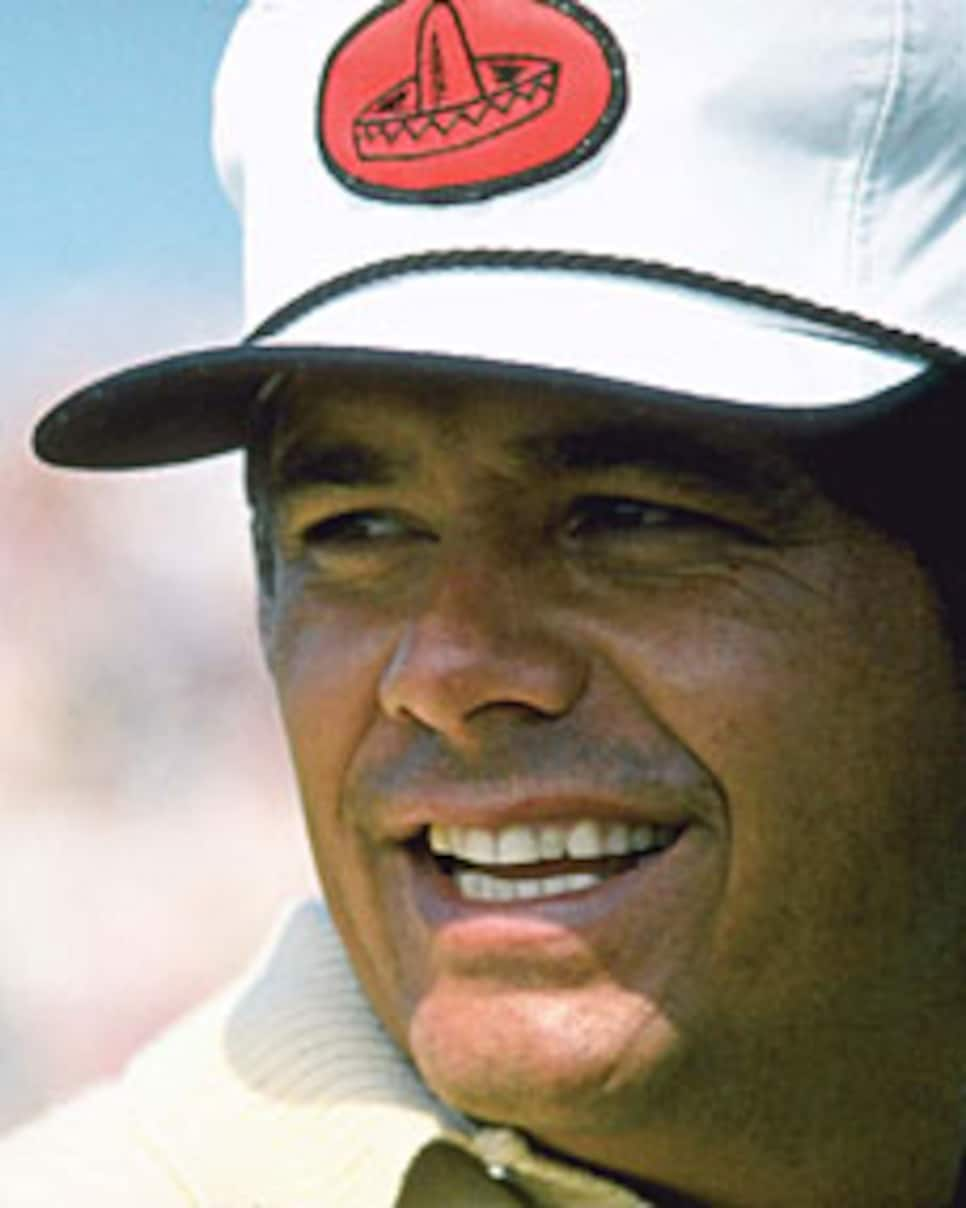 Tony has said that destroyed him as a player, and that's something I've never understood. Because he wasn't from uptown, either; he didn't grow up with anything. But he convinced himself that the golf gods were against him.
How did you deal with tournament pressure?
Pressure was never really there for me. It was there, but it wasn't. Where I came from, and where I'd gotten, I was playing with house money.
You did confess to feeling pressure at the next major you won, the 1974 PGA at Tanglewood.
I was playing with Jack, and I three-putted the 17th from 30 feet to have only a one-stroke lead. Now I'm tense, but what gave me a little life is that Jack took out 3-wood on 18. I thought, What the hell is he doing? Because if he had hit one of his bombs down there, it would have made my tee shot a lot harder. But I took out my driver and hit it way past him. He hit like a 4-iron, and I hit 6-iron right over the flag, about an 18-footer. Mine is downhill—and I leave it about three feet short. That was the first time in my life where I really felt a lot of pressure. I said to Jack, "I've got to finish, or I'm going to have a heart attack." And he started laughing. I put it in.
The next year you got hit by lightning on the course during the Western Open.
That changed everything. I don't know how good I would have been if that hadn't happened. I never was the same. It led to an operation on my back in 1976, and once they cut on you, you're never the same. You can't swing hard at it, can't dig it out of the rough; uphill and sidehill lies, you have to be careful. And you lose speed. In a way, you lose everything.
I'm proud of 1980 because I won the Vardon Trophy, but I hurt my back again, and that's when I went into the television booth.
Winning the PGA at Shoal Creek [in 1984] was kind of a miracle. I was 44, bad body. But I drove the ball great there. Going into the last round, on the practice putting green, I broke everyone up. Herman's got the gout, he's in a bad mood, and we're walking to the first tee, and some guy in the gallery yells at me, "What do you feed that caddie?" I look at the guy and say, "Rednecks!" And Herman says, "And I'm getting hungry, too!" That's when the people in the gallery said, "You know, that guy's all right."
Where does your humor come from?
I think it was from having a tough early life. At that time you didn't want anybody to know it. If you were talking all the time, nobody could ask you a question.
You're close with comedian George Lopez.
George and I grew up a lot alike. His dad left him when he was like 1. It wasn't a happy childhood. And George has kind of been like me, went on his own for most of his life. Where I was playing and hitting balls on the public courses, he was doing comedy on the street corners and the little bars. He was looking for something in life, and finally he found a little happiness and a little security. He's got a wife who gave him a kidney. You can't measure that kind of love. I'm like a dad to him. He calls me all the time for advice and stuff. He comes to Dallas, he calls me. I go to L.A., I call him. We talk all the time.
We're currently witnessing the greatest sustained run in history. You're a big fan of Tiger Woods. Why?
This guy is it. He is I-T. He is No. 1. Nicklaus was my man. I always loved Nicklaus' game. But Tiger, man, I can't wait to turn the tube on. I study him. I love the way he plays. The way he carries himself.
We've both done the same things. Played golf, hit balls. Win a tournament, then out there Monday morning pounding them sumbitches. Win another tournament, out there another Monday morning. Messing with clubs, working on this, working on that. Finishing a practice session, going home and all of a sudden saying, "Oh, I just thought of something," and going right back out there. I did that a lot. He's living the same thing.
Hard question: Who's better, Jack or Tiger?
Well, there's no way you can put the label "better" on Tiger until he breaks Nicklaus' records. He's fixing to beat Jack in total tournaments won [behind Sam Snead]. In the major championships, it remains to be seen. But it's just a waiting game. It's going to happen.
If Tiger had been playing in Nicklaus' era with that equipment, I think they would have beat each other up. It would have been much closer than this Mickelson-Tiger thing. There's no rivalry there; Phil can't handle Tiger consistently. Nicklaus could have handled him. Tiger wouldn't have beaten Nicklaus every week. Nicklaus would have still won his majors and still won his golf tournaments.
The problem would have been that if you had those two, hell, there would have been nothing there for me. Or Miller or Watson. We wouldn't have won anything. [Laughs.] But to answer your question—and I bite my lip every time I say this—Tiger's better.
The only weakness that Tiger has is his driver. But he overcomes it with his short game. If Jack Nicklaus had driven the ball like Tiger, with the short game Jack had, he might never have won a major championship. Jack was a mechanic with his driver, great with his irons—especially long irons, high—and he was an excellent putter. He wasn't very good with his short game or the bunkers. But Tiger from 100 yards in, with the wedges and the chipping and the creativity, is as good as anyone who has ever lived. Usually the harder the shot, the better shot he hits. That makes up for so much, and that's where Tiger gets the edge on Jack.
Where do you think Tiger is with his game?
As much as Tiger works at the game, as good as he is and with all the shots he knows how to hit, I can't believe he can't figure out a way to drive the ball straight. The key to golf is the driver. If you don't have the key, you can't start the car. No. 1, I think he's trying to hit it too far. He doesn't need to. No. 2, I don't think he should be playing graphite. I think he should find a lightweight steel, and I think he should go back to a 43¾- or 44-inch driver. It would give him better control. If he hits it down there 290 in the fairway, he'll win every single golf tournament. The only reason people beat him is because he sprays the driver.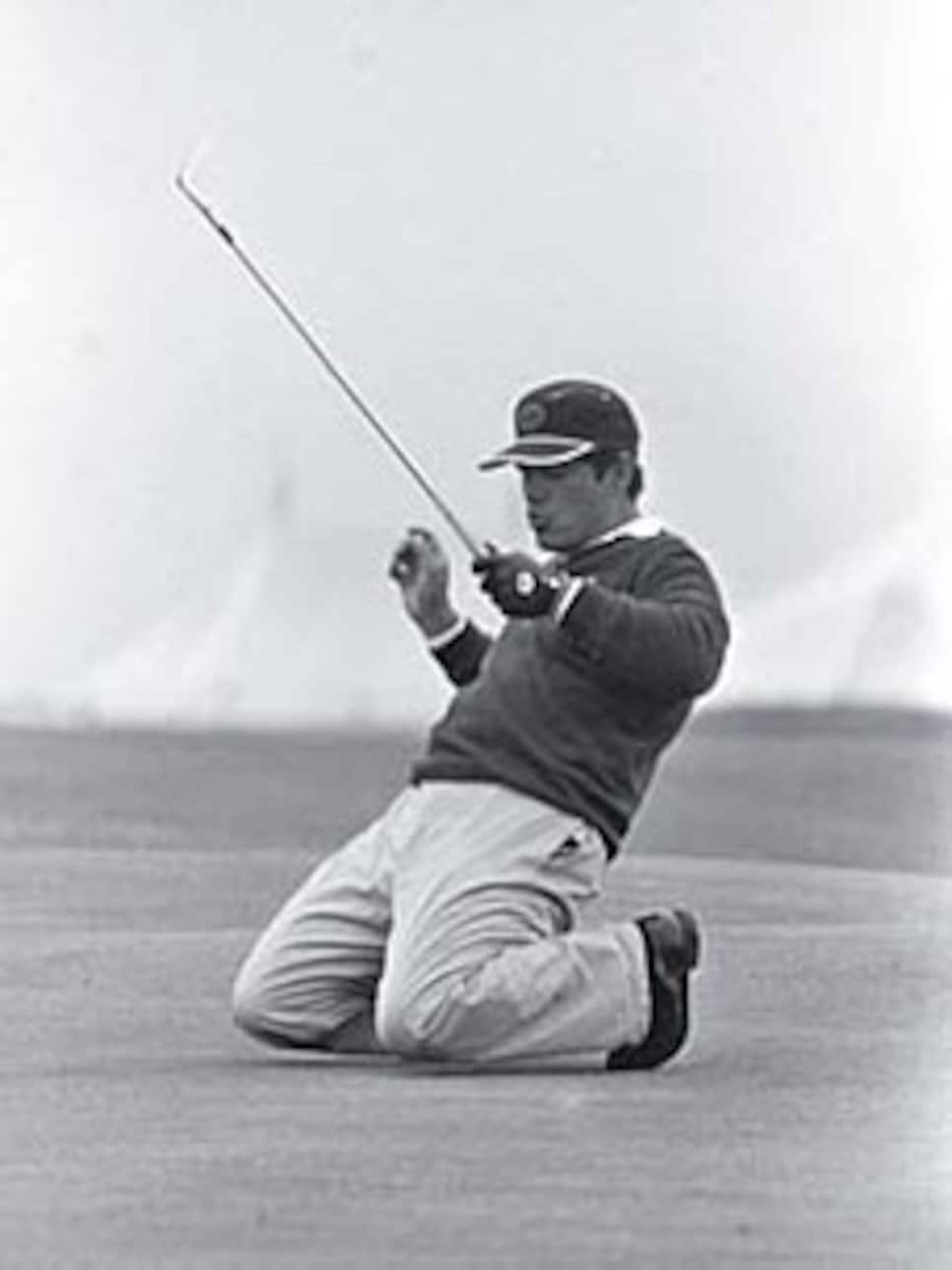 Would you suggest any swing adjustments?
Well, since his operation he's getting a little more flex in his left knee at impact, which will help with his control. But I'd like to see him go with a power fade off the tee. Strengthen his grip, push his hands a little forward at address and really hold it off through impact. And then he can hit it as hard as he wants to, and it'll fade just a little bit off the left rough line every time. All Tiger has to do is look at Paul Azinger. When Azinger is on the range hitting balls, Tiger should wander over and take a look.
Do you think Tiger might frown on a power fade as a compromise?
He might. With a driver, there's no distance limit, and Tiger probably doesn't like accepting a limit. But I think if he had a yardage in mind, like he does with the other clubs, it would help him. I mean, see how accurate he is with a 6-iron, but if he tried to hit it as hard as he can, he wouldn't hit a green. With every other club, he has a specific distance, and he should do the same with the driver. Make it a controlled golf shot, not a blast. I'd love to see him drive the ball straight. Damn it, I don't see any reason he can't.
You say he's putting too much pressure on his putter. Do you see it taking a toll?
It looked to me at the PGA that he was popping the putt. He used to stroke the putt and close the toe a little. And he very seldom missed many putts to the right. He's beginning to miss more putts to the right because when you pop it, you can't close the face, and you block it. That's what I saw in the last round at Hazeltine. I thought he was popping it, instead of loving it, you know. You've got to love a golf ball when you putt.
What about Tiger's era of top players versus the ones you played against during your prime inthe '70s?
Today's players swing faster than we did. I think they're healthier, I think they're stronger, I think they're bigger, and I think they're deeper. In other words, there are more good ones. But as far as who had more of the best players, I believe my group was better. No question.
What was the thing you guys did better?
Because we learned the game differently, on bad grass and good grass and a lot of bad lies, we had more shots. When we got those manicured golf courses, the game seemed so easy. That's what happened to Johnny Miller when he'd go crazy low in the desert. So I don't think the best players are as complete today, simply because they didn't have to learn what we had to learn. Being a shotmaker was a forced necessity. Today's golf laboratory is sterile. It doesn't call for anything.
Which of the young players have impressed you most?
There are a lot of players out there who are impressive. This Sean O'Hair can really play. Zach Johnson can really play. Anthony Kim can play, if he quits reading the newspaper about how great he is. He could be a hell of a player. This guy [Paul] Casey from England, he looks flawless to me. Stewart Cink is very good.
The problem is that you've got one guy who outshines them so bad, they suffer in comparison. And I don't know if they're saying, "The more I practice, the worse this guy beats me."
But your contemporaries didn't seem to get as discouraged by Jack?
Jack was beating us by only one or two shots. Hell, he wasn't beating us by eight or 10 or 12. [Laughs.]. If Jack had been beating us by 10 or 12, we'd have gone to the bar and said, "What's the reason to practice?"
What role have the advances in equipment played in today's game?
The USGA let it get away a little bit. They made a mistake on the ball. They lost control ofthe spin when they got away from V-grooves. The driver heads, they let get too big. The thing is, they can get it all back. Because they're rolling back the grooves. That opens the way to roll back anything.
Are you worried about the game in general?
I'm very worried about it. And the main reason is that with the new golf courses, everybody wants to build a monument to themselves.
They've gotten away from basic golf courses: flat land, bunker here, bunker there, green over there, tee close to the green. And then just play.
Getting back to your career, why did such an extrovert become such a recluse?
At first I liked the attention. I was very friendly, I was approachable, I loved to drink beer and raise hell in the hotel lounge. But a few things happened. First, the average fan thought he could come and ask me anything because I seemed like such a talker. But I soon found out it was the same thing all the time: "I'm having trouble with my putting." . . . "Check my grip out." ... "How's Arnie?" ... "Is Jack a good guy?" ... "I want you to meet my brother-in-law."
Then they'd expect you to say something funny. People took advantage, and I don't blame them. I set myself up. Then, I didn't have any good business guidance, and I said yes to too many people. See, I never wanted to shortchange my practice, because that was the foundation of my game. So when things started cutting into my time to beat balls, I resented it.
So I ran and hid, kind of set the precedent for the modern player. After I got the car, I went straight to a hotel where no one else stayed, and then I stayed in the room. I'd drive in the back, go in through the back, go to the room, never leave it. I'd go to the hotel at 4 or 5 in the afternoon and stay there until 9 or 10 the next morning. It was the pattern I repeated my whole career. But of course I'd hear the people whispering: "He's not the guy I thought he was." It hurt, but I just left it there.
You finally went to a psychiatrist to better deal with it?
Claudia found him. We had just gotten married. I told her I couldn't take it anymore. I had two sessions with him, only about that issue. I was getting edgy and jumpy, and I was going to end up in a fistfight. He said, "It's just that people admire you. They actually want to be you. And for that one split moment, when you sign something for them, they can touch you, bam, that's meaningful. You did something for them." And I was fine with it. And I still am.
Why was it so hard for you to let people in?
From a young age, I've always done everything for myself. When someone offers to help me, my first reaction is always, Why would that person want to help me? No one did it before; why would they want to do it now?
The thing is, closing yourself off like that ends up hurting you. Life is much better when you have people pulling for you, and you have someone to do it for. I do it for my family. You go out there and try to play golf and shut the world out, your ass is doomed.
Even before I had kids, I wanted my friends, the guys I hung out with, to be proud of me for the way I played. Maybe I had more of that need because it wasn't really filled when I was a kid.
You've made sure to fill that need for your two youngest children. What are the lessons you try to pass on?
One thing I've told them is that your word is your bond. That once you've lost your word, you've lost all your dignity. So when you tell someone that you're going to do something, you do it. Regardless if it costs you. And it will cost you money sometimes, cost you time. But you gave them your word. And I said the only other thing that I wanted them to remember was an old quote that I read in a newspaper, and it said, "Do the right thing when no one's looking."
The jobs I had when I was young, I would work harder when the boss wasn't there. And I know why. Because when he got back, I wanted him to be proud of me.
You watch a lot of golf on television. What do you think of the announcing?
I always liked Henry Longhurst. Peter Alliss is my favorite now. You know, less is more. When I was on NBC back in the '80s, what was the sense in describing the shot after it was hit? Everybody could see it. We weren't doing radio. I think there's just too much talking.
You were still an active player then. Were you hesitant to criticize?
That's true. I didn't want those guys being angry at me. That's what happened to Johnny Miller in the beginning. He didn't really care if he hurt a guy's feelings or his mother's feelings. He basically said, "This guy's choking." But it got to the point where Johnny stopped going in the locker room. He was hotel to car to compound to tower to compound to car to hotel. That's the price. I tried to call it as it was, but never that a guy's choking. I might say, "He's got enough cotton in his mouth to knit a sweater."
If you were doing the job now, would you be different?
Oh, hell, I'd drown them now! [Laughs.] Because I'm too old for them to jump on me. You know they don't want to whup a 70-year-old man. But no, I'm not interested in it.
No. When Daniel goes to college, Mama and I will be taking some trips, three or four times year. For Claudia's 50th birthday last year, I took her to Rome for eight days. It was the greatest time I ever had. We took in everything: the Colosseum, the Vatican. We went to a mass where we were from here to there from the pope. We saw St. Peter's tomb. I've been all over the world, playing, but I've never really been anywhere. Never seen anything.
But you know, I got home last night after a week on the road, and I felt so good when I saw my wife and my son, and my two little puppies. I thought, Why in the hell did I leave?
This afternoon I'm going to wash my car and wash my wife's car. My puppies will be out there on the grass watching me. I'm enjoying a part of my life that I've never experienced before. It's really good.