The Loop
Lee Westwood misses a near gimme on 18, and Danny Willett's nightmare week continues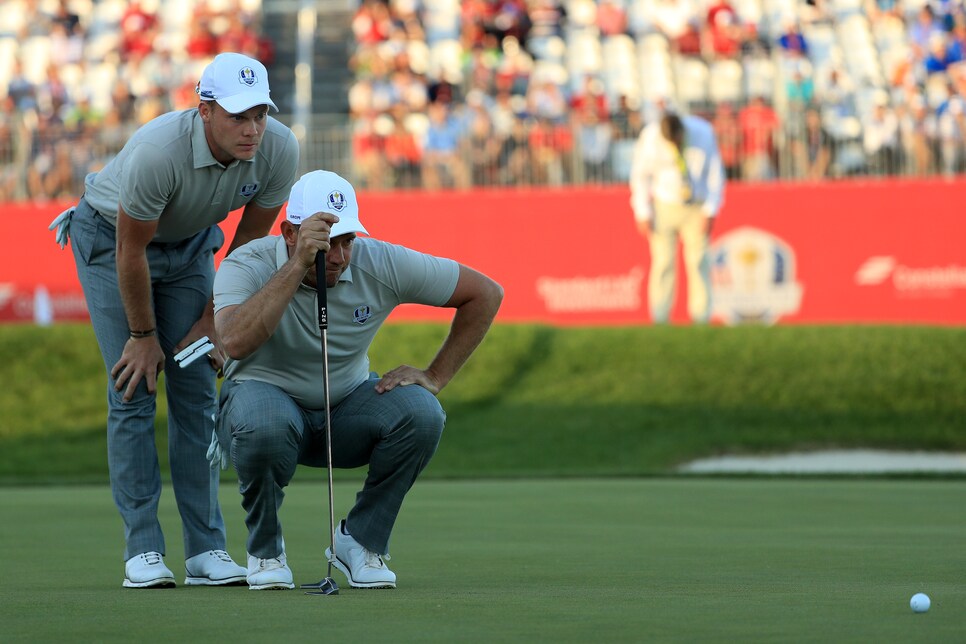 PGA of America via Getty Images
CHASKA, Minn. -- Lee Westwood was long gone when his caddie, Billy Foster, walked back out to the 18th hole. He took another look from behind the cup, smiled and shook his head. About 10 minutes before, his boss had just missed a heartbreaking birdie attempt from about two-and-a-half feet that would have earned Europe a much-needed half point in Saturday's four-ball session at the 41st Ryder Cup.
Westwood couldn't believe it, muttering something to himself before shaking hands with his opponents and storming off into the European team clubhouse. And now Foster still couldn't believe it. Neither could playing partner Danny Willett.
Moments before Westwood's excruciating miss, a near gimme, Willett had an opportunity of his own to square the match against J.B. Holmes and Ryan Moore. Now, he stood nearly motionless, straddling Westwood's golf bag and facing away from the nearby grandstand with only Foster and his caddie, Jonathan Smart.
Two minutes went by. Then five, with Willett's only movement being the tapping of an empty water bottle. Eventually, Foster said something to him and he cracked a smile. A couple of family members came over to make sure he was OK. Another smile. Then the stunned trio took out cell phones, only occasionally looking up at the big TV screen by the 18th green to see the other action finish up.
When it was over -- a final Euro loss that put the team in a three-point deficit entering Sunday's singles -- they finally walked off the green some 15 minutes after their crushing defeat. But before going back to the clubhouse, Willett tapped Ryan Moore's caddie, JJ Jakovac, on his shoulder to let him know they left a ball-marker on the green.
"It's only a quarter, but. . ." He trailed off as Jakovac thanked him.
Moments like that make Willett seem like a super nice guy, but it's hard to tell that based on the way the Hazeltine crowd has treated him thanks to things his brother, P.J., wrote in a column earlier in the week. P.J. didn't brave the boisterous Ryder Cup crowds; perhaps Willett didn't want to either Saturday evening.
By the time he walked off, the crowd had thinned, and only one idiot said something -- Nice playing, Danny -- in a mocking tone. What promised to be an incredible week, Willett's first Ryder Cup appearance, has turned into a nightmare.
The reigning Masters champ sat out Friday's morning session on Day 1 before being soundly beaten (it didn't help that he played with a struggling Martin Kaymer the day before he was saddled with a struggling Lee Westwood) by Brooks Koepka and Brandt Snedeker.
On Saturday, he lost again, but at least this time it was close. Or maybe that made it even worse. Willett, who played fairly well making four birdies on his own ball, and Westwood never trailed until the 17th hole, when both hit tentative chip shots on the par 3 before missing makable par attempts.
Now he'll need to shake off both losses and the fact that if any of those final four putts had dropped, Europe would only be fighting a two-point hole heading into Sunday. This week can still be a success for Willett if he and his teammates turn it around on the final day. But he'll face another long round filled with nerves and jeering -- and there's no hiding in singles.