News
Lee Westwood cashes in on better afternoon weather, leads with a 62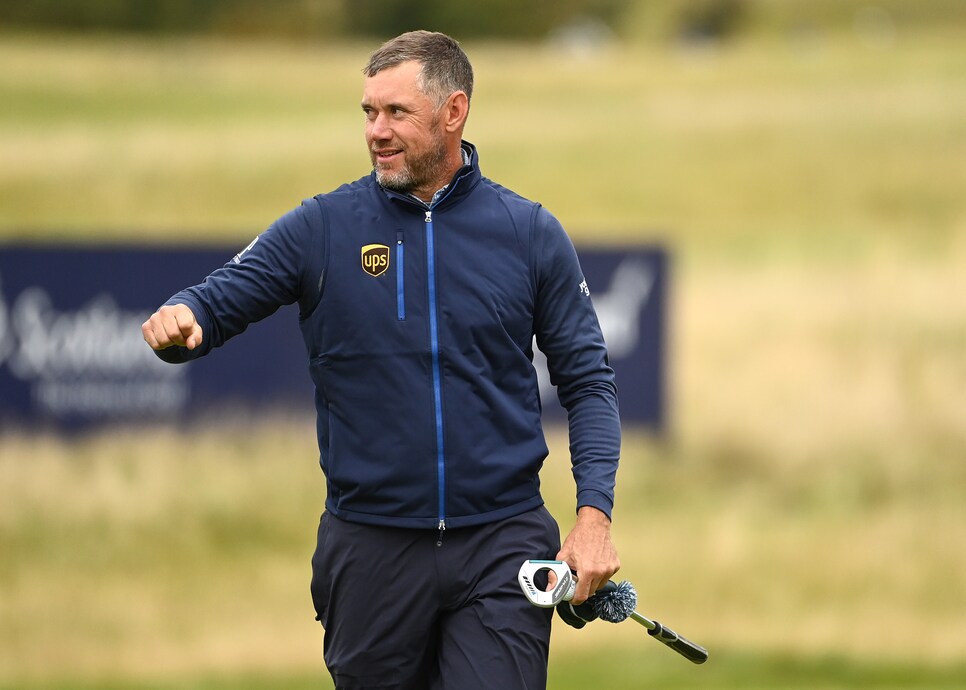 And they said the Renaissance course was going to be more difficult this year. Well, it was for the early starters in the Scottish Open. Heavy overnight rain that seeped into the morning was their unfortunate lot, a fact exacerbated by a steady and eventually marked improvement in meteorological matters. By the end of play as many as 54 of the 126-strong field had broken par, the vast majority of those in the afternoon wave.
Best of those was Lee Westwood. After signing a scorecard that contained two eagles, five birdies and no dropped shots, a nine-under 62, the 47-year old Englishman sits atop the first-round leaderboard. But only just. Alexander Bjork and Joost Luiten both shot 63 to be only one shot back. Two Scots — Scott Jamieson and Craig Lee — are seven-under the card, one stroke better than three others. Significantly, all of the above played in the afternoon wave.
Familiar with a course he often played during his time living in nearby Edinburgh, Westwood was purring contentedly at the end of 18 holes his playing partner Ian Poulter (67) described as "a really nice round of golf." Much of which was the positive result of Westwood's experience at the recent U.S. Open, where he finished T-13.
"I didn't put myself under too much pressure all day," said Westwood, who won this title in 1998. "I played solidly. I drove the ball well. My iron shots were good. I've been in a good groove since Winged Foot. You had to be disciplined there and I took that discipline from there to here. I aimed away from flags when I had to. I had a lot of nice, uphill looks at birdie. And my distance control was good. That was actually one of the few things that could have tripped people up today. The ball wasn't going as far as normal."
The highlights were the two eagles. The first, at the 600-yard third, stemmed from a 293-yard 3-wood approach that finished all but stiff. The second was a bit more complicated. Westwood's 3-iron from 261 yards out bequeathed a 25-foot putt he holed unerringly. By then, he was five-under par and feeling no pain in the flat calm conditions.
"We got the good end of the draw," he conceded. "There's no doubt about that. But you have to make the most of it when that happens. I opened the curtains this morning and thought, 'that looks miserable.' But that was the forecast: chilly and damp in the morning and clear up as the day went on. I still had to be patient. If you're not three or four-under par early, it is easy to start chasing, get too aggressive and stop thinking clearly. You just have to break it all down and play the course on its merits. That's what I did."
Four back-nine birdies followed, the stand-out points in a round that left fellow Englishman Poulter more than impressed. In comparison, his own play was only "pretty good."
"I'm not sure when Lee last had two eagles in one round," he said with a smile. "But he did everything he needed to do. He played lovely. When he needed to get up-and-down, he did. And he took his chances. It's that type of course. When there's no wind there's plenty of birdie chances. Which is what Lee created and took."
Looking forward, Westwood has asked for an invitation to the Houston Open the week before the Masters. And he has already received a positive response from the RSM Classic at Sea Island, the event immediately following Augusta. Nearer home, he will tee-up at Wentworth next week in the BMW PGA Championship, the Scottish Championship and the Italian Open before he crosses the Atlantic. But for now he is intent on winning what would be, after his victory in Abu Dhabi in January, his second Rolex Series event in 2020.
"I'm going to play a lot golf, so it's a nice time to start playing well," he said.