News
Lee Westwood and Chubby Chandler, once close friends, formally part ways as client-agent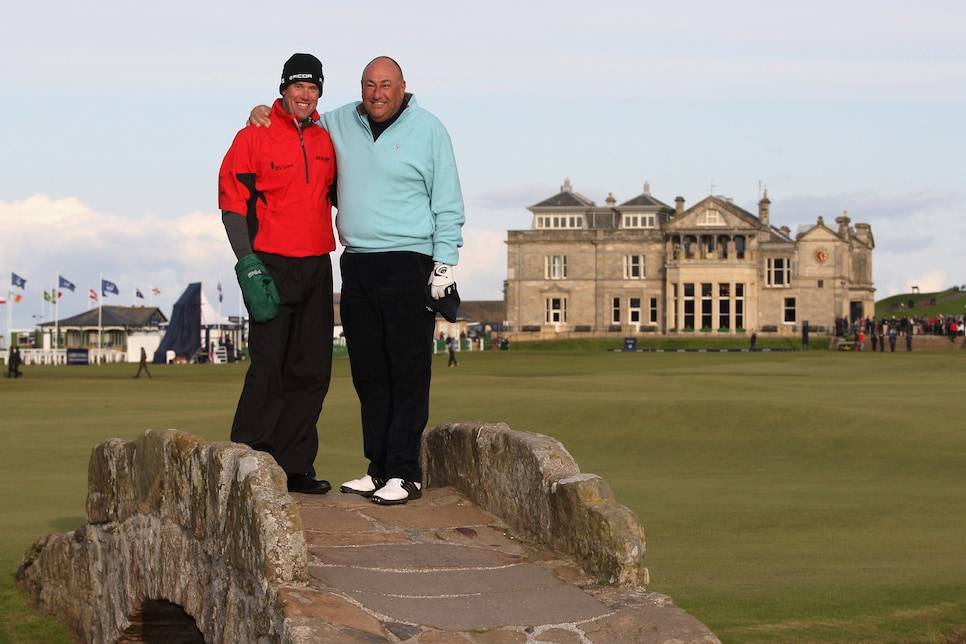 Ross Kinnaird/Getty Images
"Lee and I concluded the legal stuff this week," Chandler says. "Everything that has to be signed has now been signed. A short statement is all that will be said publicly about that. There is a confidentiality agreement in place. Now we all start again."
Understandably, long-held emotional ties may take a little longer to heal. Speaking exclusively to Golf World, Chandler expressed some sadness at what has come to pass. Westwood, the 23-time European Tour winner who is now represented by IMG, wasn't saying as much, but it is understood that the relationship between the two men is all but non-existent, or "less than zero" as one figure close to the situation put it.
"There has been an emotional aspect to all that has happened," says Chandler, who has also seen former Masters champion Danny Willett and New Zealander Ryan Fox leave ISM over the last few months. "It has been tough. I've sat on the edge of my bed a few times and wondered what the hell is going on. But we all react to different situations in different ways. Lee has taken decisions in the way he sees fit. And I'm fine with that. I wish him well and we all move on."
It remains unclear specifically what transpired that led to the separation. Neither side has stated publicly a cause. At the time of the original news, Westwood described it as "a personal matter" but refused to comment any further.
Looking ahead, Chandler is determined not to repeat any mistakes of the past. "I didn't realize until all this happened how drawn I was to Lee and Darren [Clarke]," said Chandler, Westwood and Clarke being two of the original clients he took on when starting his company in the early 1990s. "Even though it never showed and they are great mates, there was always a little bit of competition for my time. I now have dinner with a bigger variety of people. I got so close with Lee and Darren that it was Where are we having dinner? every night. Without realizing, I was neglecting some of my other clients. I should have been eating with more of them more often. But that has changed now. The dynamic has changed."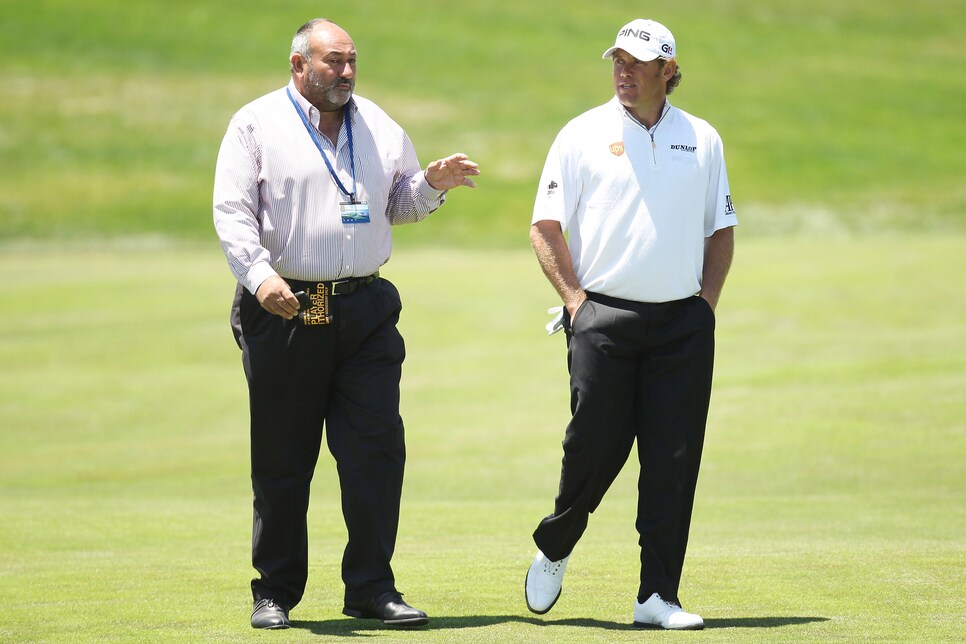 Ross Kinnaird/Getty Images
In contrast with the Westwood scenario, Willett's departure was more of a slow-burner than a rapid-fire exit.
"We had one meeting with Danny where we decided to give it to the end of the year to see how things were going," Chandler says. "Then we had another where I came away thinking it wasn't going to work. Once the feeling isn't right, things are never going to work. I realized we weren't talking to each other much. There was no input into what was going on. So while I'm sad and don't think he has made the right decision, I respect the fact that he has made that decision."
Going forward, Chandler remains optimistic. As so often in life, from darkness comes light.
"The good thing about all that has happened is that, although it has been tough, it has highlighted to me how lucky I am to have some really good friends around me," he says. "Darren has been brilliant. He's been incredibly supportive, especially as this whole thing puts him in a very difficult position. But he's been a rock.
"Friendship and business is a hard thing to mix, so this feels like a divorce. I've had some interesting phone calls and some interesting texts. But one came when I was right at the bottom emotionally, maybe three weeks ago. It was from Ernie Els. He was brilliant. All he did was ask me what the 'f---' was going on. He cheered me up a lot."
One thing that hasn't changed amidst all this turmoil is Chandler's propensity for coming up with new and innovative ideas. By way of example, next year's European Challenge Tour is expected to feature an event that Chandler has a hand in in which par will be every player's "friend." In a bid to finally win the seemingly never-ending battle with slow play, every competitor will be banned from putting for par. As soon as a birdie has not been achieved, it will be ball-in-pocket and on to the next hole.
"It won't just be that par doesn't count. The players will be banned from putting out once they haven't made a birdie," Chandler says. "That way they will all be round in three hours. We will have two points for a birdie, five for an eagle and eight for an albatross. That's been done before. But no putting for par, which counts as zero. So you can't knock it out of a bunker to four-feet and putt for par. Not allowed. And that's where things will speed up."
Players will also get double points if they hole-out from off the green, and all points will double on the last three holes. "Everybody is in with a chance right to the end," Chandler says. "That might all turn out wrong. But it could also be really exciting. We'll see. We're not changing the game that much. We're just making it quicker and getting rid of the dull bits. No one really gives a bleep about eight-footers for par."
As far as the European Tour is concerned, Chandler sees much change ahead in 2019 and beyond. As the PGA Championship's move from August to May will surely affect the PGA Tour schedule, the same will happen in Europe—to the eventual and mutual benefit of both circuits.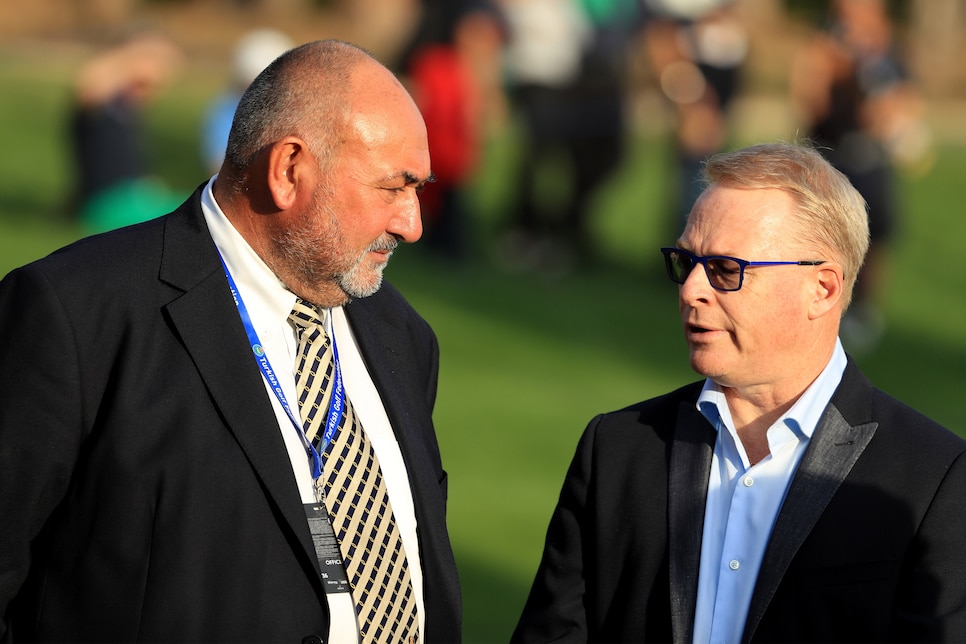 Richard Heathcote/Getty Images
"I think [European Tour chief executive] Keith Pelley's next move will be to create another level of tournaments," Chandler says. "He has tested the water with the Rolex Series. They have worked well. And I can see things changing again 2019. There will be maybe half a dozen really big events in Europe then, ones the top guys will all play in. I think Pelley believes he can achieve that.
"I can see the BMW PGA Championship at Wentworth going to a really big number in 2019. I think the Turkish Airlines Open will do the same. I think they will match anything they see elsewhere. Suddenly we will be seeing $10 million events. Which means there will be maybe three levels of tournaments in Europe. There could be a 'super series' at $10 million, another at $5 million and another at $2 million. That model, which is used by tennis, isn't bad. The top players seem to have embraced it anyway.
All of which, Chandler is convinced, is just another step towards the formation of a World Tour. "I can see the PGA Tour and the European Tour working that out eventually," Chandler says. "I can see [PGA Tour commissioner] Jay Monahan and Pelley sitting down to work out whether the broadcast rights would be worth more as a whole rather than separate bits as they are now. Would Europe get more money from television if they were lumped in with a bigger deal? My guess is they could do."
All of which is typical Chandler-speak. Even as his heart has been aching, his head has been working.