News
Lee McCoy speaks out on Twitter controversy: "There's no excuse for my actions"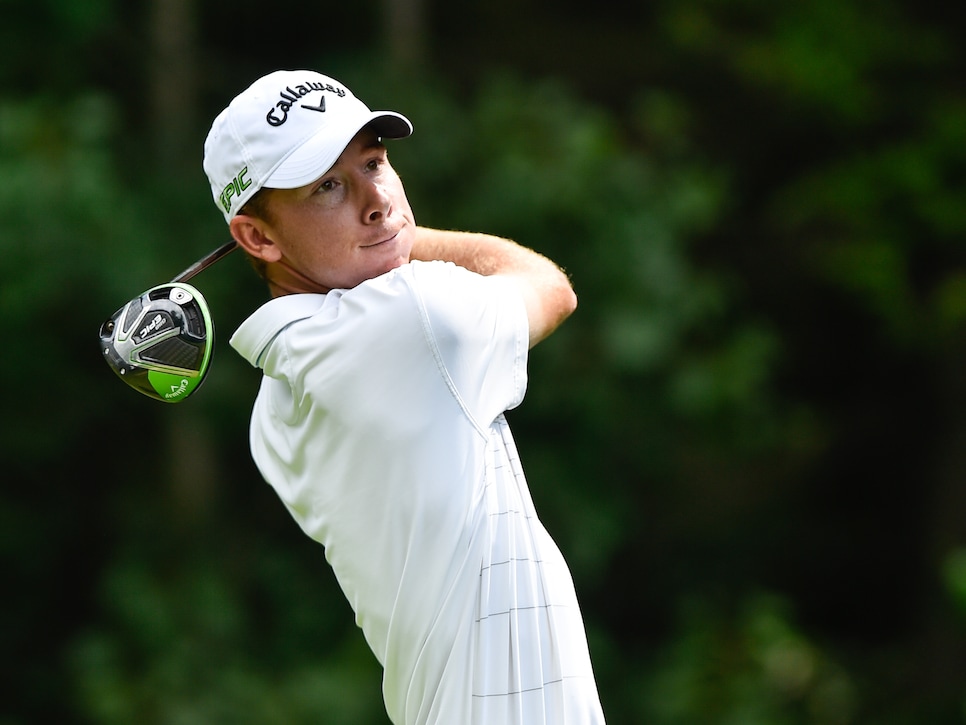 The story of Lee McCoy has taken its share of unforeseen turns the past two years. Last weekend, however, the narrative went in an unfortunate direction.
Following his final round at the Web.com Tour's Club Colombia Championship, McCoy shared his exasperation on Twitter regarding children in the gallery who were seeking autographs and souvenirs.
"There were at least 30 kids out there who were there only to try and get free stuff from us. So no, I'm not grateful they were out there,"McCoy wrote on Twitter.
He also posted a handful of follow up tweets, one of which described South America in a negative light.
The backlash was immediate, with fans, media and fellow players criticizing McCoy for his assertions. McCoy not only deleted the comments in question, he disabled his Twitter account.
Speaking on Tuesday with Golf Digest, McCoy was utterly contrite, expressing his embarrassment for the incident.
"There's no excuse for my actions," McCoy said. "Reacting the way I did to the requests for my apparel was wrong, definitely a mistake on my part and I apologize. Part of being a professional golfer and constantly being in the public eye means you have to learn how to handle different requests and situations—some of which are out of the ordinary.
"The last thing I would ever want to do is paint anybody in a negative light. I try to be humorous, but there was nothing funny about what I said."
McCoy said his comments were especially painful because they came off as entitled and elitist, sentiments he says don't reflect who he is.
"To say I learned a valuable lesson would be an understatement," McCoy said. "More importantly I want people to know that I am, and always have been, a strong supporter of growing the game and doing everything I can to give back to the community."
The ensuing repercussion was humbling, and hard to swallow, McCoy stated, particularly when people were taking shots at his character.
"I'd see these messages like, 'I always thought you were this way, and you proved me right,' " McCoy said. "These are people who have never met me, or have any clue about me."
And yet McCoy "absolutely" understands the outrage, knowing the onus ultimately resides with him.
The incident overshadows what has been a remarkable comeback for McCoy, who first emerged on the national radar with a sterling performance as an amateur at the 2016 Valspar Championship. But in that fall's Web.com Tour Q-School, the former Georgia All-American was involved in a car accident, one that fractured his wrist and sidelined for months. When he returned, he was without status, and was forced to work his way back via the Mackenzie Tour. He finished sixth in the Canadian circuit's money list, and completed his tour de force return by winning Q-School in December.
"From where I was to where I am now, it's been crazy," McCoy said. "From being in a cast to here...I'm blessed, but I still have more to do."
McCoy has made the cut in all four events on the Web.com Tour this season, although he acknowledges his mental game still needs work to make it to the next level. His goal is to remain steady when things aren't going well, an approach applied both inside and outside the ropes.
The Web.com Tour is off for the next month, and McCoy isn't quite sure what's on his immediate horizon. He hopes to be back at the Valspar, although he concedes the recent episode hasn't helped his efforts.
As for that disabled Twitter account …
"My gut feeling though, is, yes," McCoy said, regarding a return to his handle. "I really like the engagement, and giving fans perspective on what it's like to play professional golf."
But for the immediate future, McCoy is going to stay off the social sphere, and let his game do the talking.