News
Lee McCoy completes comeback from auto accident, wins Web.Com Tour Qualifying Tournament; Maverick McNealy ties for 10th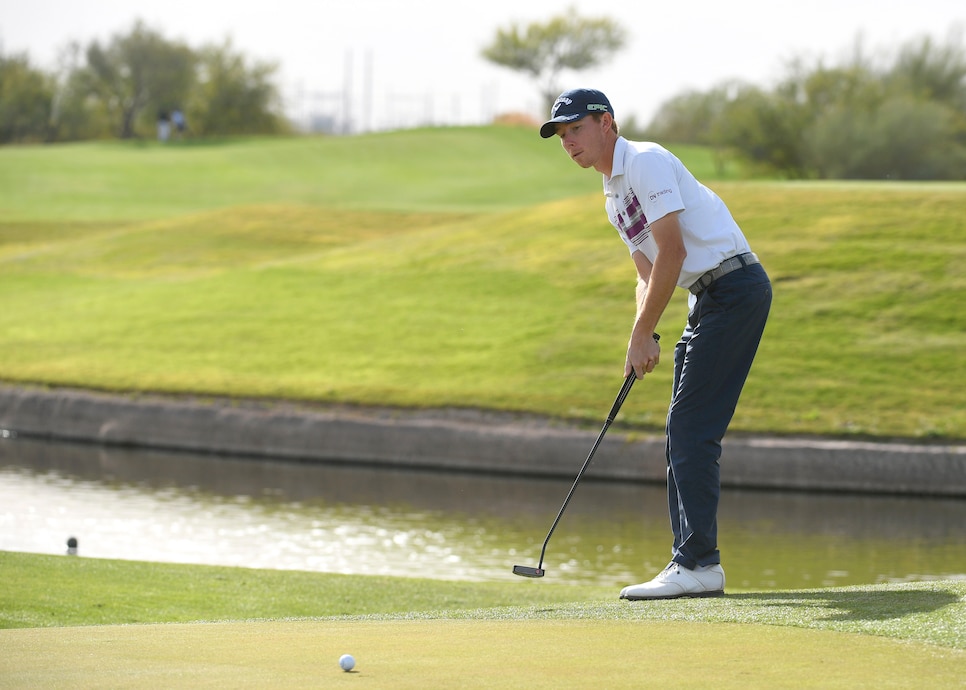 The road to the PGA Tour these days generally goes through the Web.com Tour with any number of detours along the way, some of them precarious.
Lee McCoy, for instance, was an All-American at Georgia, who as an amateur finished fourth in the PGA Tour's Valspar Championship in 2016. But in November of that year, en route to the second stage of the Web.com Tour Qualifying Tournament, he broke his wrist in two spots in an automobile accident, essentially setting him back a year.
On Sunday, McCoy, 23, moved one critical step closer to the PGA Tour. He earned a full exemption on the Web.com Tour in 2018 by virtue of his victory in the Web.com Tour Qualifying Tournament at the Whirlwind Golf Club in Chandler, Ariz.
McCoy closed the 72-hole event with a seven-under-par 65 on the Cattail Course at Whirlwind. He won by two over 19-year-old South Korean Sung-Jae Im.
Those who finished second through 10th and ties are exempt into the first 12 events of the 2018 Web.com Tour season, and among those was Australia's Curtis Luck, 21, the 2016 U.S. Amateur champion, who was No. 1 in the World Amateur Golf Ranking before turning pro after his T-41 in the Masters. Luck tied for third in the qualifying tournament, six back of McCoy.
Maverick McNealy, a former No. 1 amateur who was ranked second when he turned pro after the Walker Cup in September, was tied for 11th until Connor Arendell, playing in the final group, bogeyed the last hole. It dropped Arendell into a tie for 10th and moved McNearly up to T-10.
A Stanford All-American, McNealy, 22, shot a five-under-par 67 and finished 10 back of McCoy.
McNealy's U.S. Walker Cup teammate Cameron Champ, a former Texas A&M star who is one of the longest hitters in any field, tied for 16th. Those who finished 11th through 45th have full exemptions into the first eight events.
Meanwhile, Kevin Hall, who is deaf, finished in a tie for 136th, which gives him conditional status in 2018.