The Loop
Lee Janzen disqualified from U.S. Open qualifier for wearing metal spikes
A first-round 75 at U.S. Open sectional qualifying left Lee Janzen in an unlikely position to earn a spot in the field at Merion next month. A decision concerning what he was wearing made it an impossibility.
The two-time U.S. Open champ was disqualified from qualifying at Woodmont Country Club in Rockville, Md., for wearing metal spikes. No, seriously.
While this ruling might seem a little harsh, the Golf Channel's Jay Coffin pointed out that this was clearly stated in the letter each contestant received: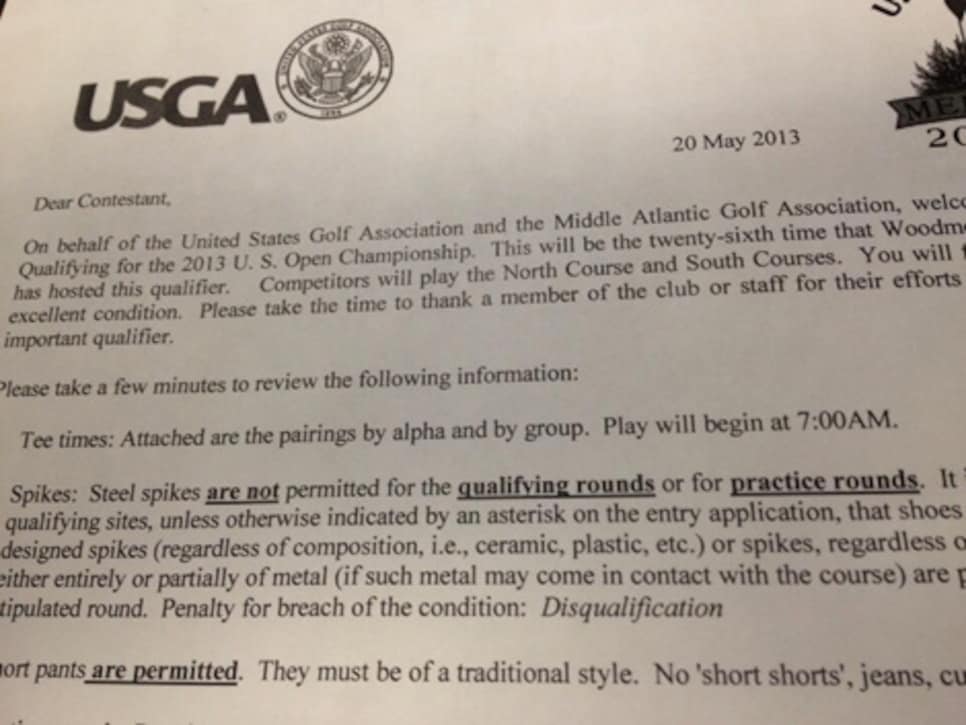 Janzen took to Twitter to confirm that he had been sent home for wearing metal cleats. He also confirmed that he had been properly informed of the rule.
Yes. DQ for metal spikes at qualifier at woodmont. Rule was in e-mail. More concerned about my game. 75 1st round put me way back anyway.
Steve Elkington wasn't as calm on social media, bashing the rule, which caused him to withdraw from a sectional qualifier once:
Usga' ancient stance would be Equivalent of telling Asain Bolt he can't wear spikes to run in Qualifying cause of the grass but Olympics ok
Usga's rule on spikes..They like to adhere to the local courses spike rule.However at the OPEN site they waive the clubs wishes#bullshit
Of course, this isn't the first time a player didn't pay attention to one of these pre-tournament sheets. Dustin Johnson infamously didn't heed to the warning of Whistling Straits' prevalent -- and often unusual -- bunkering before the 2010 PGA Championship. He wound up unknowingly grounding his club in the sand on the final hole of regulation and was assessed a two-stroke penalty that dropped him out of a playoff for the Wanamaker Trophy.
We've been reminded time and time again that golfers -- even at the highest level -- need to brush up on the game's rules. Maybe they should work on their reading comprehension while they're at it.