Swing Sequence
Learn Tony Finau's shorter, faster move to better accuracy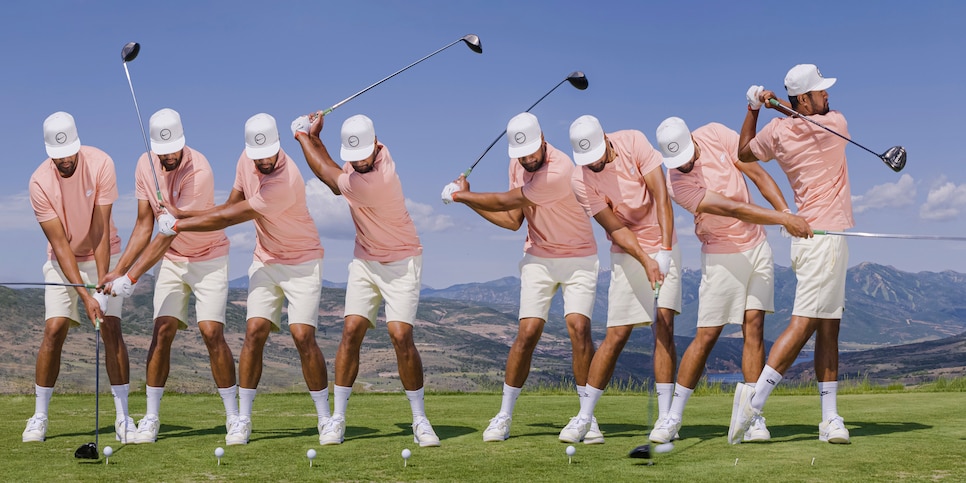 Photographs by Dom Furore
Tony Finau has played some of his best golf on the biggest stages, leaving many to wonder just how the uber-talented 33-year-old had just two PGA Tour wins over his first seven-plus seasons on tour. They're left wondering no more. Finau now has five PGA Tour wins, including three since last July, the most of any player on tour during that stretch.
"I think the misconception that he's not a closer has been put to rest," says Boyd Summerhays, Finau's longtime swing coach.
Summerhays credits much of Finau's recent hot streak to his improved driving accuracy, which plays right into his greatest strength, his iron play. In his most recent win at the Cadence Bank Houston Open last November, Finau achieved a career first, hitting all 13 fairways in the third round.
"Now that he drives it so much better, he's getting to hit more iron shots from the fairway," says Summerhays, one of Golf Digest's 50 Best Teachers in America. "That kind of speaks to why he's doing so well. He's been driving it amazing and making the clutch putts on the weekend that you need to win."
Since his Korn Ferry Tour days, Finau has made some subtle adjustments to hit more fairways. At address, he positions his head farther behind the ball than most other pros. This allows him to shallow his angle of attack and hit more up on the ball without deviating much from his iron swing.
"It simplifies things for him," Summerhays says. "He doesn't have to move off the ball to the right. He can pretty much stay centered behind the ball."
As a 16-year-old, Finau possessed elite power and had no trouble generating ball speeds exceeding 200 miles per hour, Summerhays says. But with that power came a price in the form of missed fairways, so Finau gradually began shortening his backswing.
"He's the only person I've coached whose swing got shorter," Summerhays says. "I don't teach that—the game is about power and distance—but it helps him control it. Because he has a 6-foot-8 wingspan, he can be short and still generate lots of leverage and power."
The 6-foot-4 Finau's backswing tempo is among the fastest on tour, which is something most amateurs misconstrue as a bad thing.
"You'll hear a lot of amateurs say, 'Oh, I got quick,' " Summerhays says. "The truth is that many take it back too slow. As a result, they try to generate too much speed in the transition, which can feel a little jerky. Tony goes so fast on the backswing that it makes his transition less violent, and it feels smooth to him. He doesn't feel like he has to force the power in the transition."