News
Leader Bryson DeChambeau's cerebral approach 'nice to have some validity to it'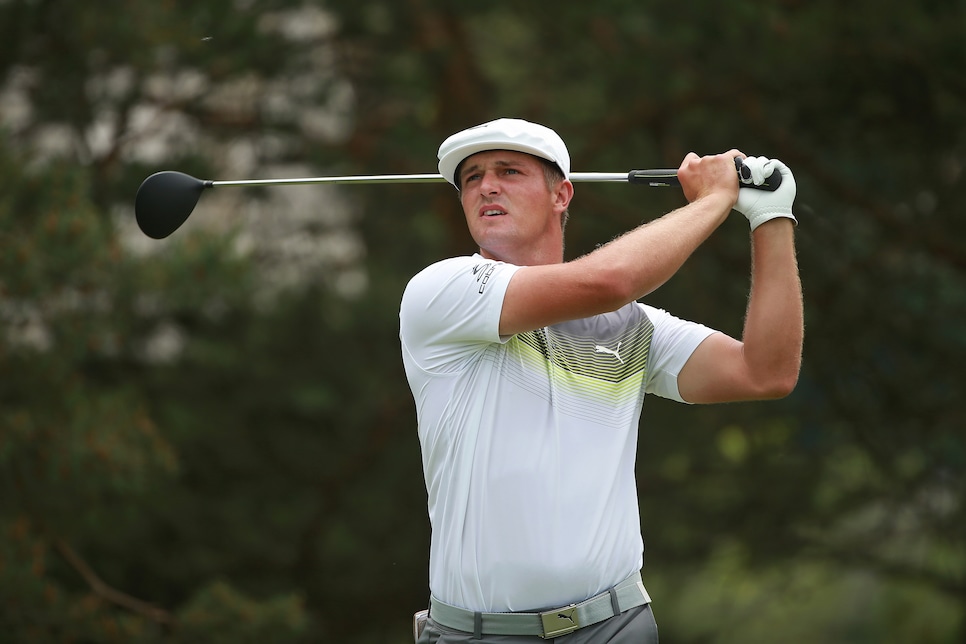 DUBLIN, Ohio — Earlier this year Bryson DeChambeau had a lower back problem that forced him to withdraw from the Valspar Championship. It turned out to be a good decision when he trailed Henrik Stenson by a stroke through three rounds the following week at the Arnold Palmer Invitational and eventually finished second behind Rory McIlroy.
He explained the problem on his terms. This usually means terms you seldom hear.
"Well, it was the QL and that really got inflamed for me," he said that Saturday in Orlando. "It was because my quadratus lumborum wasn't working, my illiacus, longissimus thoracis, they were all kind of over working, if you want to get technical on that. But they weren't working very well, and I overworked them."
DeChambeau has yet another chance to end a tournament on his terms—albeit that everyone can understand—after his third-round 66 gave him the 54-hole lead in the Memorial Tournament. He'll begin the final round with a one-stroke lead over Kyle Stanley, Patrick Cantlay and rookie sensation Joaquin Niemann after completing three tours of Muirfield Village Golf Club in 14-under 202.
"We'll see what tomorrow brings," said DeChambeau, 24, of Clovis, Calif., after a bogey-free performance that could have been even prettier had he not missed two three-footers for birdie. "Hit it pretty well for having my, what I'd would call B to B-plus game. And putting it beautifully this week."
In his second year on the PGA Tour, DeChambeau has one victory, in last year's John Deere Classic. He's been close several times this year, posting five top-five finishes, so his good play this week is hardly an anomaly.
DeChambeau is one of five men to win the NCAA Division I title and U.S. Amateur in the same year. Coincidentally, the other four are also at Muirfield Village Golf Club: Tiger Woods, Phil Mickelson, Ryan Moore and tournament founder and host Jack Nicklaus. DeChambeau has them all beat on quirkiness, however, using clubs that all are the same length and employing a swing to accommodate them that appears mechanical and stiff.
Woods, who at one point Saturday was tied for the lead and will begin Sunday five behind DeChambeau, tried the clubs once. Just once. And gave them back in a hurry. "He was like, 'Here you go you can have them back,'" DeChambeau remembers.
DeChambeau has put a lot of thought into his unique approach, which didn't appear suited for the professional level at first. But he never doubted his ideas and the accompanying technique required to hit clubs built unlike anything else in the game.
"It's just nice to have some validity to it," he said. "Everybody's got their own way, and I'm certainly a little unique in the way I play the game."
We'll give him that. Continue, please.
"And I'm still fighting through a couple little things here and there on if it's really right or not in regards to swing theory and stuff."
The physics of golf can get pretty complicated. It sounds as if DeChambeau is making it more so. Asked if there are any physicists he'd like to meet, he had a list. "I would have always loved to have met Einstein, obviously. That would have been fun," he began. "But there's a couple biomechanists out there that are pretty interesting, Dr. Phil Cheetham and Sasho MacKenzie … Dr. Sasho MacKenzie. Those guys are pretty interesting cats, from what I've heard, and I would love to talk to them and meet them and try and find out kind of what their thoughts are."
DeChambeau is an interesting cat, too. And he's leading the big cat (Woods) and everyone else with 18 holes remaining, the first time he's slept on a Saturday night lead.
He admits that sometimes he has to stop himself from going too far in his experimentation and theories. And he's not sure where he'd draw that line. He just knows that when things are clicking, "it's a system that works beautifully."
But there is more work ahead for the cerebral sophomore tour player. Seems he is still questioning a few facets of his swing.
"It's end range-of-motion work," he said. "I'm not going to give too much away, but it's got to do with anatomical limits of your body and how you can best utilize them for your proprioception. How about that?"
Couldn't have said it better ourselves.