News
Laura Davies can break some crazy records with a win at the Bank of Hope Founders Cup on Sunday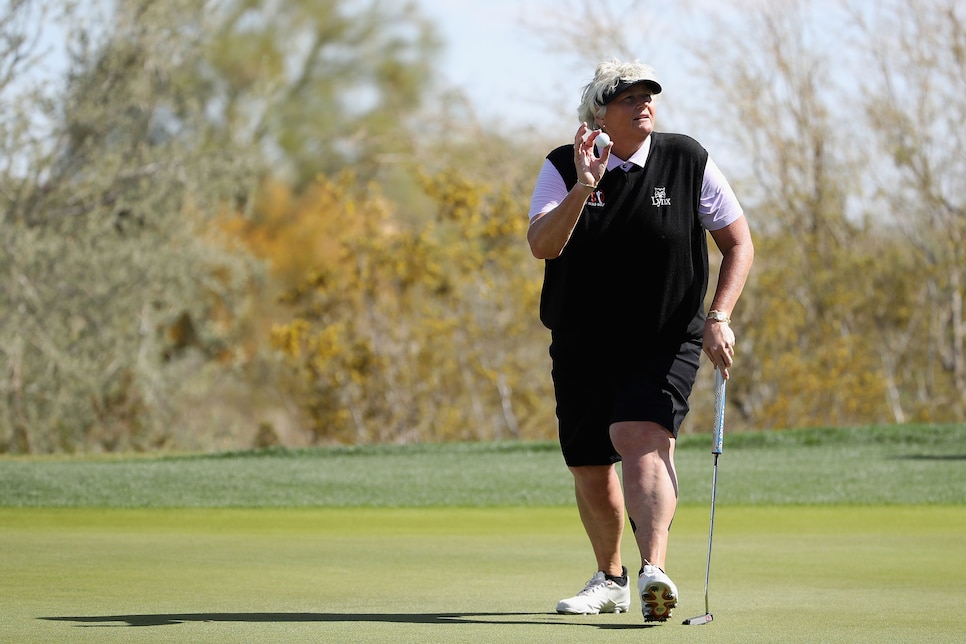 Christian Petersen/Getty Images
There were low numbers to be had on Saturday at the LPGA's Bank of Hope Founders Cup, where the scoring average for the third round at Wildfire Golf Club at JW Marriott Phoenix Desert Ridge Resort & Spa in Phoenix was 69.723 (compared to 72.437 on Thursday and 71.814 on Friday). But it was a certain player who had one that makes for an intriguing storyline come Sunday.
When Laura Davies posted a bogey-free nine-under 63, it was the lowest score she shot in an LPGA event since the third round of the Wendy's Championship for Children … in 2005. The 54-year-old moved up from T-32nd to T-4, three strokes back of 54-hole leader Inbee Park.
"It's been in my mind and I know I can still play great golf, but it is all about the short game," Davies said. "My short game is really coming around and a day like this tells me that we are really doing the right things." Indeed, Davies needed just 24 putts on Saturday.
The goal now, of course, is to repeat the performance on Sunday. A victory would truly be turning back the clock for Davies, the last of her 19 LPGA wins having come at the 2001 Wegmans Rochester Invitational. That would break the record for the longest time between LPGA wins, a record that belongs to Dale Eggeling, who had 14 years, 11 months and 4 days.
It would also easily smash the record for the oldest player to ever claim an LPGA title, that mark currently owned by Beth Daniel after winning the 2003 BMO Financial Group Canadian Women's Open at 46 years, 8 months, 29 days of age.
Working against Davies is the Achilles injury she continues to suffer from, one that might explain the opening 73 she shot in Phoenix.
"I'll certainly have a crack at it," Davies said. "I've given myself a chance now."