The Loop
Late Night Golf Invitational with Jimmy Fallon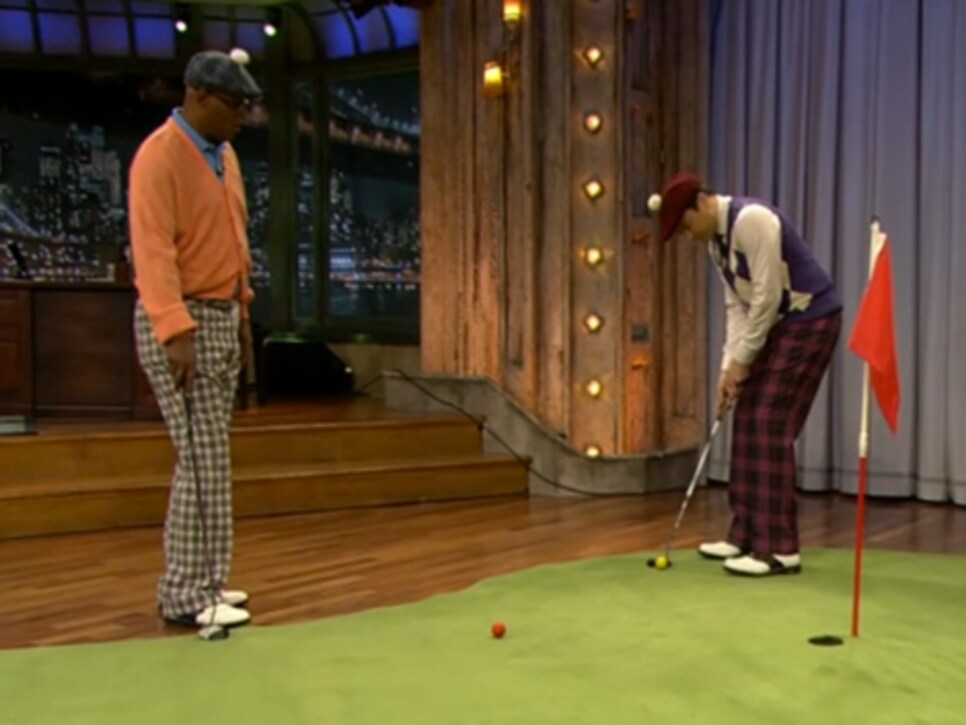 We've all heard the big news: on Monday, Feb. 17 at 11:35 p.m. "The Tonight Show" will return to Studio 6B in New York City after nearly 42 years in Burbank, California. The other big news is that Jimmy Fallon will be at the helm. It's been confirmed that one of his most popular shticks from his former show, "Late Night with Jimmy Fallon" -- "Thank You Notes" -- will make the move to "The Tonight Show" lineup.
Another entertaining segment that I hope will make the cut is the "Late Night Golf Invitational."
For those who have never stayed up late enough to watch the show, let me explain the format: "Late Night Golf Invitational" (aka "Hallway Golf with Jimmy Fallon") involves a one-on-one competition over a challenging par 5 course through the hallways of 30 Rockefeller Plaza. The course, complete with several sand traps and tricky dogleg lefts, finishes on an elevated putting green on the main stage at Studio 6B.
Over the years Fallon has teed up with a number of celebrities who are avid golfers, including Chris Rock, Shaquille O'Neal and Samuel L. Jackson. Jackson is no slouch on the celebrity golf circuit -- he maintains a 6 handicap and frequently plays in celebrity tournaments such as the AT&T Pebble Beach National Pro-Am. He even has a clause in his film contracts that permits him to play golf during production.
Late Night Golf Invitational with Samuel L. Jackson
Another entertaining guest and formidable opponent was the Tony-award winning actor Billy Crudup who starred in "Almost Famous", "Mission Impossible III" and "Without Limits". Crudup, ranked No. 3 on our list of Hollywood's Top 100 Golfers, regularly plays Bayonne Golf Club in New Jersey and paired with Erik Compton, Rich Beem and Camilo Villegas in the 2012 Humana Challenge.
During the round Crudup offers great advice for getting out of a bunker including, "Take your time," "Spread your feet" and "Open up the clubface."
Jimmy Fallon has a keen interest in the PGA Tour and seems to appreciate the ups and downs of game. In a recent interview he opined about golf by saying, "Golf is all about that one shot--the good drive, the good putt, the amazing chip. That's what you live for. You can be hacking it up for three hours, but all you need is that one good shot to bring you back."
Over the years Fallon's invited a number of tour players on his show including Tiger Woods and Rory McIlroy.
Who knows maybe in a future lineup we'll see Bubba Watson, Adam Scott or Jason Dufner sitting on "The Tonight Show" couch. If anyone can make Dufner laugh it's Jimmy Fallon. I'll have my DVR ready and programmed just in case...