News
Last chance at the Masters motivates a pair of former U.S. Amateur champs on the upswing in Houston
Photo By: Jared C. Tilton
Tim Mickelson told me this week he wasn't surprised at what Jon Rahm has done in his rookie year on the PGA Tour. "Honestly, I don't think anything is different," said Rahm's manager and former coach at Arizona State. "This is the same game I've seen for the last four years."
At 22, Rahm is making it look easy, much the same way Tiger Woods and Jordan Spieth did when they won the Masters at age 21. It is conceivable that Rahm could ride his momentum and confidence to a place in the Champions locker room two Sundays from now, the way Seve Ballesteros did at age 23 in 1980.
In contrast, the game hasn't been as easy for two former U.S. Amateur champions competing this week at the Shell Houston Open. Like Woods, Spieth and Rahm, they both had impressive college resumes, yet the transition to the pro game has been far more of a challenge.
Bryson DeChambeau and Peter Uilhein are in the field based on top-10 finishes in last week's Puerto Rico Open. They're a long way from being in the Masters, let alone winning it. Their dreams, frankly, are to just get to Augusta, each hoping to take advantage of the one remaining Masters invitation available to the winner at the Golf Club of Houston.
"That's why I'm here," DeChambeau told me from the back of the range on Monday night. "I definitely want to make Augusta."
The SMU product couldn't set up camp in Texas fast enough, flying out of San Juan on Sunday night after a T-2 finish in the Puerto Rico that gave his young career a much needed boost and cracked open the door to a major. At 23, the young scientist showed has shown character since turning pro last April, by fighting through the first slump of his competitive career.
"It's taken a little bit of anxiety off it, taken the clutter out of the system," DeChambeau said of his recent play, which also includes a T-27 at the Valspar Championship. "I'm starting to level out, controlling what I can truly control, to function at a higher level."
Uihlein, 27, had already found that higher level with a win and rookie-of-the-year honors on the European Tour in 2013, playing overseas to start out his pro career. From nearly exempt for the WGC-Match Play in 2014 to a low of 279th in the world at the end of 2016, Uihlein had been climbing back toward the top 100 again with four top-10s in eight combined starts this year between the European and PGA tours. He qualified for Houston by finishing T-5 in Puerto Rico with a final-round 66, his best finish in the U.S. since a T-4 in the 2014 Sanderson Farms Championship.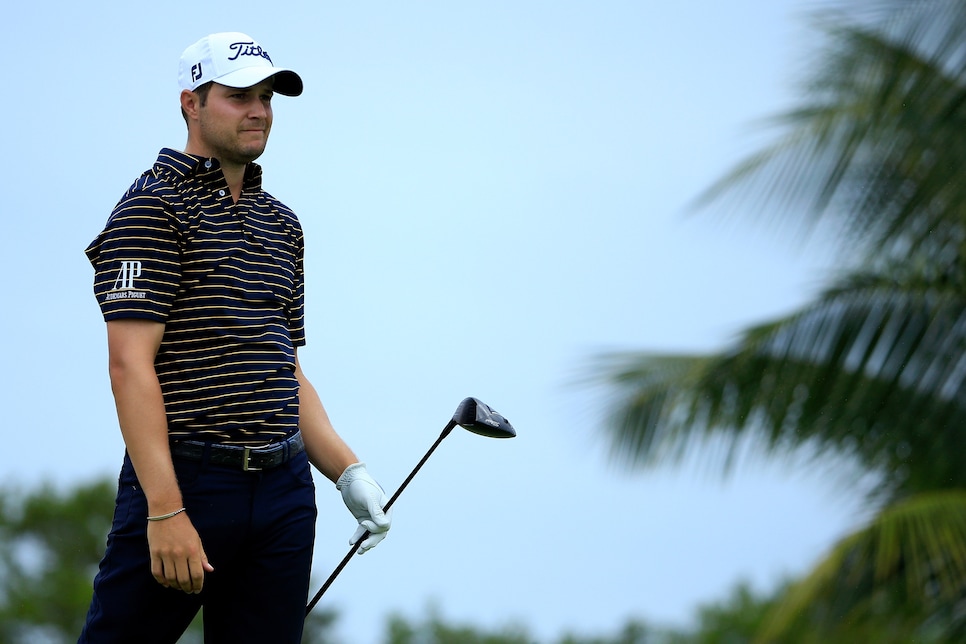 "Anybody can attest that golf is hard enough as it is," Uihlein said when I caught him back in Jupiter on Monday. "If you're hurting, it's even harder. Health has been the main reason for the turnaround. Once you're feeling good and able to do things with the swing that you weren't allowed to do, it all starts coming back."
In early 2016, Uihlein began noticing pain in his wrist. Cortison injections did little to help, and eventually he had surgery to fix the wrist, a broken hand and bone spur. Only in recent months has begun to feel like himself again. Working with Justin Parsons at the Butch Harmon Golf Academy in Dubai—where he spends time while playing on the European Tour, while also keeping a home in Florida—has helped Uihlein find fairways again by going to a power cut, the same shape that turned around Dustin Johnson's game, putting him in play more often.
"It's been good," Uihlein said. "We talked about taking one side out of the golf course, so we've basically eliminated the left side. Everything we're doing is to basically neutralize that miss. It's made me so much more comfortable [over the ball]."
Playing games back in the U.S. on equal terms against Justin Thomas, Brooks Koepka and Oklahoma State teammate Rickie Fowler has also established a comfort level. "They're all having success," Uihlein said. "Playing against them, feeling your game is equal to what they're doing, does make you feel like you belong."
While not as physically gifted as Uihlein, DeChambeau is already a member of an exclusive club of Jack Nicklaus, Phil Mickelson, Tiger Woods and Ryan Moore, all having won the Amateur and the NCAAs in the same year. Other than a win on the Web.com Tour in September, this is not the same DeChambeau who carried the can't miss label last year after strong performances at Harbour Town (T-4 in his pro debut at the RBC Heritage) and Oakmont (T-15 in the U.S. Open).
Adding to the stress in recent month was his diabetic father waiting on a kidney donor and the USGA announcing that one of his clubs he used to putt sidesaddle was non-conforming. His dad received the transplant on March 8, the week of the Valspar, which not surprisingly coincided with his first made cut in five starts. His best tour finish came last weekend in Puerto Rico, where he used Matt Kuchar's putting grip to finish T-12 in putts per green in regulation.
"It's awesome to play the golf I know I can play," DeChambeau said. "These past three months I was missing a lot, but it wasn't anybody else. It was me."
Linked by their names on the Havermeyer Trophy, Uihlein and DeChambeau also share this in common: they might not have the same overwhelming confidence as Rahm right now, but it doesn't seem like they're all that far away.