Courses
A stylish send-off: 'Bring a lot of cash'
'When you go on a bachelor party, you want some beautiful women around," says Alex Leeshue, brother of the groom. "And in Vegas, there are tons of them."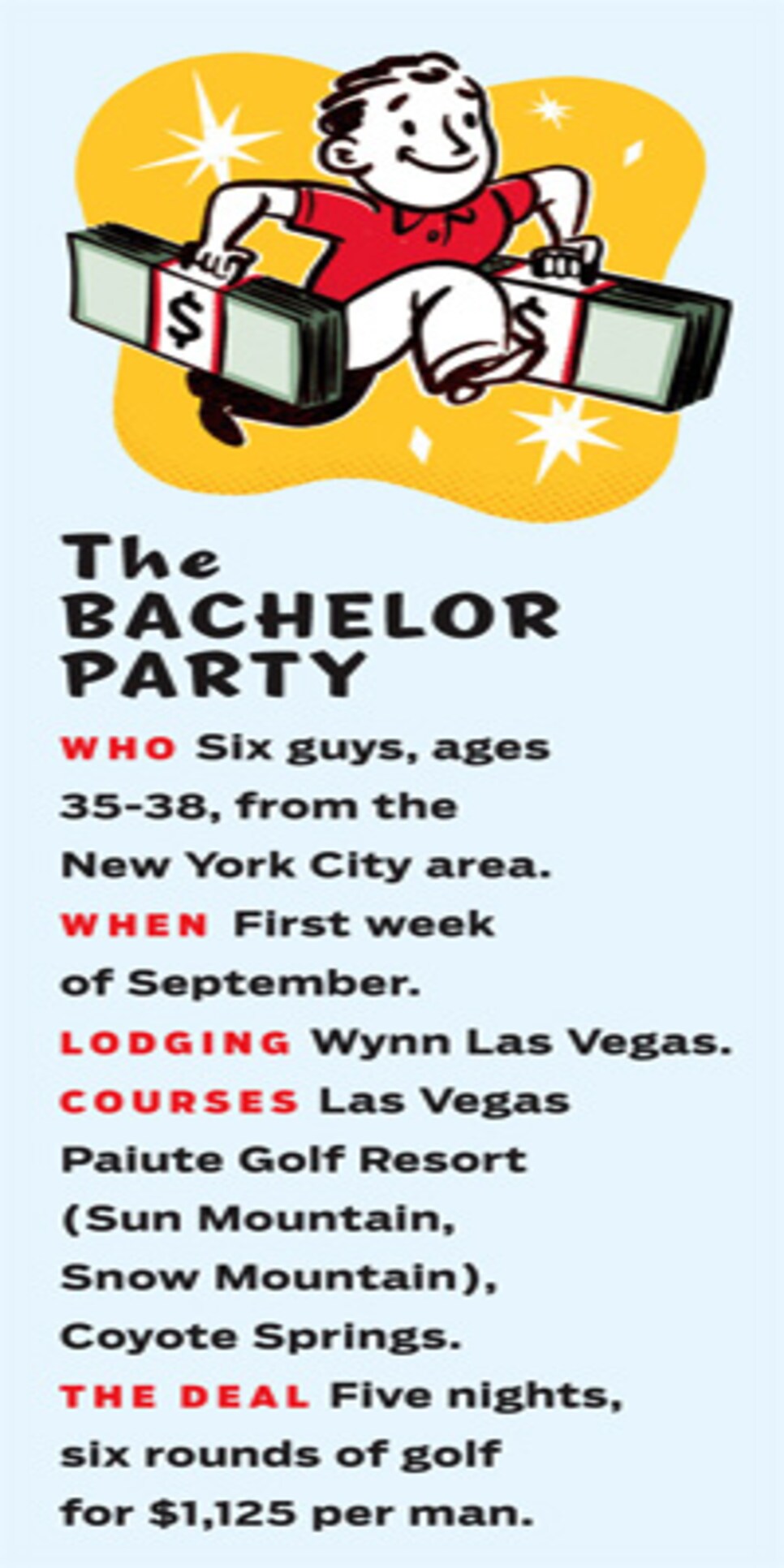 Leeshue and company did Vegas like most avid-golfer males wish they could do Vegas: "We played 36 a day for the first three days and left the weekend for the other stuff," Leeshue says. They hit Las Vegas Paiute Golf Resort's Sun Mountain
courses the first day. (Wolf was closed for maintenance.) On Day 2 they drove an hour north to Mesquite, for 36 holes at Coyote Springs. "The course is nice, but they ran out of sandwiches," Leeshue says. Day 3 was supposed to be 36 holes at Boulder Creek, about 30 minutes south of the Strip, but Leeshue says they wound up back at Paiute. "They have a deal they call Golfapalooza; I suggest you jump all over it. For $159, you get a round of golf--plus a replay on any of the courses--carts, lunch and range balls, and six beers for $10. The facilities are great, service is friendly, and being from New York, I love the views of the mountains."
Much as they enjoyed the Wynn Las Vegas, they didn't spend much time in their rooms. "We had a suite and an adjoining double," Leeshue says. "We averaged four hours of sleep per night." It's not because they were busy playing night golf. "We went high-end when it came to nightclubs. The best club, by far, is XS at Encore, but you have to spend some loot. We spent $600 per man. You get a table and bottles, then it's real easy to get girls to come over and flirt." Safe to say there was more flirting at the gentlemen's clubs. "We like Sapphire. Call them first and they'll pick you up in a limo for free. Every club offers deals."
Men who follow a few days of golf with a weekend at the nightclubs have an appetite that demands attention. "Capital Grille, across from the Wynn, is good and not too expensive. We had the seafood-tower appetizer, steaks, all the sides and drinks for $80 per man," Leeshue says. The group was less enthusiastic about a visit to Jean Georges. "Service was slow, steak wasn't that good--I know a good steak--and it was almost twice as much as Capital Grille."
If Leeshue could hit a parting shot for his fellow avid golfers planning a similar trip to Sin City? "Bring a lot of cash," he says. "I spent more than double what I allocated [$5,000 in six days]. Golf is the cheapest part of the trip.
The more golf you play, the more money you save."