Courses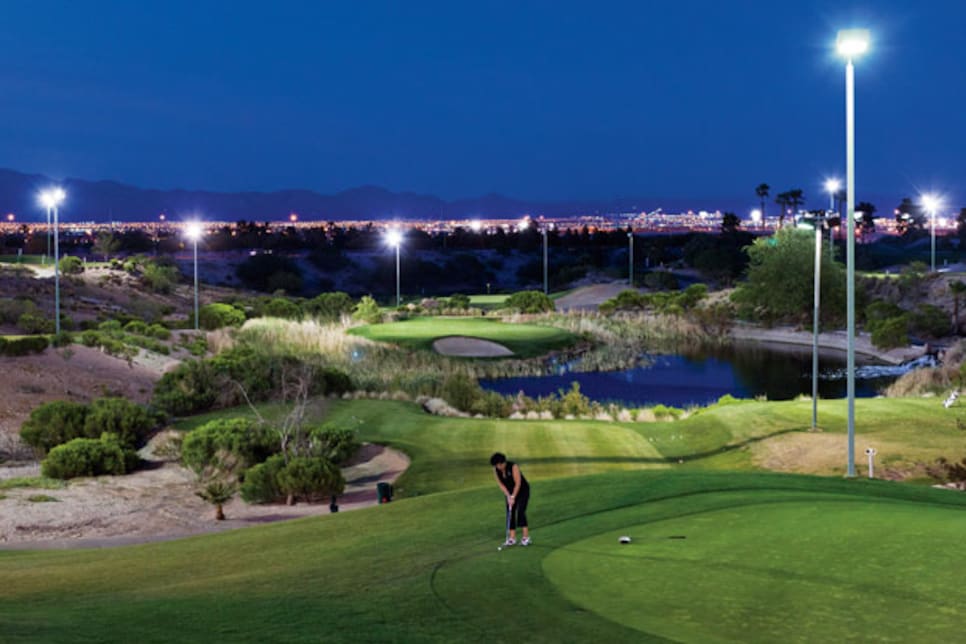 Night golf is available at Angel Park's Cloud Nine course.
"We plan our trip around the NCAA Tournament, but none of us are big basketball fans," says trip planner Don Anderson. "It makes for a better scene, bigger crowd and a lot more excitement." Although the trip moves around the country, Anderson says his group likes Vegas because "no matter where you're coming from, everyone can arrive at 10 a.m."
The buddies stay at Mandalay Bay because it's at the end of the Strip and is easier to set up transportation. They stay up late—gambling and visiting the occasional gentlemen's club—then sleep in and play one round per day. "We always do twilight rates, which start early in March," Anderson says. "You save a lot of money that way."
Their favorite course is Rhodes Ranch. "It's not top-tier, but it's nice. The staff is awesome. And for $70 we got two free drinks and lunch, and you can't beat that." They also like Tuscany ($90), and they occasionally make the drive to Boulder Creek. One year they treated themselves to Shadow Creek. "It was awesome," Anderson says. "We paid full fare [$500], and it was worth it, but once was enough."
They rent a mini-bus from Bell Transportation to get around. At $25 a man per day, "It's cheaper than taxis," Anderson says, "and it allows us to ride together and have a couple of cocktails."
As for food, these guys don't like to spend a lot of money. They prefer Mandalay Bay's House of Blues for breakfast and Burger Bar for dinner and beers. Occasionally they'll splurge at Stripsteak.
Although he uses Jeff Robinson at Las Vegas Golf Adventures to help secure preferred rooms and tee times, Anderson is the type of planner who double-checks all of the rates. "I like being involved," he says, "but if you're not like me, it can be one call, and you're done."