News
Thirty years later, Augusta native Larry Mize is still living the dream of having won the Masters on a dramatic shot that will live forever in tournament history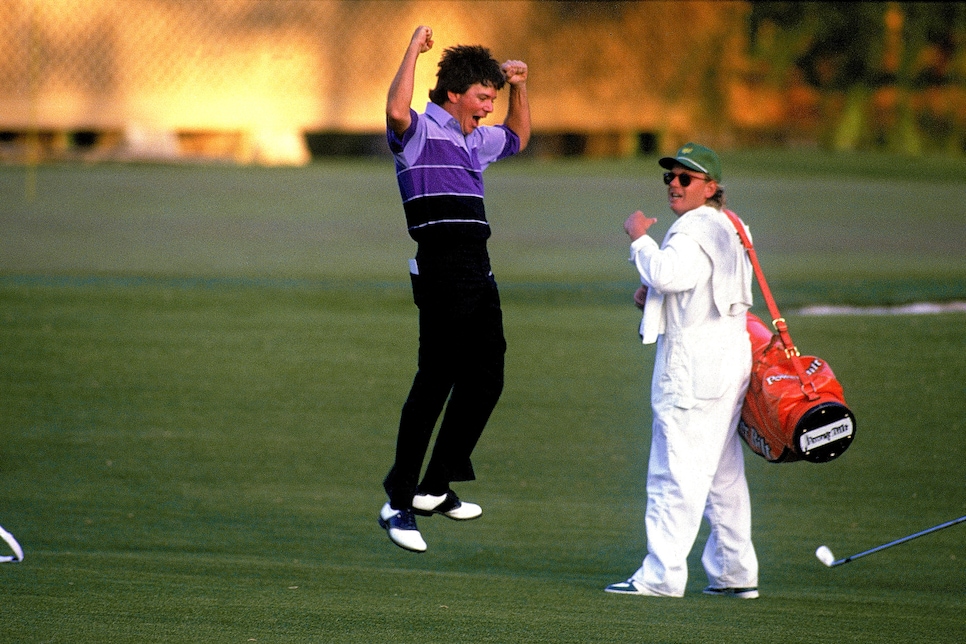 It has been 30 years now since Larry Mize produced one of golf's most iconic moments; 30 years since he broke Greg Norman's heart with a 140-foot chip shot that rolled right into the hole on Augusta National's 11th green; 30 years since he did a victory dance—even though he hadn't actually won yet—that is shown over and over every April during Masters week.
"People sometimes apologize to me for asking me to talk about it," Mize said on a March afternoon just before he began a practice session near his home in Columbus, Ga. "I say, Are you kidding? There aren't many things I enjoy more than talking about what happened that day."
Before Sunday, April 12, 1987, Mize was a 28-year-old one-time winner on the PGA Tour. He had grown up in Augusta, dreaming that he might someday play in the Masters, which he had in 1984. He'd finished tied for 11th, which was when the dream that he might someday win began to kick in.
"I think in some way I always dreamed it," said Mize, who worked on the scoreboard next to the third green for two years as a teenager. "But it went from absolute fantasy to a dream that was a little bit possible after I actually got to play in the tournament."
Mize didn't come closer in his next two tries, finishing T-16 and T-47. But in 1987, he was sharp, opening with rounds of 70, 72 and 72. He began the final day two shots behind the leaders, Ben Crenshaw and Roger Maltbie. Norman and Bernhard Langer were one shot back, and Mize was one of four players—including Seve Ballesteros—right behind them. He and Curtis Strange were in the fourth-to-last group of the day.
It was a classic Masters Sunday, a breeze making the greens even faster than usual and allowing the lead to be jockeyed back and forth all afternoon. Walking to the 18th tee, Mize could see both Norman and Ballesteros, playing behind him, were at three under par for the tournament. He was two under.
"I figured I had to make a birdie to have a chance," Mize said. "I was going to hit driver, but Curtis took out a 3-wood and hit a perfect shot in the fairway to the right of that left-hand bunker. I was about as long as Curtis, so I turned to [caddie] Scotty [Steele] and said, 'Let's hit the 3-wood.' "
Mize ended up almost right next to Strange and, from 140 yards, hit a 9-iron to within six feet. From there, he made the birdie putt.
"I'm probably at least as proud of that birdie as the one at 11," Mize said. "I knew I had to make it, and I hit two really good shots and rolled the putt in, knowing what was at stake."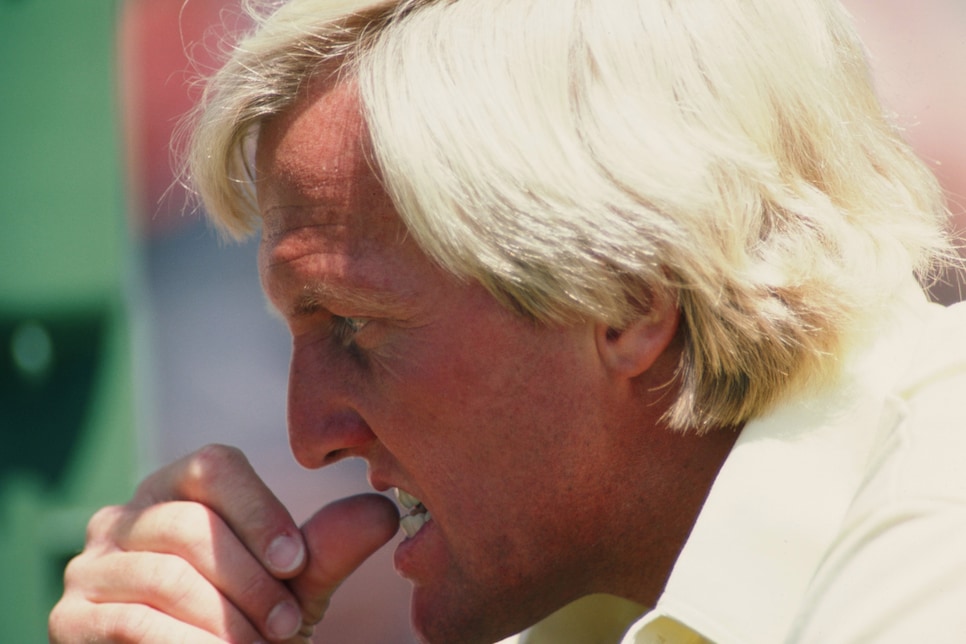 That was when the hardest part of the day began: the waiting. Mize was taken to the Jones Cabin, which is left of the 10th fairway (the spot adjacent to where Rory McIlroy hit his very wayward tee shot to begin his back-nine implosion on Sunday in 2011). It's where players who might win or be in a playoff are taken when they are not in the final group. Mize had to wait for three groups—which felt like an eternity.
"I remember there were a lot of people in there," Mize said. "Members, I guess. The wait was at least 30 minutes, maybe more. When Seve finished they brought him in there, too. Finally, after Roger [Maltbie] and Ben [Crenshaw] finished, we went to the 10th tee."
It might have been easy for Mize to be intimidated by the company he was in. Ballesteros was a two-time Masters champion and a four-time major winner. Norman was the No. 1 player in the world. He had won the Open Championship the previous summer and had famously led all four majors in that year after 54 holes. Mize had won once, the 1983 Danny Thomas Memphis Open, in his second full year on the tour.
One of Norman's four worldwide wins in 1986 had come at the Kemper Open where he had won a six-hole playoff—from Mize. That memory, even of a loss, helped Mize as he stood on the 10th tee.
"I wasn't intimidated even though I was standing there with two of the greatest players in the world," he said. "I'd hung in there with Greg the year before, and I just told myself I wouldn't be standing here if I hadn't played well enough to deserve it. That helped a lot."
"I wasn't intimidated even though I was standing there with two of the greatest players in the world. … I just told myself I wouldn't be standing here if I hadn't played well enough to deserve it. That helped a lot."
Mize was able to take a very aggressive line down the left side on that tee because he'd had trouble curving the ball from right to left all week. Normally, a draw is an absolute must for a right-handed player at Augusta, especially off the dogleg-left 10th, but being without one actually made Mize confident. "It meant I didn't have to worry about going left all week," he said, "because I couldn't."
After hugging the extreme left side of the fairway with a straight ball, Mize's drive caught the downhill slope perfectly and put him 20 yards past both Norman and Ballesteros. Both left themselves long approach putts, with Ballesteros three-putting and Norman making par. That left Mize with a 12-foot birdie putt to win the Masters. It slid just low. Again, mindset came into play as Mize walked to the 11th tee.
"I supposed I could have been thinking, Oh God, I just missed a putt to win the Masters," he said. "Instead, I thought, OK, now I've only got to deal with one of them, because Seve was out."
Mize and Norman both found the fairway with their tee shots on the 11th, but Mize flared his 5-iron right of the green—about 140 feet when he walked it off—from the hole. Norman's second shot came to rest on the right fringe, 40 feet from the flag.
"As soon as I hit the shot, I kind of threw my head back in disgust," Mize remembered. "Scottie just said, very quietly, 'No biggie.' That was his saying, 'No biggie.' Then he said, 'We'll just get it up and down and go to the next hole.' That really calmed me down. He was a big reason I won."
The next few minutes are iconic golf history. Mize took a 56-degree sand wedge—few players used lob wedges in those days—and looked the shot over carefully. It was a MacGregor Jack Nicklaus Muirfield model that Mize had just put in the bag prior to the tournament. He knew he had to land the ball short of the green and run it up to the hole. As soon as he saw the ball hit the ground, he knew the shot was rolling exactly the way he wanted.
"It landed on the exact spot where I was aiming," he said. "I remember thinking, That's pretty good. Then it began tracking the hole. Next thing I knew I was jumping around and going crazy."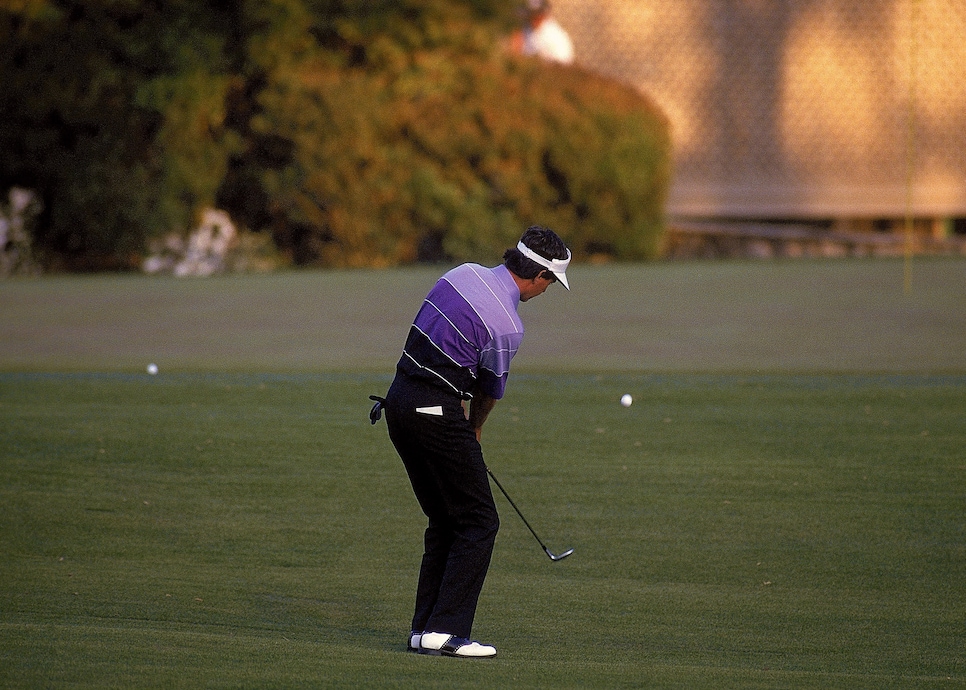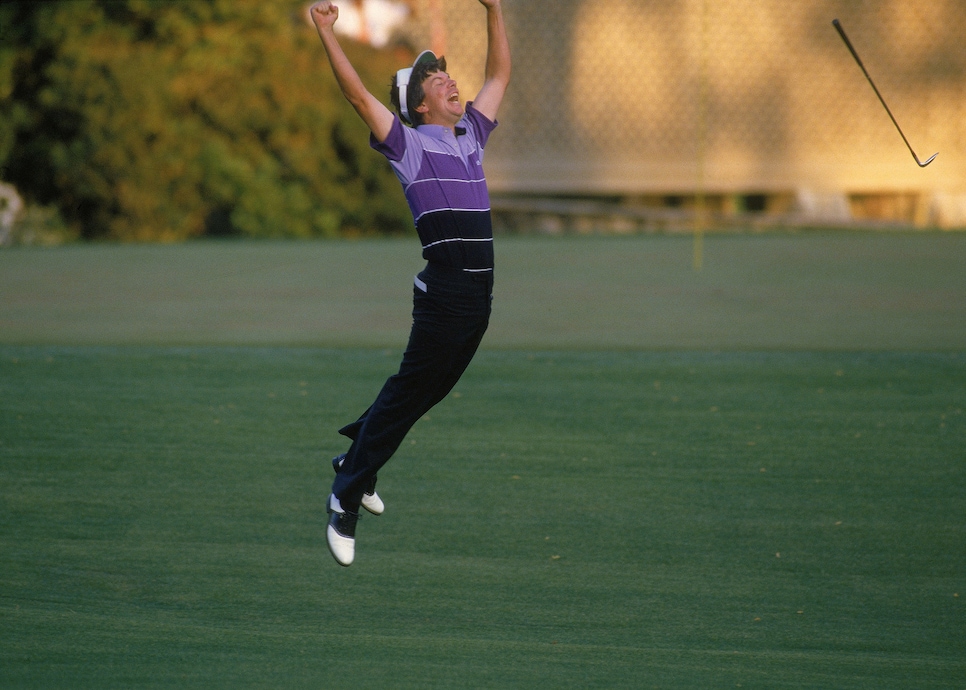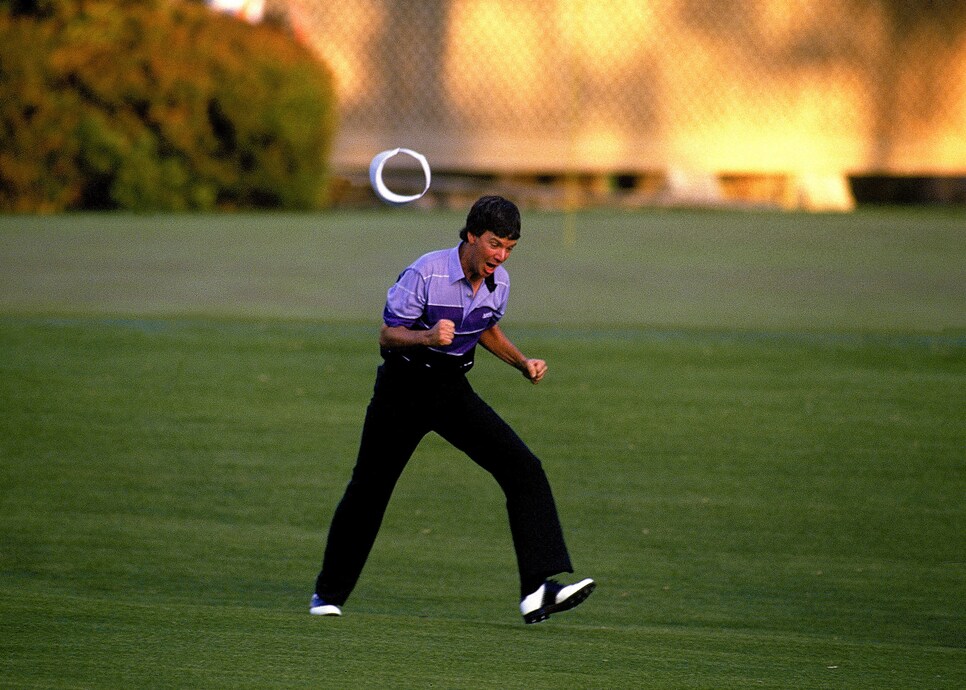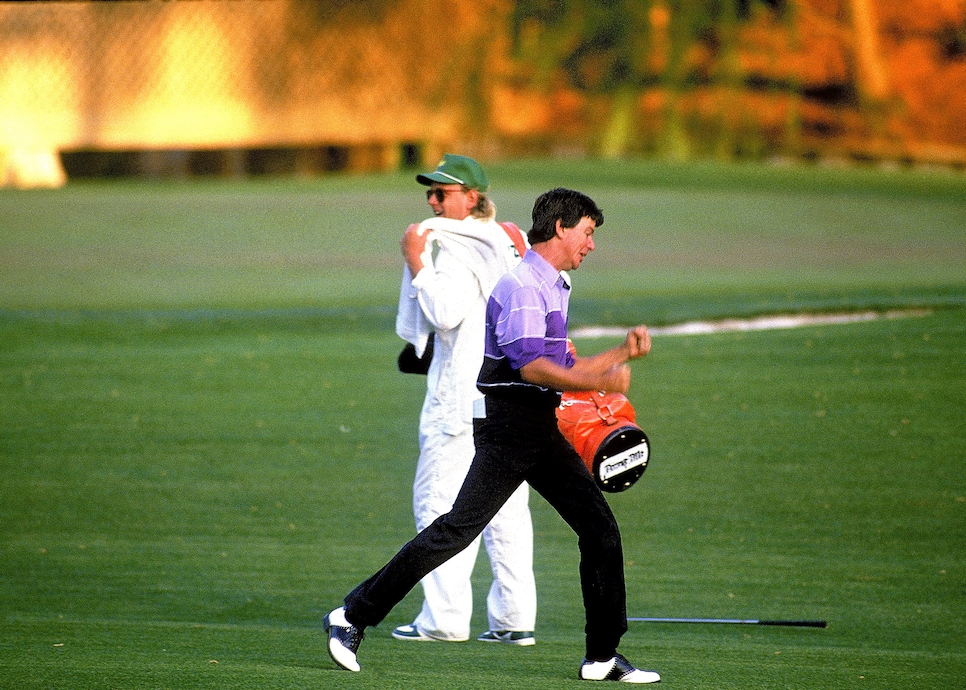 After Mize's ball disappeared for his miraculous birdie, Norman still had to putt, but he was in a state of shock. "I never once thought about him holing it," Norman said, years later. "I thought it was a tough up-and-down."
Norman had lost the most recent major, the 1986 PGA, when Bob Tway holed out from a bunker on the 72nd hole. "Larry's shot was tougher than Tway's," Norman said. "It was a stunning moment."
Mize and Norman have only discussed that moment once in the ensuing 30 years—the next week in the locker room at Hilton Head. "I just stopped him to tell him how gracious I thought he'd been the week before," Mize said. "I thought he handled it like a true champion."
"People sometimes apologize to me for asking me to talk about it. I say, Are you kidding? There aren't many things I enjoy more than talking about what happened that day."
Mize loves going through the rituals of Masters week ever year. He now comes to the tournament having won four times on the PGA Tour and once on the PGA Tour Champions. He can still play the super-sized golf course, which is almost 500 yards longer than when he won, even at 58, having made the cut two of the last three years.
"Short game, baby," he said, laughing. "I guess I know my way around the course, even though it is probably too long for me these days."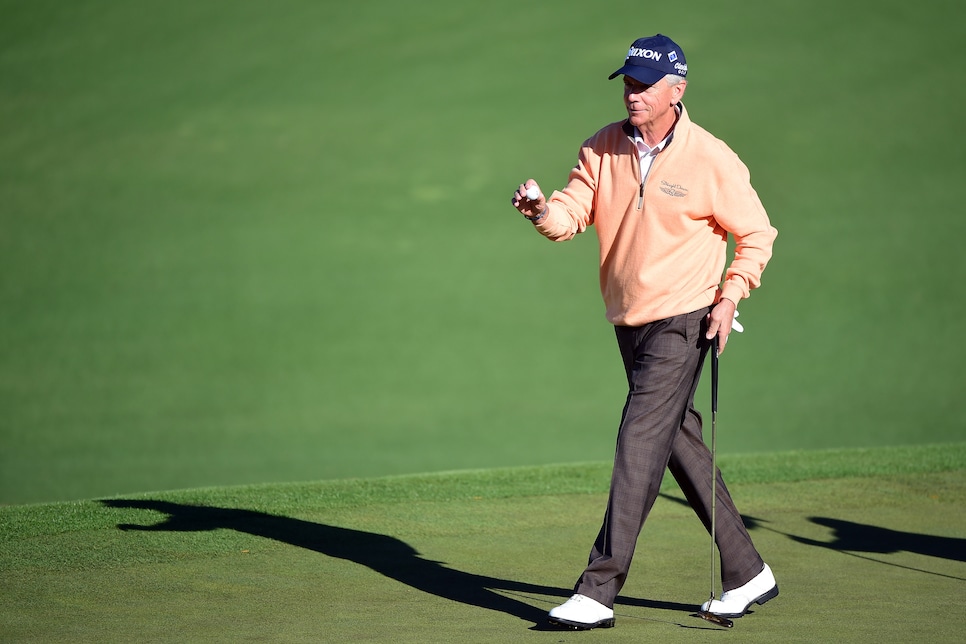 This year's Champions' dinner (Mize served steak and Georgia peach cobbler in 1988) will be bittersweet for everyone because of Arnold Palmer's absence. "A couple of years ago, he stood up and talked about all the good all of us could do as people, not just as golfers," Mize said. "It was an amazing moment. I can't even imagine how much he'll be missed."
Palmer's spirit will no doubt be in the room. And Steele, Mize's caddie, who passed away in 2012, will also be at Augusta. At Steele's request, several of his caddie friends quietly spread his ashes during the first practice day in 2013 on the spot right of the 11th green where Mize hit his shot back in 1987.
Mize says he has never hit an approach shot to that spot again—or even tried another chip shot from there for fun—since that moment 30 years ago. But when he walks down that fairway, he remembers Steele. The caddie, as it turned out, was wrong on that Sunday evening 30 years ago. That moment, for both he and Mize, was as big as it gets.