News
Lara Tennant grabs sentimental win at the U.S. Senior Women's Amateur with 78-year-old dad on her bag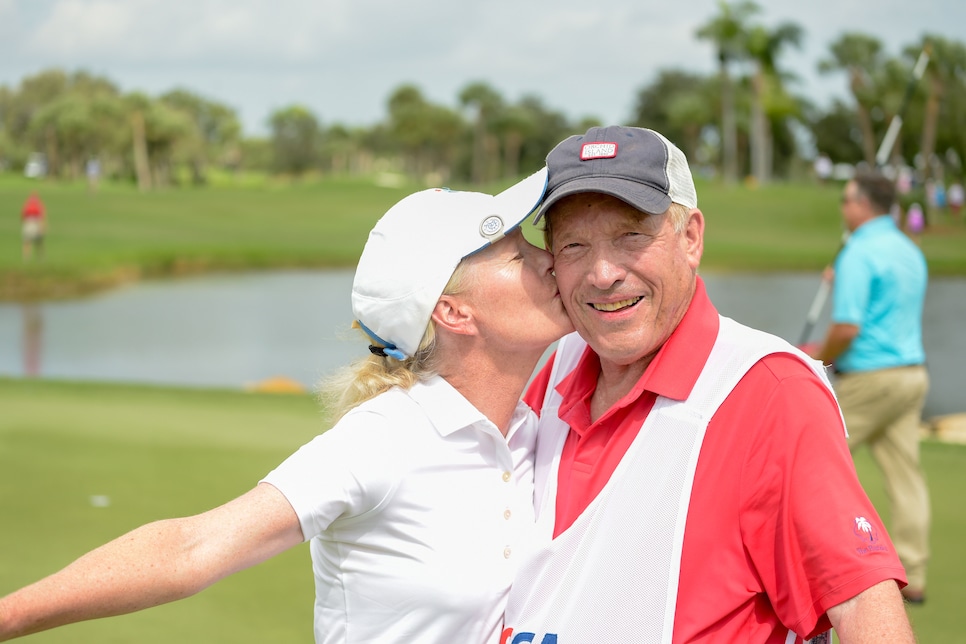 Copyright USGA/Fred Vuich
The story of a daughter claiming a USGA championship and sharing the big moment with her father on the bag usually involves a women still in college or high school. Lara Tennant's days studying for mid-terms are behind her, but in winning the U.S. Senior Women's Amateur on Thursday, the 51-year-old from Portland, Ore., celebrated the biggest triumph of her golf life with a special person caddieing.
George Mack Sr. introduced the game to his five children, each of whom caddied for him at some point as he played in amateur competitions, including five USGA events. Mack, 78, returned the favor for Tennant at Orchard Island Golf & Beach Club in Vero Beach, Fla., and watched her run through the match-play bracket en route to beating Australia's Sue Wooster in the 18-hole final on Thursday, 3 and 2.
"It's been such a blessing to have him here, and it's amazing to share this experience with my dad," Tennant said. "That was a joy, but also so helpful, because we hit the ball about the same distance, especially with our irons, so he clubbed me perfectly. … So with him giving me confidence in my club selection, it really helped [me] swing even better."
"How can you beat this?" said Mack on the eve of the final. "Regardless of what happens, it doesn't matter because we had a great time."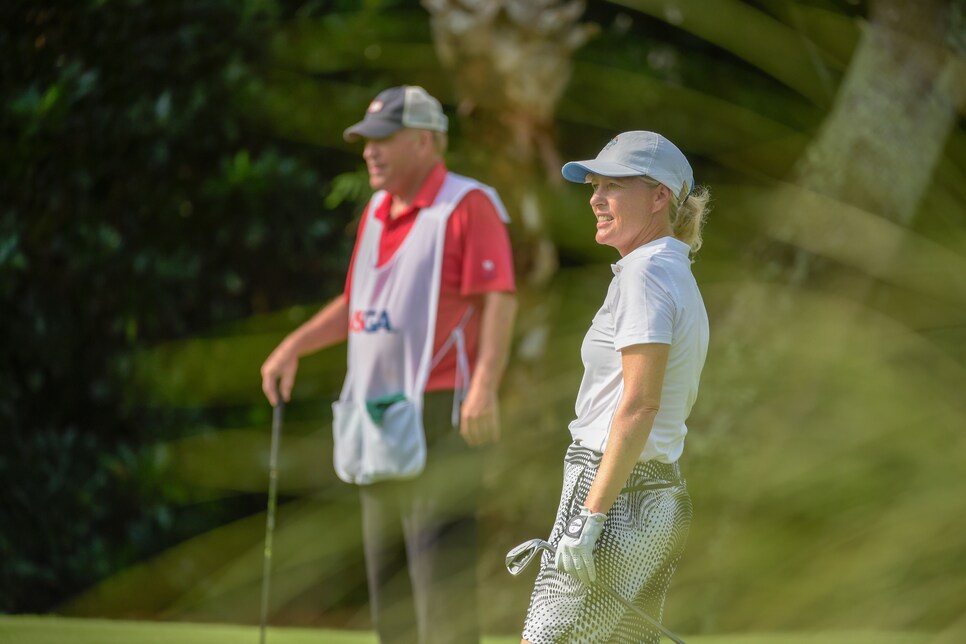 Copyright USGA/Fred Vuich
A former college standout at Arizona in the late 1980s, Tennant was playing in her ninth USGA amateur championship dating back to the 1983 U.S. Girls' Junior, but had won just one match in her previous appearances. She competed in the U.S. Women's Senior Amateur for the first time last year at her home course, Waverly Country Club in Portland, where she shared medalist honors but saw her title hopes dashed early again.
A mother of five children, the youngest now in the senior years in high school, Tennant had been excited to return to competition in recent years to try and test her game again.
"I would say except for last year, all of the other USGA championships I played in, I probably prepared two weeks before," Tennant said. "With five kids, I was never prepared like I am now. Since I turned 50, I was able to have time to prepare, and I would say I have a new passion for golf. I love to practice, but I have time to practice."
This summer, she competing in the inaugural U.S. Senior Women's Open where she secured a unique place in history, becoming the first golfer to make a hole-in-one in the championship when she aced the par-3 seventh in the first round.
There were 10 family members in the ground that day, and it was special no doubt. But Thursday holding the winner's trophy with her dad, even topped that.