If you couldn't find something compelling about this weekend in the world of professional golf, you don't have a pulse. At the Solheim Cup and Tour Championship, the best players in the world were on full display. Mark Blackburn, Golf Digest 50 Best Teacher and reigning PGA National Teacher of the Year, has two big instruction ideas you can use from the wall-to-wall action we just watched.
They've given new FedEx Cup winner Patrick Cantlay the nickname Patty Ice because of how clutch he has proven to be in final rounds. But where does "clutch" come from? "Yes, Patrick hits it very far, but the reason he's able to produce so many consecutive low scores—15 in a row in the 60s, under the highest pressure—is because of what he has built into his game since he was a kid working with the same coach he's had all those years, Jamie Mulligan," Blackburn says. "Tempo is what sets his swing apart. He has a wonderful rhythm, and it never looks like he's trying to smash it. He has both grace and pace. The other part is a lot of recent work on his short game. When you're in rhythm and playing under control, you keep the ball in front of you. And the short game works as an 'eraser' when you do miss a green."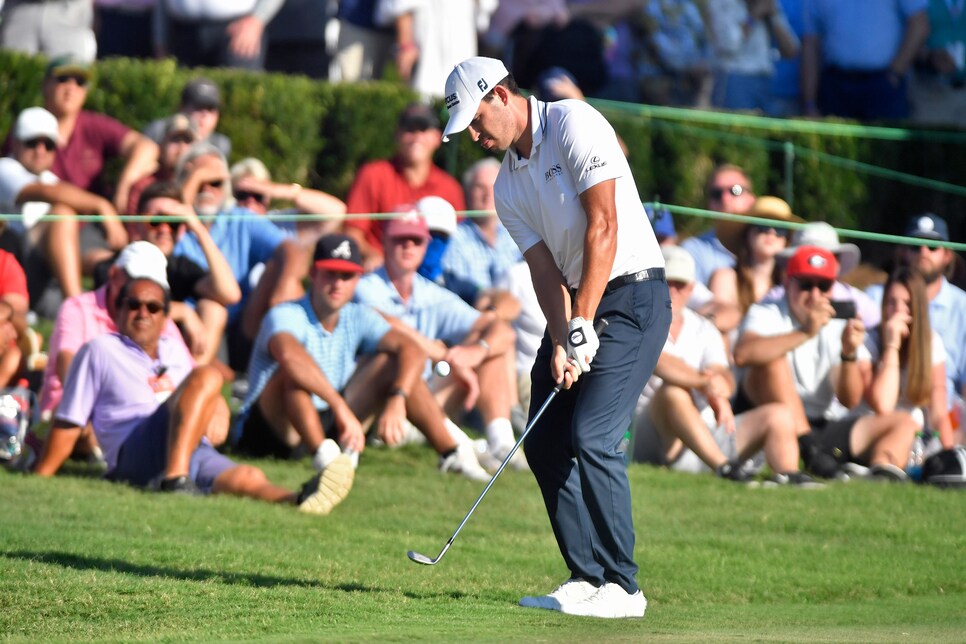 The way FedEx Cup champion Patrick Cantlay uses the bounce of his wedges to slide through the turf is something everyday golfers can mimic.
Icon Sportswire
How does that translate into something you can do immediately? "To improve your tempo, bring your feet close together and hit shots where you accentuate a one-two cadence and actually take little steps," Blackburn says. "On short game, the most valuable thing you can do is get a better sense for how the bounce of the club should slide on the ground. That means using your sand club instead of a lob wedge and making the bottom of the swing longer. Your shot pattern will immediately get much tighter and you'll make cleaner, more repeatable contact."
Cantlay is awesome to imitate, but the reality is that very, very few players can smooth it out there 330 yards even when $15 million isn't on the line. The massively entertaining and competitive Solheim Cup and the positive buzz it has generated has proven once again that the best swing models for most everyday players don't come from the PGA Tour. "The LPGA and LET players are just awesome, and they're really good at the shots the vast majority of players need to be able to hit week in and week out—hybrids, fairway woods and drivers that have to rely on precision as much as power," Blackburn says. "You're probably not as strong with those clubs because you tend to get steeper, while those shots do best with a shallower, gliding approach to the ball."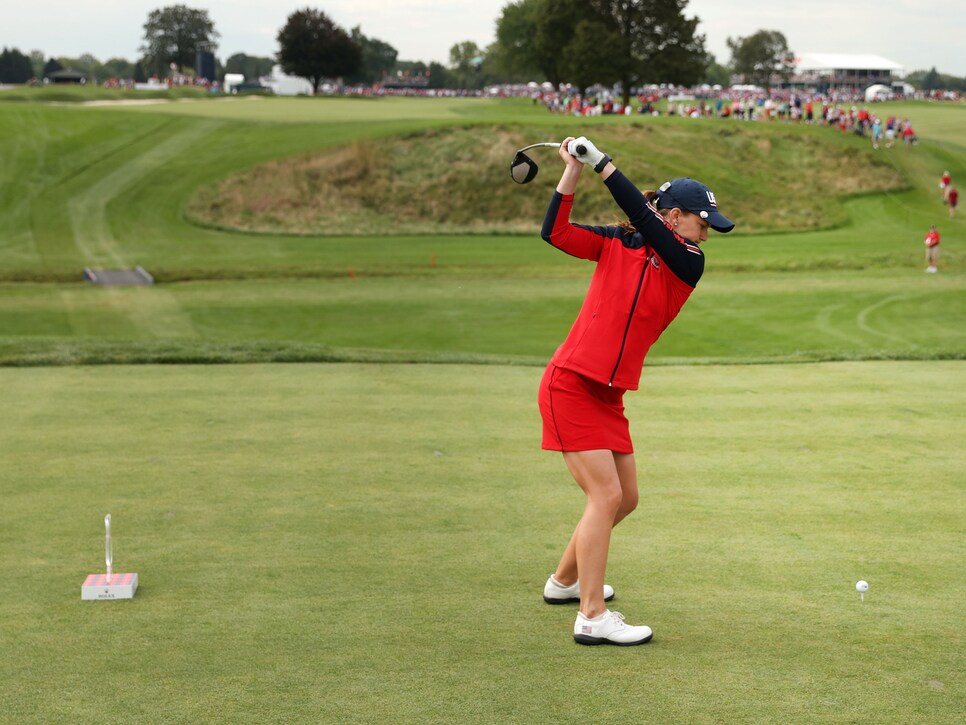 Watch Austin Ernst of Team USA as she keeps her lead arm close to her body to prevent her from coming down too steep.
Maddie Meyer
One way to feel that is to try to keep your lead arm closer to your chest as you swing the club down. When it moves away, that's when the club pitches out onto a steeper descent angle and crashes into the ground instead of sliding along it. "What we've watched this weekend just proves how great those players are, and how much they deserve the biggest stage. Can we start the movement right now to have the Ryder Cup and Solheim Cup at the same time, on the same course, with the same galleries for morning and afternoon play?"