The Loop
Kyrie Irving is so good he's challenging Danny Ainge's belief in a spherical Earth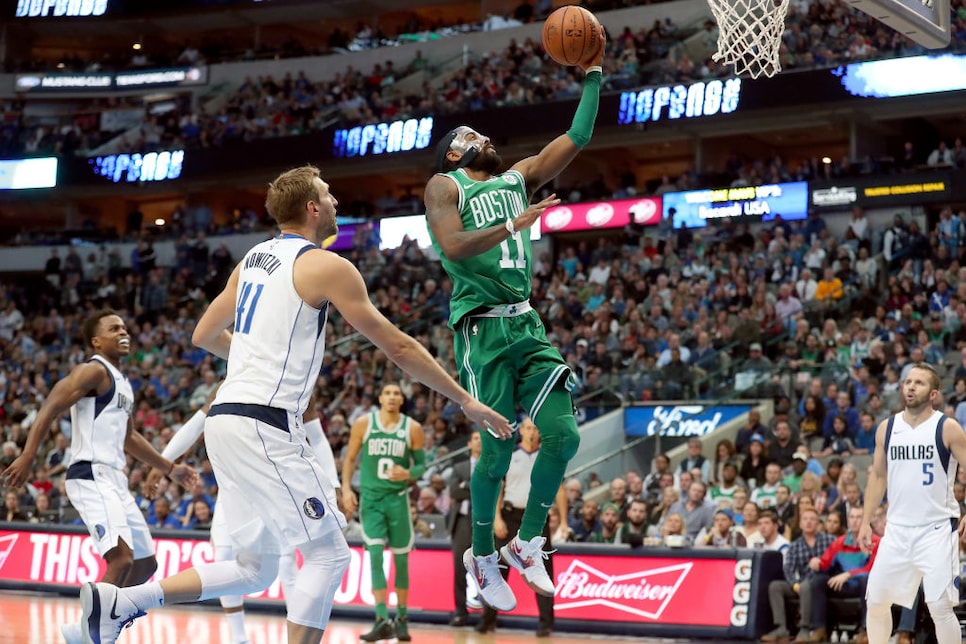 After losing Gordon Hayward on opening night to a gruesome leg injury, many closed the door on the Boston Celtics. In a league where continuity is key, the team's massive roster turnover was already going to be an obstacle; subtract Hawyard, one of the best swingmen in the NBA, the club was staring at an equation that seemed unsolvable. That the Celtics lost their first two games was no surprise.
What's ensued, however, borders on the fantastical.
The Celtics knocked off the Dallas Mavericks on Monday night, their 16th straight victory since starting 0-2. They came back from a 17-point deficit to beat the Golden State Warriors, and disposed of the Charlotte Hornets despite being down 12 in the fourth quarter. Playoff-caliber teams like the San Antonio Spurs and Oklahoma City Thunder have fallen victim to the Celtics, as have upstarts in the Milwaukee Bucks and Orlando Magic.
No one player or thing spurs such a streak, and truly the Boston charge is a team effort. Young guns Jaylen Brown and Jayson Tatum have prospered sooner than hoped, Al Horford has apparently jumped into a time machine and Brad Stevens has cemented himself as one of the best coaches in the Association. But at the group's core is Kyrie Irving, whose protest out of Cleveland drew almost universal scorn.
However, since arriving in Beantown, Irving has transformed from a dynamo scorer into an All-NBA talent. But while he's become a more team-oriented entity than the player we saw with the Cavaliers, Uncle Drew can still get himself buckets, evidenced in Monday night's affair. Irving went 16-of-22 from the field and 10-of-11 at the line to drop 47 on the Mavs, a performance that left GM Danny Ainge questioning his belief in a spherical Earth:
While we're not drinking the flat-world Kool-Aid yet, if Irving knocks off LeBron James and gives the Warriors a bout in the Finals, the man can claim whatever damn theory he wants about our planet.