The Loop
Kyle Lograsso Is Still Fighting The Good Fight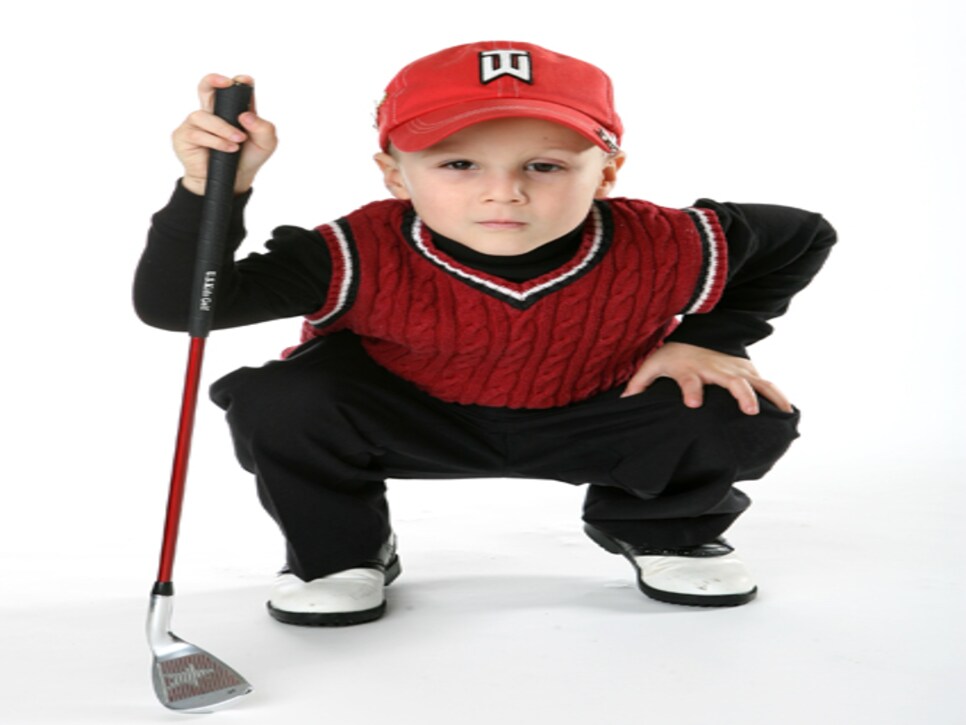 Kyle Lograsso (pictured above) was 4 years old at that time, and it didn't take me long to figure out a little life-threatening cancer in the retina of both eyes was no match for the will of a little lion. I was the photo editor of Golf Digest at that time; I called Jeff Lograsso, Kyle's father, to set up a photo shoot.
Although I've never met Jeff, I've been a friend to the Lograsso family ever since I began working with them on that story. If you know the Lograssos, then you know they aren't the typical pushy Little League parents, they aren't trying to exploit the media for personal gain, and they continue to take any and all coverage on Kyle's courage in stride. From Golf Digest to Golf World; from HBO "Real Sports" (twice) to an appearance on "The Ellen DeGeneres Show"; from flying in Greg Norman's helicopter to beating PGA tour pro Daniel Chopra out of $5 in a chipping contest, little Kyle, who's now 8, still says the coolest thing that has happened to him since beating cancer is this: "I don't notice it. I only have one eye, but I don't notice. It looks like I have two eyes." "That's pretty cool," I told him. His reply: "That is really cool."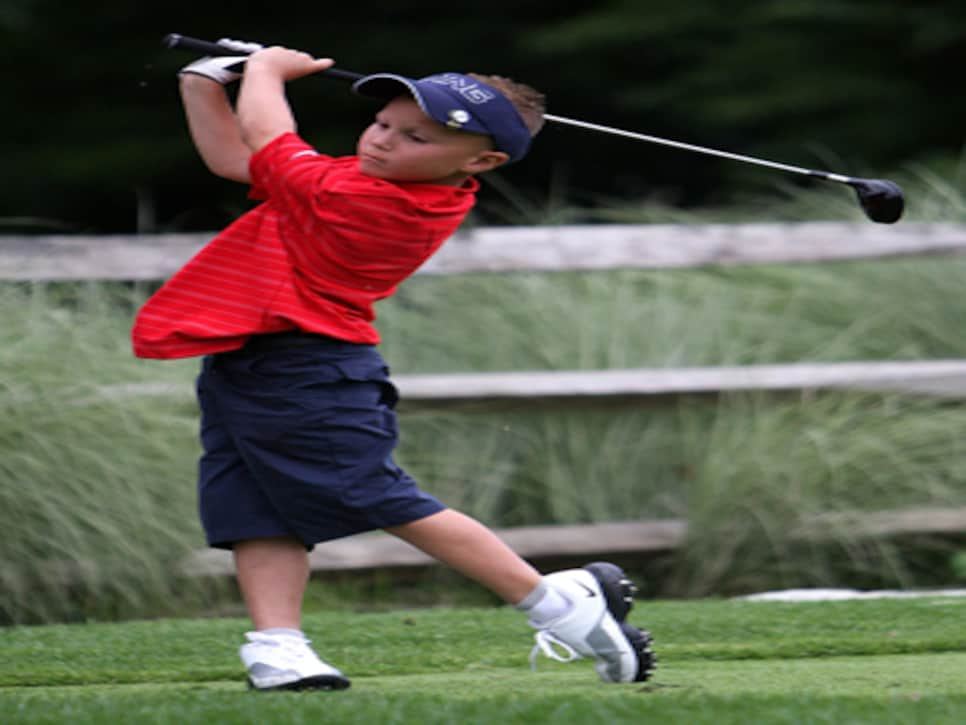 Come on, Tiger. For a guy who's the son of a military man, and a guy who could use a smidge of positive press, who has access to a private jet and who has always claimed to have an affinity for kids, this seems like a pretty good opportunity to have a major impact. A story I would love to write.
Anyway, it has been three years of many phone conversations with Jeff. I get the sense he loves to hear about the life of a travel editor, and I like hearing stories about Kyle throwing out the first pitch at the new Yankee Stadium. (Kyle wanted to wear a Phillies jersey because they're his favorite team, but he was warned even a kid who beat cancer could be booed by Yankees fans.)
You'd think if a kid beats cancer, that life would be nothing but standing ovations. Not being able to wear a Phillies jersey to a Yankees game is only one example of some of the adversity the Lograssos have been through since. The Lograssos were transferred to San Diego only a month before Jeff was deployed to Iraq, and on the first day the three kids started at a new school. From Perkasie, Pa., to Temecula, Calif., I learned about some of the struggles Kyle had making new friends in an unfamiliar setting. (Kids can be cruel, and some of them made fun of Kyle's fake eye.) Kyle took a break from golf when his dad was in Iraq--as we all know, the game isn't quite the same without your favorite golf buddy. In the case of Jeff and Kyle, Dad doesn't play golf--never has; he just caddies. Poor Regina told me she tried to fill in for her husband, but Kyle sacked her after a round or two--no offense, Mom, but golf was clearly a father/son thing.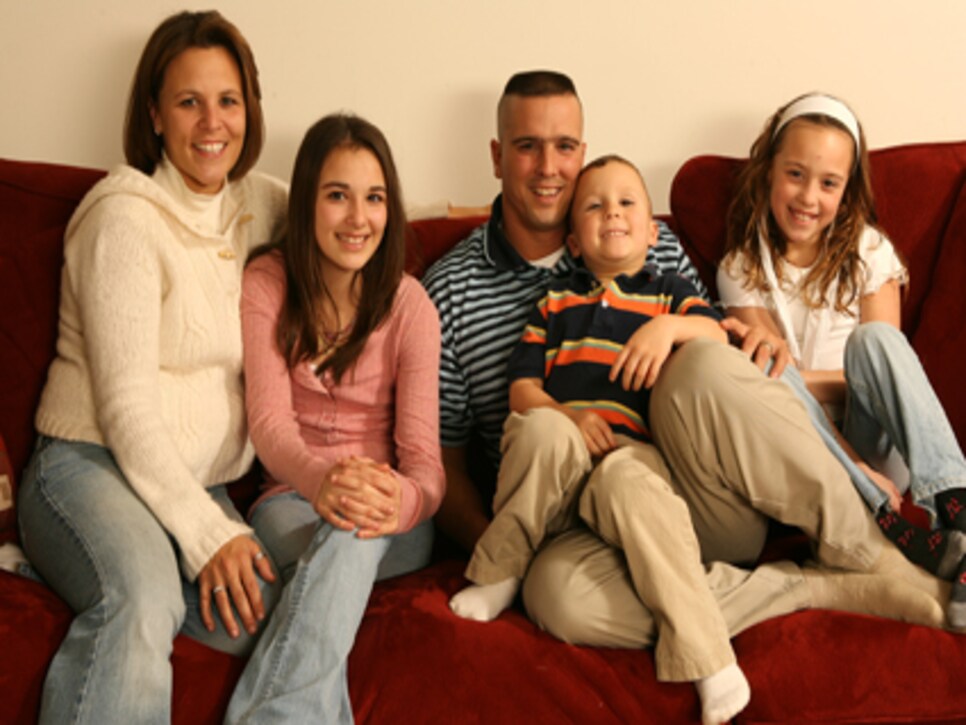 After Jeff's return, life has improved for the Lograssos. They've all made new friends, and Kyle is excited about golf again. Of course he is: Dad is back on the bag. Kristen, 16, Kyle's oldest sister, is getting her driver license in a few weeks (freedom!). Kaley, 13, is on not one, but three soccer teams. And Regina is busy doing what multi-taking moms do: running the house, getting the kids to and fro, keeping up Kyle's website and organizing donations for the charity golf tournament.
If you join ($325 per person, $1,300 per foursome), you'll play against Kyle on the third hole, his favorite on the course--it's about 130 yards. If you beat "the pro" you get a pair of Loudmouth golf pants. But there's one minor detail worth noting: You have to play against Kyle while wearing a patch over your left eye. Life, after all, can be fair.
Jeff told me there are still a few spots available, and that they are still looking for sponsorships. Click here for more details on how to join or how to donate. I'm in San Diego that weekend for the 20th annual Ginella Fantasy Football Draft. I'm sticking around to finally meet Jeff and to try to win myself a pair of pants. Lately I haven't been able to hit the ball with two eyes; maybe an eye patch will help.
Here's the audio of my complete conversation with Kyle on Aug. 27, 2010:
In the clip, Kyle claims Latin is his favorite subject, he calls out Chopra for not settling a bet, Tiger for not returning his letter, Yankees fans for being tough on a kid, Norman for flying too close to the water and Southern California for not having enough snow.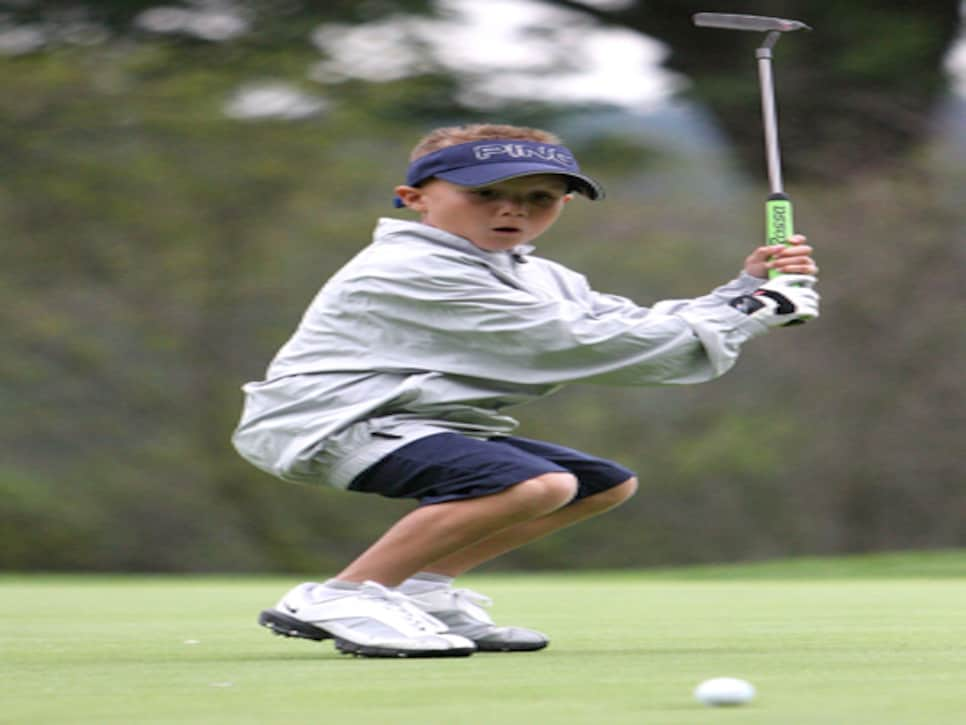 Just what Tiger needs--another lefty to worry about.
*(Photographs in 2007 by M.J. Lebrecht II/1 Deuce 3; swinging and putting by Getty Images.)