News
Kuchar wins (with a local legend on the bag), Westwood returns to winner's circle and a first for the PGA of America: What you missed this weekend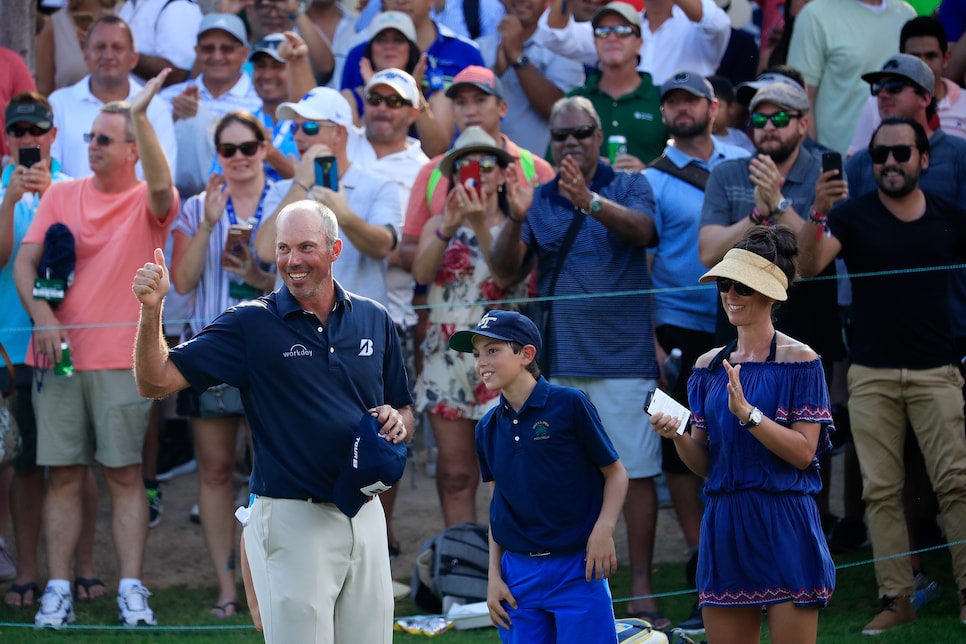 Welcome to the Dew Sweeper, your one-stop shop to catch up on the weekend action from the golf world. From the professional tours, trending news, social-media headlines and upcoming events, here's every golf-related thing you need to know for the morning of Nov. 12.
Kuchar bags first win in four years
Last season was rife with struggle, jarring as he had been a model of consistency for a decade. Given his age, questions arose how much gas he had left. Yet Matt Kuchar's performance in Mexico signaled his tank is far from empty. The 40-year-old went on a three-round scoring barrage and weathered some shaky play down the Sunday stretch to win the Mayakoba Golf Classic by one over Danny Lee.
"I've been hitting it beautifully. I felt really good, it was just a matter of having some putts go in," Kuchar said. "Golf's such a funny game. It's hard to predict when it's going to come around."
His recent scorecards underline that plight, as Kuchar posted just four top 10s last season after averaging 10 the previous four campaigns, dropping from 15th in the world to 40th. Not that one would surmise as much by his play in Playa del Carmen: Thanks to precision (80.36 fairway percentage) off the tee, Kuchar's 20-under score set a 54-hole tournament record and bestowed a four-shot lead. A couple back-nine bogeys and a charge from Lee managed to put the issue in doubt, but Kuchar converted a nervy three-footer on the final hole to seal the win.
"It feels extra sweet having suffered through a year in not playing great and being four years removed from my last victory," Kuchar said.
There's a perception that a player of Kuchar's caliber should have more than eight career victories. In reality, that body of work should speak to a different sentiment, one articulated by Kuchar Sunday night: "I realized how difficult it is to win on the PGA Tour."
But win he did, earning an invite to the Tournament of Champions in the process. It's said the best daybreaks in the world grace the beaches of Maui. Faced with the prospect of the sun setting on his career, it's a sight Kuchar will undoubtedly savor.
Amazingly, Kuchar hit pay dirt without long-time caddie John Wood on the bag. As Kuchar was a late Mayakoba entrant, Wood had already RSVP'd to a reunion, sending Kuch searching for a substitute loop. Enter David Giral Ortiz, better known as "El Tucan."
Recommended to Kuchar by tournament director Joe Mazzeo, Ortiz had worked last year's tournament for Alex Cejka, who finished ninth, and was at the side of Mexican player Armando Favela during the event's qualifier, which Favela won in a playoff. Ortiz, who is the caddie coordinator at Camaleon G.C., speaks little English, keeping communication with Kuchar to a minimum. Which apparently paid dividends, according to Kuchar, feeling freed by the lack of pre-shot discussions. Better yet, Kuchar was delighted by Ortiz's "El Tucan" nickname, saying it was a sign he was going to make a lot of birdies.
"He was definitely my lucky charm," Kuchar said. "He brought me good luck and certainly some extra crowd support and did a great job as well. He did just what I was hoping for and looking for."
And how Ortiz got his handle? He told reporters it comes from his love of dancing. So perhaps it's no surprise Ortiz was the perfect complement to a man who knows how to bust a move:
By the way, "El Tucan and Kuch" would make for a heck of a CBS comedy-action procedural.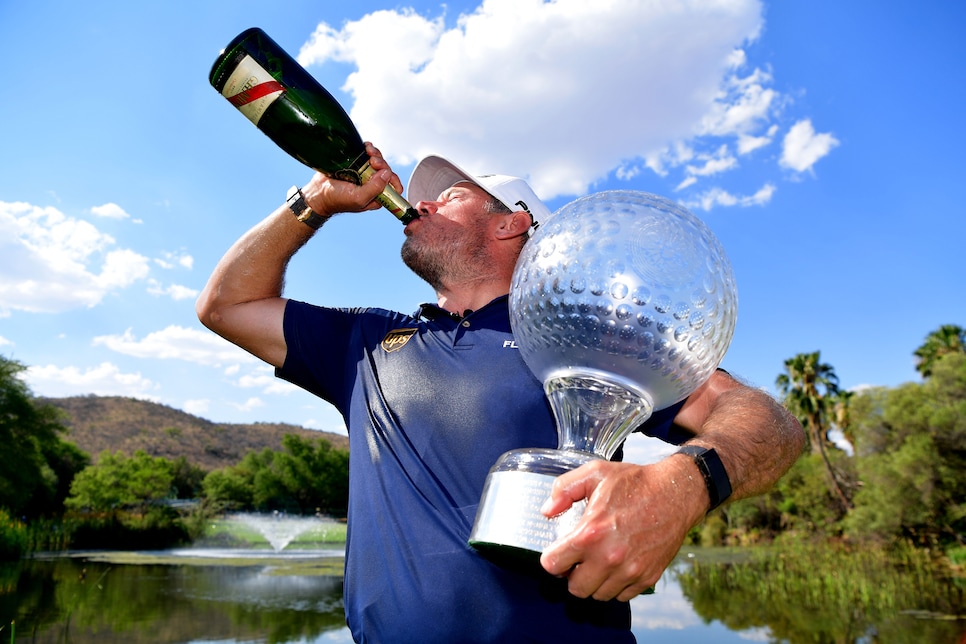 Stuart Franklin/Getty Images
Westwood returns to winner's circle
Before his win on Sunday, Kuchar's last tour victory came on April 20, 2014, a date which also served as Lee Westwood's most recent win. Take a shot in the dark what happened on the Euro Tour this weekend.
Westwood, the former No. 1 who had fallen to 125th on the OWGR this campaign, submitted a final-round, bogey-free 64 to take the Nedbank Golf Challenge.
Starting his day three behind 54-hole leader Sergio Garcia at the Sun City event, a tap-in eagle for Westwood at the second hole inserted him into the mix. Five birdies in a seven-hole stretch on the back, coupled with Garcia's inability to rack up red figures, vaulted the Englishman into the lead. Louis Oosthuizen cobbled together an attack of his own, but a birdie attempt on the 17th failed to drop, with a wayward drive on the last proving to be the death plow to Shrek's chances, giving Westwood the crown.
Now 45, it's hard to envision Westwood returning to his former formidable self. Not that it matters. That he was able to turn back the clock, if only for a weekend, seemed to be enough.
"I'm a little emotional, to be honest," Westwood said afterward through tears. "You're never sure you're going to be able to do it again, and I was able to."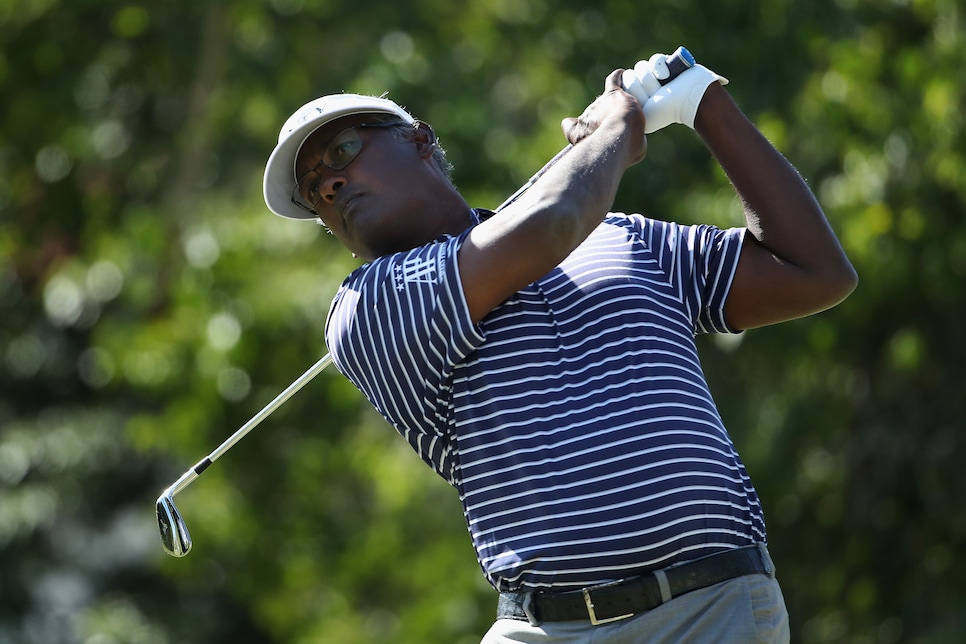 Singh wins, and another Cup for Langer
Vijay Singh won the PGA Tour Champions' season finale in Phoenix, erasing a six-shot deficit with a final-round 61 to win the Charles Schwab Cup Championship. It was Singh's third victory of the season, a win he credited to a putting tip received earlier in the week from David Graham.
"He told me, 'you should crouch down a little more. Look at Nicklaus, what he does. He's always down there.' I putted so well and won," Singh said. "Last night I was on the putting green. I told my caddie, I should just try that because it worked so well that week. And it worked well today."
However, the bigger story is Bernhard Langer, who's ostensibly discovered what Ponce de León never did. Singh's victory allowed Langer to capture the season-long Schwab Cup, again, the fourth time in five years he's grabbed the cup and the fifth time overall.
"It never gets old," Langer said. "At age 61 to do it is quite an achievement. Maybe there's another one in me, you never know."
Langer also won the Champions' money title for the sixth consecutive season, and for the ninth time in his career.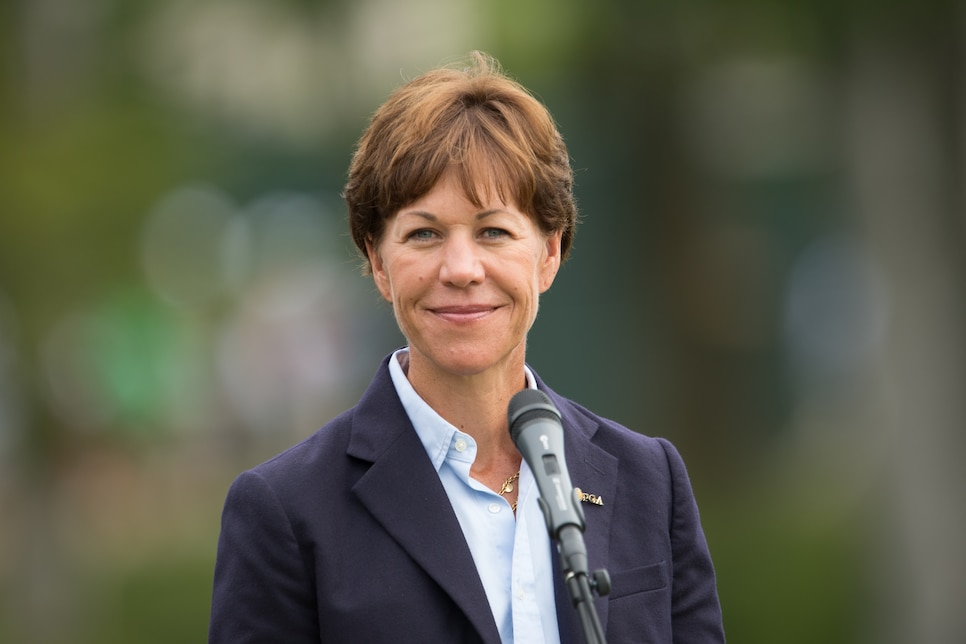 (Photo by Montana Pritchard/The PGA of America via Getty Images)
PGA of America names its first female president
Suzy Whaley, who has served as the PGA of America's vice president the last two years, was formally elected president of the organization on Friday at the PGA's annual meeting, becoming the first female to serve in the role.
"Not enough adjectives," a past president, Derek Sprague, said shortly after her election. "Historic doesn't do it justice. So I'll use a new adjective we learned this week. Amazable."
Whaley, the director of instruction at Suzy Whaley Golf in Cromwell, Conn., originally set out to play the LPGA, and was a member in 1990 and 1993. But she gravitated toward teaching and spent five years with the Jim Flick Golf Schools, then became the head professional at Blue Fox Run in Avon, Conn., in 2002.
Whaley said she has no specific agenda in place, beyond continuing what the association has been trying to do: Grow the game
"We need to make the funnel as large as possible," Whaley said. "What's exciting is more and more people are trying the game for the first time. We had two-point-four million women trying golf for the first time last year. We have facilities like Top Golf offering people a golf experience.
"Our role now is, how to we lead and collaborate with all of those who are having that open funnel into the game, to get them with a PGA professional, to get them on the golf courses. Doesn't have to be 18 holes. Could be nine holes or going to the putting green with their daughter or son. That's what we hope to do."