The Loop
Kuchar puts a happy face on a 'slow'-news weekend
It was an odd Sunday at the Players Championship, one in which the final-round focus was bookended by men responsible for the most groans and grins.
The winner by a smile was Matt Kuchar, whose two-stroke victory at the TPC Sawgrass buttressed the notion that he is a major champion in training.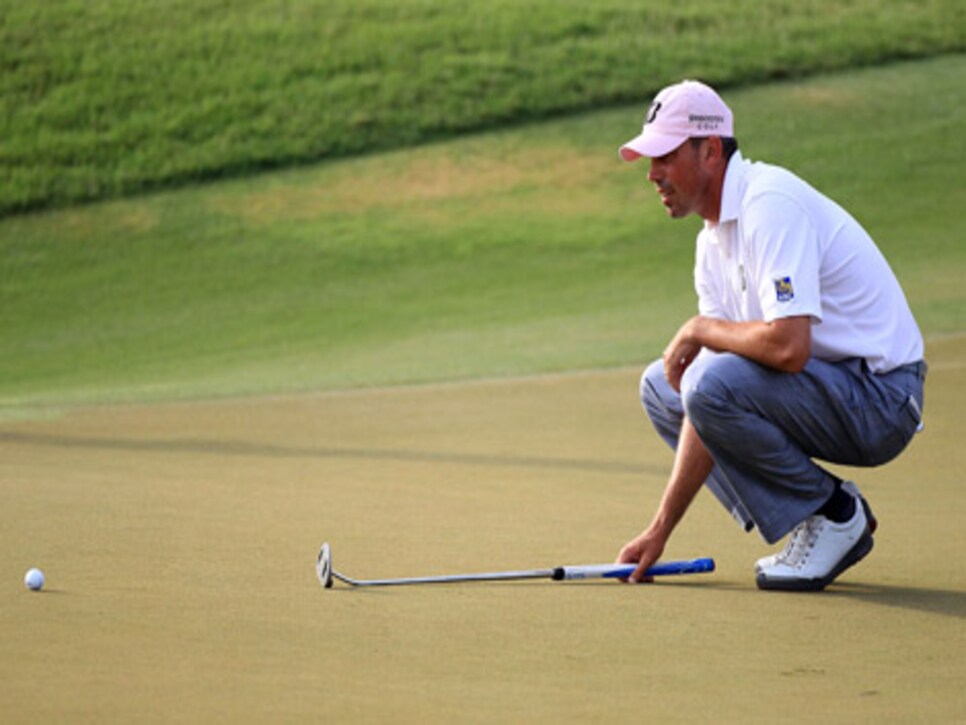 Kuchar, 33, has become an assembly line mass producing top 10s -- 20 in the previous two seasons (which would explain his grinning year to year) and five already this year. More importantly for the months ahead, four have come in the most important tournaments with the strongest fields to date: the Players (first), the Masters (a tie for third), the WGC-Accenture Match Play Championship (T-5) and the WGC-Cadillac Championship (T-8).
A month from now, Kuchar will be returning to U.S. Open at the Olympic Club outside San Francisco, where as an amateur in 1998 he tied for 14th and was tied for fourth through 36 holes. It doesn't make him a favorite, but he isn't a long shot, either.
Kuchar's happy nature, even on a TPC course capable of inflicting so much misery, gave the Players a happy ending that wasn't inevitable in the wake of the negative reaction to the man everyone was lamenting.
Kevin Na dominated the weekend conversation at the showcase event of a tour that steadfastly declines to address the issue of slow play, as do many of the players responsible. Na, for instance, was graciously apologetic on Saturday for the pre-shot twitches that Johnny Miller described as "the heebie jeebies," and insisted he's working on correcting it. Is he? Six months ago, Na posted this on Twitter: "Trying my best to speed up. Working on a new pre shot routine. I am not playing so on purpose. Hope the viewers understand." It's a slow process, apparently.
Na, the 54-hole leader, attempted to quell the criticism by picking up the pace on Sunday, which might have contributed to a final-round 76 that left him in a tie for seventh.
It wasn't an altogether unpopular demise, either. When he hit his tee shot into the water at the par-3 14th hole, a small group of spectators began a chorus of "Na na na na, na na na na, hey, hey, hey, goodbye."
"Na getting some ribbing there," NBC's Dan Hicks said. "That's absolutely ridiculous."
"Shameful," PGA Tour pro Arron Oberholser wrote on Twitter while watching from home.
Maybe so, but no more shameful than the stream of invective directed toward Na via Twitter and a hashtag, #slowplay, over the weekend. A sampling:
-- "If I was playing with Kevin Na I might shoot my face off, or him!! #slowplay"
-- "I hope Kevin Na comes out of the gate with back to back snowmen so that mankind doesn't have to deal with his [expletive] #hittheball #slowplay"
Even the Golf Channel's Jerry Foltz chimed in via Twitter: "Even if Na doesn't win, he still hits jackpot. Just announced as spokesperson for the new 6-Hr-Energy drink. #pilingonagain"
OK, so that was funny. But what does it say for the PGA Tour that the long-standing issue of slow play has become a joke and a distraction at its most prestigious event? Indeed, how many viewers made it point to tune in early just to see how Na would respond with a one-stroke lead on the first tee?
The final pairing of Na and Kuchar, at least, was a good one for everyone involved. The rest of those on the leaderboard were spared having to play alongside Na for more than five hours, while Kuchar's perpetually sunny disposition is impenetrable.
Kuchar proved a popular winner who helped salvage a tournament that otherwise might have been savaged.