The Loop
Kuchar: "People are just crazy about Tiger"
EDISON, N.J. -- While fans and members of the media speculate on how Tiger Woods' latest return will go, it appears his peers are just as interested.
"People are just crazy about Tiger Woods, they love Tiger Woods," Matt Kuchar said during Barclays media day at Plainfield Country Club. "There's a lot of excitement that surrounds him and a whole lot of curiosity as well. He's put himself in such a spotlight. We want to know more, we want to guess about things going on, how well he will play, how strong he is. There are a lot of question marks."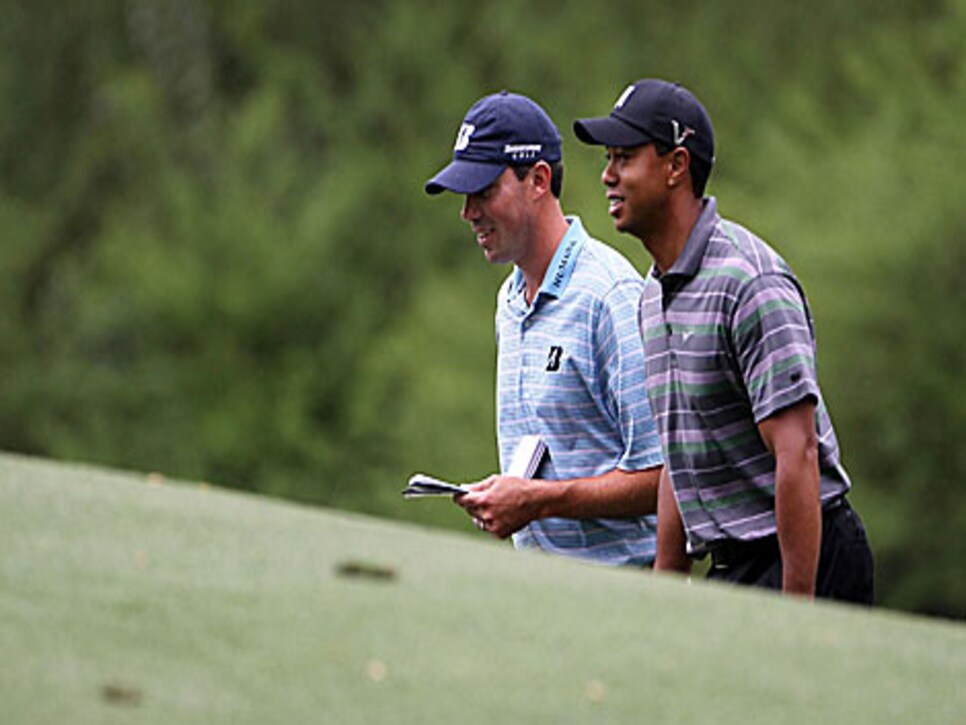 Kuchar happened to play with Woods at the Players during his last competitive round -- well, half round. Woods withdrew during the first round after a front-nine 42, citing knee and Achilles injuries. That remains his only tournament appearance since finishing T-4 at the Masters.
"He certainly looked in pain," Kuchar said of that day at TPC Sawgrass. "He was way behind walking up every hole."
Woods announced Thursday night that he will play next week at the Bridgestone Invitational, ending an 11-week layoff, the third-longest of his career. He has won the World Golf Championship event at Firestone seven times, but had the worst showing of his professional career there last year when he T-78 out of 80 players with an 18-over-par total of 298. He has also committed to next month's PGA Championship after sitting out the previous two majors.
Aside from questions surrounding his injuries and play, since he last teed it up, Woods has changed his management company and caddie. He fired Steve Williams, who he was with for 13 of his 14 major championship wins, and reportedly will have childhood friend Bryon Bell on the bag in Akron. Kuchar is happy to have Woods coming back, but he feels the absence of his 2010 Ryder Cup teammate possibly helped the PGA Tour.
"It may have been a blessing in disguise to have him out," he said. "The tour has been able to show it's a great place to showcase talent and entertain." It's given the tour a chance to highlight other guys, which is great."
Kuchar was on hand as defending champion of the Barclays -- the first leg of the FedEx Cup Playoffs -- which begins Aug. 25. In a strange twist, despite three career PGA Tour titles, he has never had the opportunity to defend on the same course the next year. This time will be no different as the first post-season tournament will be played at Plainfield -- site of the 1978 U.S. Amateur and the 1987 U.S. Women's Open -- for the first time. That hasn't kept the affable Georgian from looking forward to event, especially after getting a tour of the classic course on Friday.
"Anytime you're the defending champ, it's exciting," Kuchar said. "Then to come to a place like this, an old-fashioned Donald Ross course, where it feels like this is how golf was envisioned over here early on, it's really a lot of fun to come be a part of this."
Despite the move to another venue for an event that has been played on three different courses the past four years and will be held at another, Bethpage Black, next year, tickets have been selling quickly. According to tournament officials, this year's sales are on pace to make it the most successful in the history of the event. Of course, the addition of a certain two-time FedEx Cup champion to the field wouldn't hurt either.
Follow on Twitter: [@AlexMyers3
](http://twitter.com/AlexMyers3)
(Photo: Jamie Squire/Getty Images)