News
Kristen Gillman routs Jiwon Jeon to add a U.S. Women's Amateur Championship to her exceptional summer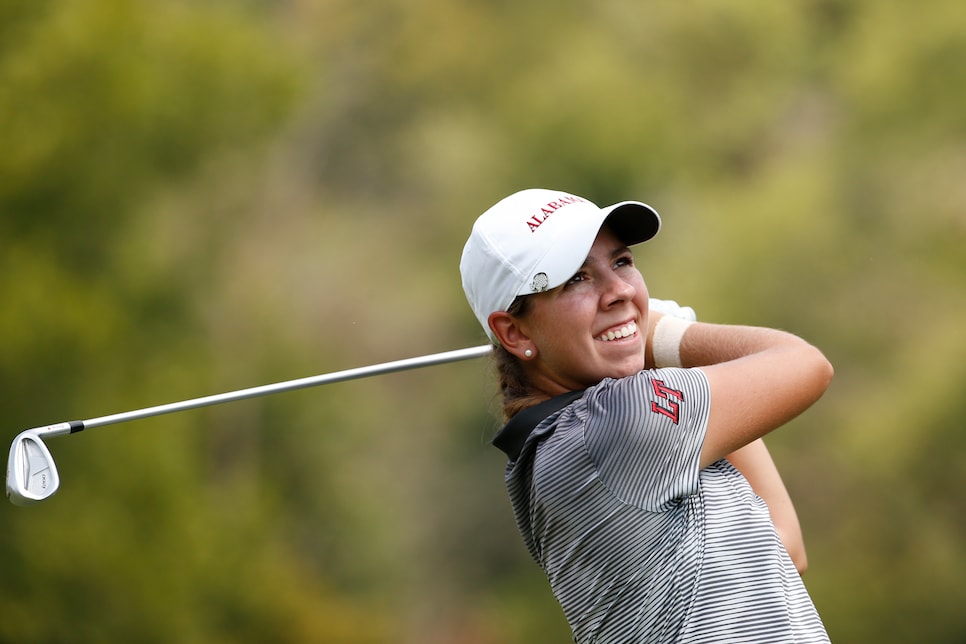 Kristen Gillman's summer already was exceptional, period, though on Sunday she replaced the period with an exclamation point.
A junior at the University of Alabama, Gillman delivered an early knockout of her newest Crimson Tide teammate Jiwon Jeon, 7 and 6, at the Golf Club of Tennessee to win the U.S. Women's Amateur Championship.
Gillman, 20, was 5 up through nine holes of the 36-hole final, a lead she took into the second 18. She won two of the first four holes in the afternoon to increase her lead to 7 up, then cruised to a victory, eventually closing Jeon out with matching pars at the 30th hole.
It was a second U.S. Women's Amateur Championship for Gillman, who was only 16 and wearing braces when she defeated Brooke Henderson, 2 up, in the final at Nassau Country Club in Glen Cove, N.Y., in 2014.
"I think this one was a lot harder to win," she said, "because after the first one, it was my first time playing, so I was kind of new to it. But every time I come back now, I've always talked about how, like this week, I was the only champion in the field, and so I feel like that kind of brings a little bit more pressure along with it. But I think it also makes the victory a little sweeter, too."
This victory was more dominant, capping a remarkable summer that also includes a 5-0 record in the Curtis Cup, a 3-1 record in the Palmer Cup, a victory in the Century 21 Ladies Golf Tournament of the LPGA of Japan Tour, and a tie for 27th in the U.S. Women's Open.
Gillman won here on Sunday on the strength of a hot putter that would not allow Jeon to get any closer than 6 down from the 19th hole on. Gillman made nine birdies in 30 holes.
"I was feeling really comfortable over everything warming up," Gillman said. "And so I knew going into the round that I could just go after the wins and try to make the putts and try to be a little bit more aggressive. Jiwon is a great player, and so I knew if I wanted to beat her I had to make a lot of birdies. I was just going out there and just trying to birdie every hole."
Jeon, 20, a South Korean native, came into the Amateur No. 10 in the World Amateur Golf Ranking. At Daytona State Community College, she won the National Junior College Athletic Association national championship last spring. She also won the SunTrust Gator Invite and the UNF Collegiate.
"She was very consistent all day," Jeon said. "I mean, it was a little difficult for me to catch up on her. But that is the one I cannot control. So I was trying to play my best. I didn't play my best today, but I tried my best on the course. I really appreciate that she played great today, and I'm really happy.
"Playing in the U.S. Am Championship itself is just an amazing experience. I just had a really good time here. Enjoyed every single moment here."