FIRE PIT COLLECTIVE
Why this week's KFT Q School forced some players into hard choices
Editor's Note: This article first appeared in Fire Pit Collective, a Golf Digest content partner.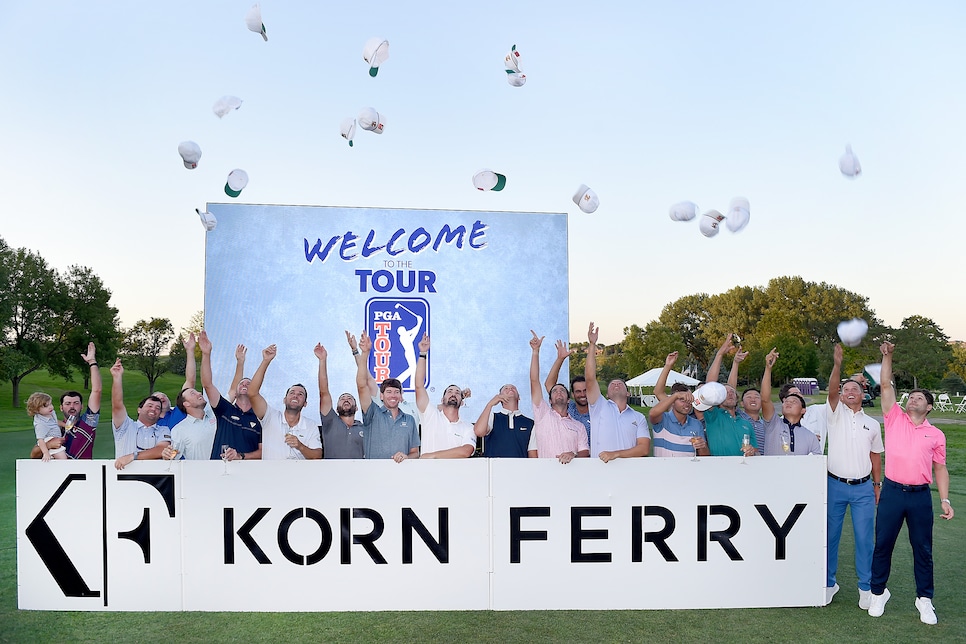 In a professional golfer's mind, securing tour status is somewhere between inspiring hopes and unattainable dreams. Q School season is winding down, and talented professional golfers and hopeless dreamers alike have embarked on another qualifying odyssey. The entry fees are steep, the travel costs high, and the competition merciless. To make matters more complicated, the landscape has changed. A massive amount of money has been showered upon the game, and there has never been a better time to be an established and, especially, elite player. But what about everyone else? What does the steep ascent to the top of professional golf look like when you're at the bottom?
At the end of every season, aspiring professional golfers take inventory of their bankrolls, skills, mettle, family situation and more and make one of the biggest decisions of their careers: which qualifying school to enter. Korn Ferry Tour and DP World Tour Q School are held in the fall. Both have three main stages to navigate, and for KFT newcomers, an additional pre-qualifying stage. As players advance deeper into the stages, the dates of the Q Schools overlap.
Rico Hoey graduated from Southern California in 2017 and won in his first season on PGA Tour Canada. He recorded three top-10 finishes in his first season on the KFT in 2018, narrowly keeping his card. After failing to measure up the past few seasons, he ran the Q School gauntlet this fall.
"No matter what Q School I do, I just want to get on a tour and play there," Hoey (below) says. "Once the prices came out, it was pretty shocking." The $6,500 price tag to enter KFT Q School was steep, but he decided it was worth the risk. DPWT Q School had been on a three-year hiatus due to the pandemic, but the $2,200 cost didn't change.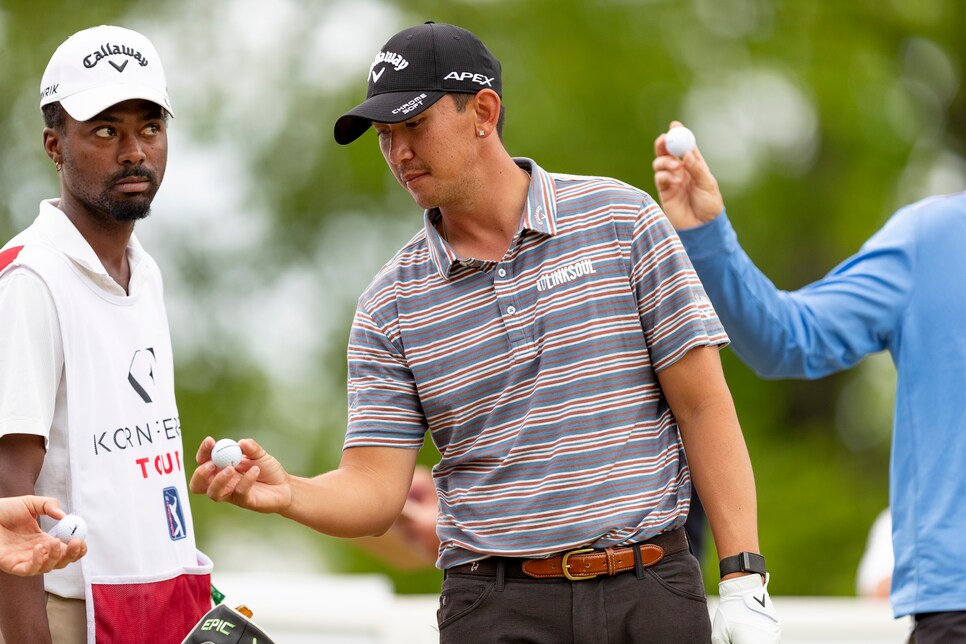 "I decided to try both," Hoey says. "I always knew if I got to the final stage of both, I'd choose the Korn Ferry Tour. If I didn't make it through KFT, at least I had the DP World Tour as a backup." Hoey was unwavering at the first and second stage of KFT Q School, advancing after finishing T-10 and T-6. Between stages, he traveled to Denmark for DPWT Q School, but the rain and cold dampened his momentum, and he failed to advance.
Jhared Hack is a past champion of the Western Junior and Western Amateur and was a top professional prospect when he left the University of Central Florida in 2009. He has played three seasons on the Korn Ferry Tour since, with a handful of PGA Tour and DPWT starts to his name. In recent years he battled the driver yips, but he slowly worked his way back to the brink of the big time. Last year he spent an entire practice round vibrating on another frequency, shooting a 15-under-par 57 at Las Vegas Golf Club. He posted a final-round 63 to win the Arizona Open. Still, he had minimal financial support this season, so Hack carefully weighed his Q School choices.
"First thing was the monetary value: $2,200 vs $6,500," he recalls. "I'm gonna get a life experience from one of those. I'd never been to Italy." Hack focused all of his energy and resources on DPWT Q School, in part because of the ultimate carrot: As part of the strategic alliance between the PGA Tour and the DPWT, the top 10 finishers at the end of the DPWT season will earn PGA Tour cards. Last month Hack traveled to Italy, shot 14 under and advanced to the second stage by four shots. "Beautiful to see," Hack says in reflecting on the experience. "I stayed for a few extra days and got to see the Swiss Alps, which was a once-in-a-lifetime experience."
Stuart Macdonald is Canadian and a 2016 Purdue graduate. Macdonald fell just shy of gaining his PGA Tour card in 2021, finishing outside the top 25 on the KFT Finals points list, at 33rd. That season he had four top 10s in a stretch of five events. When a middling 2022 season left him without tour status, Macdonald signed up for both Q Schools.
"At the time when I decided to do DP, it was solely on the idea that I wanted status badly somewhere," Macdonald says. "I wanted to have two chances essentially." He excelled at first and second stage of KFT Q School and advanced through DPWT first stage. "It's so important to get status this year because of what the future looks like," he says.
With billions of dollars fueling the rise of LIV Golf and forcing the PGA Tour's frantic restructuring, golfers trying to play their way to the top feel a particular urgency. In 2023, the PGA Tour will have 13 elevated events, each with a $20 million purse; the top 70 players are exempt into those. Players outside the top 70 are fighting desperately to move up, but until they do, they will be relegated to lesser tournaments. Jack Nicklaus expressed concern about non-elevated events, specifically the long-running Honda Classic, calling these tournaments "feeders." Tournament directors from non-elevated events and others around the Tour have expressed similar concerns about an expanding chasm between players and events that were instrumental in building the tour. As for those players trying to move up, they are fighting a stiff headwind.
The Korn Ferry Tour is undergoing its own changes. Purses next season will increase from $750,000 to $1 million per event, a move that was announced well before LIV's debut. The number of PGA Tour cards awarded at the end of the next KFT season will increase from 25 to 30. The tour has eliminated its three-event postseason, called the KFT Finals, at which 25 additional cards were awarded. The KFT Finals was open to the top 75 players on KFT and players ranked 126 through 200 on the final FedEx Cup standings from the PGA Tour. Players ranked 26 through 30 at the end of the year will undoubtedly be grateful, but the elimination of the Finals could mean a loss of PGA Tour cards, or at least an opportunity, for KFT members. Excelling early in the KFT season is now essential.
"I always felt like I wanted to get my tour card in the regular season because I felt like you earned it a little more," Macdonald says, adding that the schedule changes will probably make the Korn Ferry Tour more competitive.
Hoey agrees. "It just makes it that much harder," he says. "You need to win."
As the KFT season winds down and the order of merit points accumulate, it will become more difficult to make a meaningful move up the points list. The KFT Finals gave hope to players looking for another avenue to secure their PGA Tour cards. In some cases, one hot week did the trick. Previously, some KFT members who had locked up their KFT cards for the following season but weren't close to winning a PGA Tour card might have taken an event or two off to rest before the Finals. That created more opportunities for players farther down the standings. Without the three-event Finals, the end of a KFT season probably will be must-play. It most certainly will be exhausting and pressure-packed.
"You gotta play better," Hoey says. "It's not just about retaining your card now. Playing opportunities are going to get tougher and tougher. You just have to adapt. All I care about right now is to get starts and go play." While the significant bump in KFT purses is welcomed, it's long overdue. For players in the highest level of golf's minor leagues, the pursuit isn't getting any cheaper.
J.T. Griffin is a former Georgia Tech standout who graduated to the Korn Ferry Tour in 2017. From 2019 to '21, Griffin accumulated five top-10 finishes on the KFT, but he only maintained conditional status for the 2022 season. He and his fiancee, Mary Kaitlyn, had their first child, Graham, in early 2021. After failing to advance through Q School this season, he is now questioning the feasibility of playing professional golf with a young family.
"I was in the 76-to-85 category this year," says Griffin, referring to his final KFT ranking. "In April I no longer had health coverage. If you're under the PGA Tour umbrella, how are you not covered health insurance-wise? I can't go to the doctor." The PGA Tour provides a generous health insurance stipend for full members of the Korn Ferry Tour, or those who finish in the top 75, but not for conditional members. Griffin (below) says he spent about $75,000 a year in expenses, and despite maintaining conditional status after the 2020-21 season, when he made 19 cuts in 38 starts, he had little to show for it.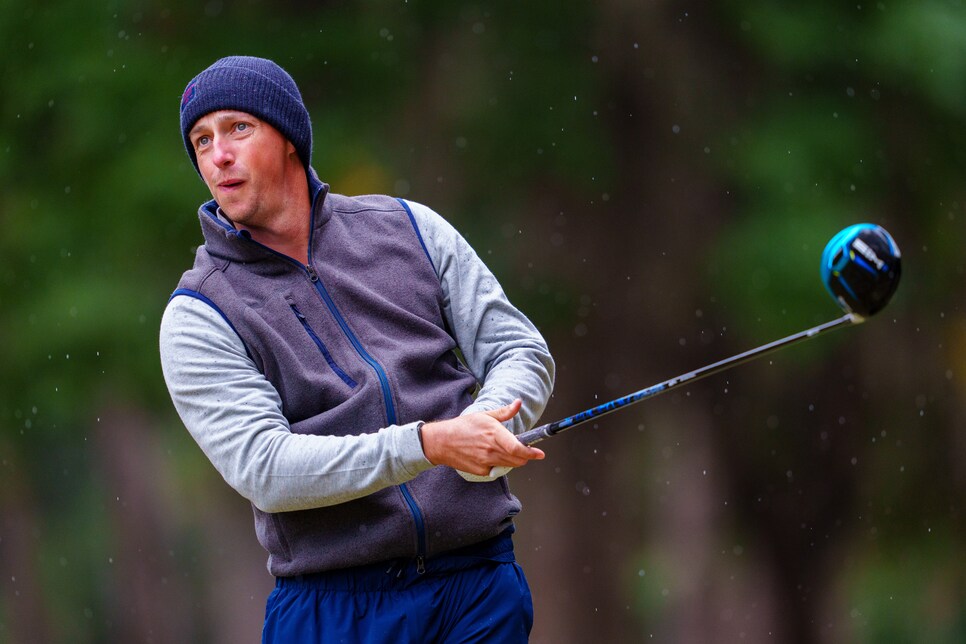 "I need to do something for Graham and my family," says Griffin. "I was on the Korn Ferry Tour and I couldn't afford to be on the Korn Ferry Tour. I've been talking to some friends who were right at 75. And I was like, 'Hey, man, what is your end of the year?' And they're like, 'I didn't make anything.' You're a professional athlete on one of the biggest stages in our sport and there's nothing. And we will continue to come back because the PGA Tour is that cool. You get a taste of it and you'll chase it until it kills you and everyone around you."
Some 10,000 miles away, opportunity calls louder than ever. The Asian Tour has suddenly become an attractive option for players from the West. LIV committed $300 million to the Asian Tour over the next 10 years, and purses are expanding. (For the elevated International Series events, purses are expected to be between $2 million and $4 million.) And for the first time ever, an early stage of Asian Tour Q School will be held in the U.S., in Arizona later this month. The implications could be far-reaching.
After graduating from Yale, James Nicholas gained status on the Korn Ferry Tour for the 2020 season. He won the 2020 New York State Open and had three top-20 finishes on KFT in the 2020-21 season. Last month he advanced through the first stage of KFT Q School in Mobile, Ala., then immediately flew across the Atlantic for DWPT Q School, where he failed to qualify. The following week, he was back in Alabama for the second stage of KFT Q School. Understandably fatigued, Nicholas struggled.
So he turned his attention to the Asian Tour. "I want to play on the PGA Tour," Nicholas says. "But you do need to make a decision when you're going to Q School and you don't get through, to find a place to play. To find a place to hone your skills. You have to support yourself financially. I think the strength of field over there (Asian Tour) is going to be way better; that's why you get more World Ranking points."
What will probably give some players pause from embarking on an Asian adventure is the lack of a clear pathway leading back home. LIV has said the top player from the Asian Tour International Series will be promoted to its tour. The opportunity to play for one spot, however, is unlikely to drive the long-term decisions of many players. The Asian Tour is more likely to host LIV players in search of World Ranking points than the other way around. Still, millions of dollars in prize money and the chance to travel the world will entice many.
"I was going to sign up for Asian Q School if I didn't get through Italy," Hack says. "But all the sites are full. All my friends are wait-listed. Apparently that Arizona site filled up in five minutes."
"My goal is to play on the PGA Tour, it's not to play over in Asia for 10 years," Nicholas says. "My hope is I play one year over there, win a couple times and get my World Ranking points high enough to get a couple of [PGA Tour] invites."
"It seems like some doors are closing and some doors are opening," Macdonald says.
The doors quietly closing are on the lowest levels of PGA Tour sanctioned competition. PGA Tour Latinoamerica and PGA Tour Canada are the entry-level circuits for the PGA Tour. Tour benefits are structured similarly between the two tours, and purses are about $175,000. Events span provinces, countries and in the case of Latinoamerica, continents.
"It's expensive to travel through Latin America. It's not easy. Same with Canada," says Nicholas, who played often in Canada this season. "You can be playing pretty decent golf and lose $20,000 to $30,000 in the span of 10 weeks."
The value of a strong performance on PGA Tour Latinoamerica has recently been diminished. Consistent with past seasons, the top player will earn full status on the Korn Ferry Tour. Players ranked second through fifth will gain conditional KFT status, but they will have to go to the second stage of Q School to improve their positions. In past seasons, players ranked 2 through 10 received conditional status on KFT through an exemption to the final stage of Q School. Players ranked sixth through 10th won't receive KFT status. Players ranked 11th through 25th had gained an exemption to the second stage of Q School, but that perk has been eliminated. Although the same changes haven't been announced for PGA Tour Canada, players anticipate that's only a matter of time.
The reduction of benefits and stagnated purses on PGA Tour Latinoamerica resulted in fewer signups for three of its four qualifying tournaments. This is a major departure from past seasons and an ominous sign for the tour. Before deciding to play Asian Tour Q School, Nicholas (below) signed up for PGA Tour Latinoamerica.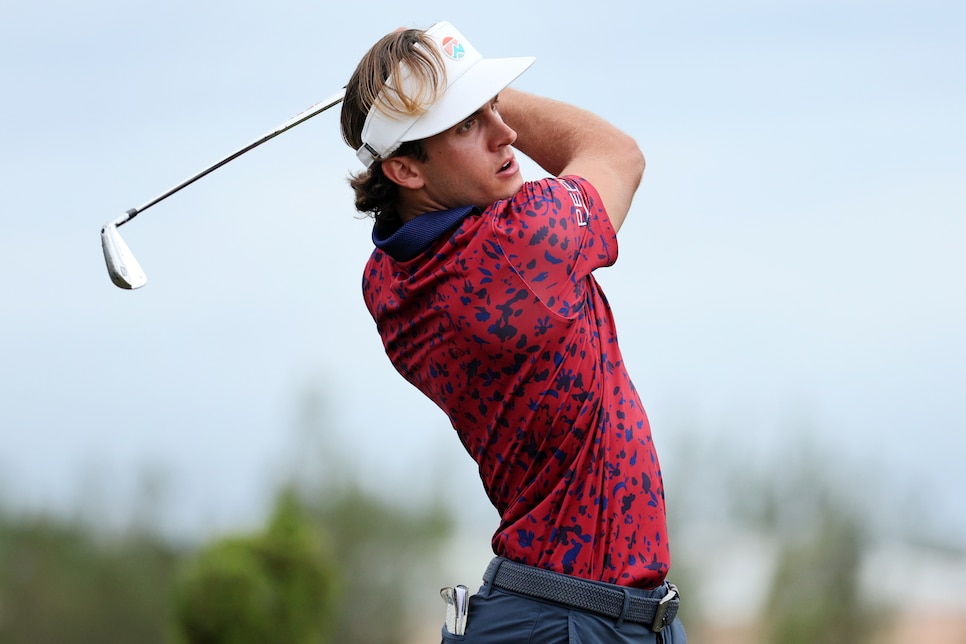 "I heard a rumor that Latin (Tour) was slashing their spots," Nicholas says. "I spent $1,750 on Q School not knowing that only one player was going to get guaranteed starts on the Korn Ferry Tour, when it was five the year before. The big thing for me was a top 20 used to get exempt to the second stage (of KFT Q School) and now it's only top 10." Despite his preference to remain closer to home, Nicholas withdrew from Latinoamerica Q School and looked to Asia.
"I think traveling through Asia would be just as hard as traveling through Latin America," says Nicholas, who adds that there were few advantages to playing the Latinoamerica circuit. "If you finished 11th on the money list, it meant you probably won a tournament and you had to go back to the first stage of Q School."
With their small purses and high travel costs, these development circuits relied on the enticement of potential exemptions to the next level. With those drying up, more players may consider spending their resources elsewhere.
Griffin played in nine PGA Tour Canada events in 2022 and had a pair of top-10 finishes, securing PGA Tour Canada status for next year. "You're kind of in purgatory when you're on any of the tours that aren't the PGA Tour," he says. "How do I have that conversation with Mary Kaitlyn and Graham? Hey, I'm gonna be gone all summer, and if we're lucky we won't spend any of our money. We can't put any money in your college fund, and don't get sick because we can't afford to take you to the doctor."
"Reading about the Latinoamerica Tour, it was kind of shocking because at this point it's like, what's the point of having this tour?" Hoey asks. "Do you want those guys to advance at all?"
Hack played multiple seasons on both the Latinoamerica circuit and PGA Tour Canada. He still sees a benefit for aspiring pros to compete on these tours. "The way I look at all these events is I'm just buying experience," he says. "You're buying an experience to use for Q School."
The good news for professional golf hopefuls is that Q School is returning to glory. For the first time since 2012, it will offer a direct pathway to the PGA Tour. The top five and ties at the final stage of 2023 Q School will get to play for the big bucks. Fans who have glanced at golf headlines over the past six months know some PGA Tour events are getting massive purse bumps. "It's great that [the PGA Tour] magically found a couple hundred million," Phil Mickelson quipped at a recent LIV press conference. "That's awesome." It's a line repackaged around every level of professional golf. The entry fee for next year's Q School will be anybody's guess. What we do know is that the opportunity to win one of those coveted PGA Tour cards is getting more difficult.
"Everyone is just so much better," Hack says. "Cuts that used to be 1 or 2 under par are 5 or 6 under now. Look at annual sites for Q School like Plantation Preserve (a second-stage site for KFT Q School). I think I've gotten through there twice and the cut's been six under, and it took 13 under this year. Yeah, the weather might have been a little better, but players are just getting better."
It wasn't the increased depth of the competition that ended Hack's Q School run, however. His usually precise iron game and deft touch around the greens abandoned him at second stage of DPWT Q School. He's now facing another season without a tour to compete on. "I couldn't scrape it in any way at all," Hack says. "I'm shocked and frustrated for sure."
Junior golfers grow up dreaming about a career on the PGA Tour and contending in majors. As juniors become skilled collegians, those dreams become goals and then pursuits. For the top collegiate prospects, taking advantage of sponsor exemptions was a way to earn status on tour. With limits on the number of sponsor exemptions a rising star can accept, however, few turn those opportunities into tangible status. Many are relegated to the first stage of Q School or a developmental tour. Then there's 22-year-old Eugenio Chacarra, who decided to forgo his senior year at Oklahoma State to sign with LIV. Last month he won the LIV event in Bangkok, a $4 million payday. Chacarra (below) has been joined on LIV by two other top college players: David Puig from Arizona State and James Piot from Michigan State.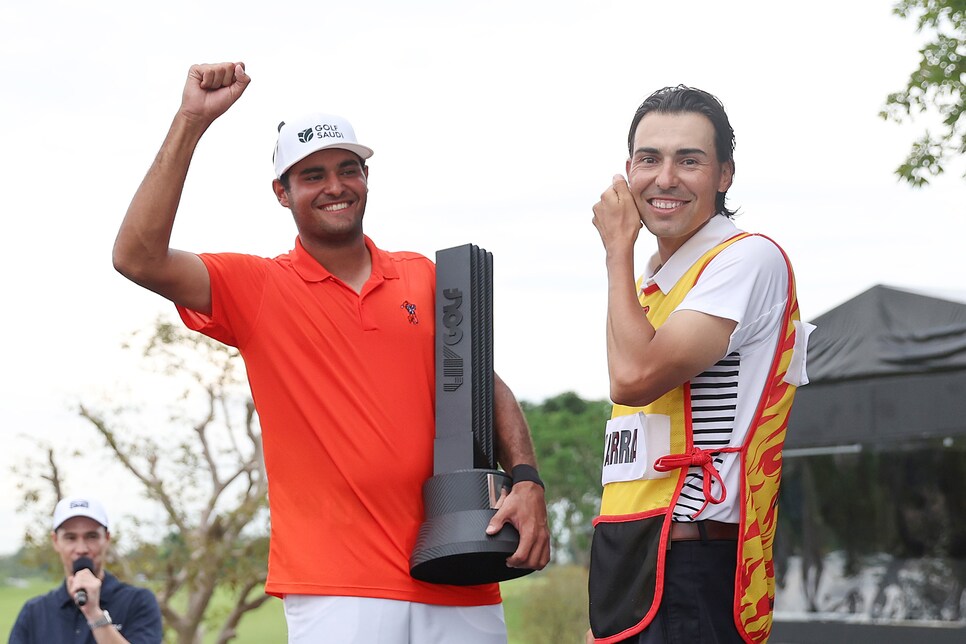 Does this mean the fuel that ignites ambitious players everywhere is changing? Is it now all about the Benjamins?
Macdonald sees new and uncertain pathways to earn a living as a professional golfer. "Money has become the driver," he says. "I mean, it always has been, but more so now. I just think for so many players it fogs their vision of what their dreams were of playing professional golf and what that looks like. It's not as clear anymore." After a disheartening T-126 finish at the final stage of KFT Q School, where the top 40 finishers earned guaranteed starts for next season, Macdonald faces more uncertainty. "I'm just kind of, like, confused," he says. "I couldn't get out of my own way after the first day. It just wasn't easy. It's obviously an important week. It was a long week." His path back to the Korn Ferry Tour next season will run through Monday qualifiers. "Definitely going to get after the Mondays," Macdonald says. "I'll be on that grind for a little bit. Hopefully not too long."
Hoey, who turned 27 in September, is focused on reaching the PGA Tour. "It is cool to see the money is growing," he says. "That's the biggest thing. It's really enticing. I just hope some of that money filters down to the Korn Ferry Tour." Like Macdonald, Hoey was also in the enviable position of having a tee time at KFT's final stage. "I'm still pretty young and for me, I just want to give it a shot on the PGA Tour," he says.
After struggling to an opening-round 73, Hoey battled back with rounds of 70, 67 and 68, finishing T-17 to regain a coveted Korn Ferry Tour card. He left Georgia elated and relieved—and knowing he'll have eight guaranteed starts to begin the 2023 season. "I'm just glad it's over," he says. "I can't even describe it. I feel like I'm getting better. I'm one step closer to the PGA Tour. There's no other feeling like it. It's just awesome."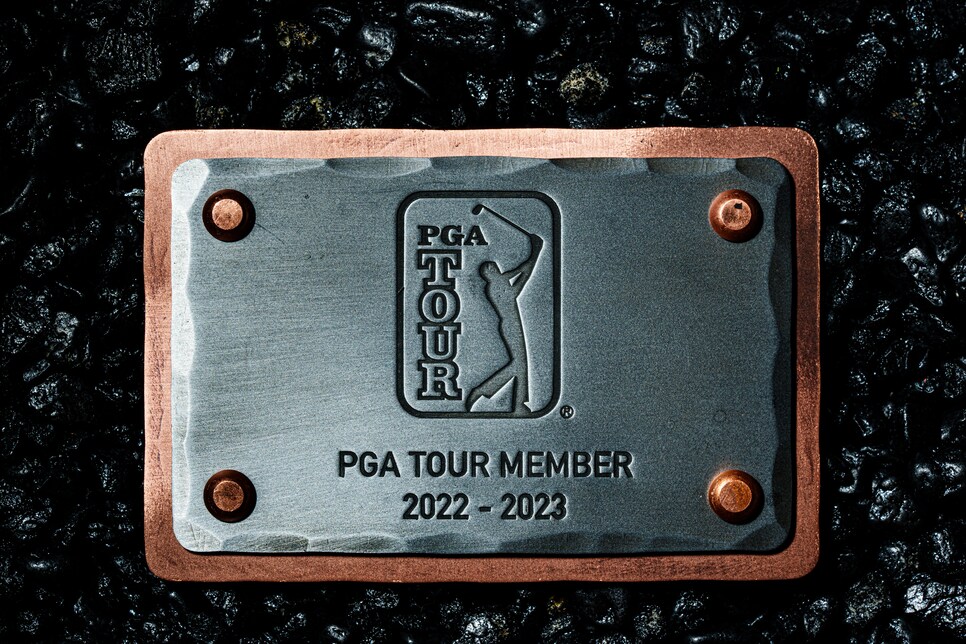 Professional golf has long prided itself on being a true meritocracy: shoot low scores and you will move up the ranks. There is optimism among professional golf hopefuls that when they do arrive at the top, the reward will be greater than ever. There is also growing concern that top players have more protection than ever. Rather than the considerable money at the top trickling down, it's getting gobbled up. In a professional golfer's mind, tour status is somewhere between inspiring hopes and unattainable dreams. Achieving that will take more grit—and more money—than ever.