KFT Finals
Korn Ferry Tour pro breaks driver and friend comes through in the clutch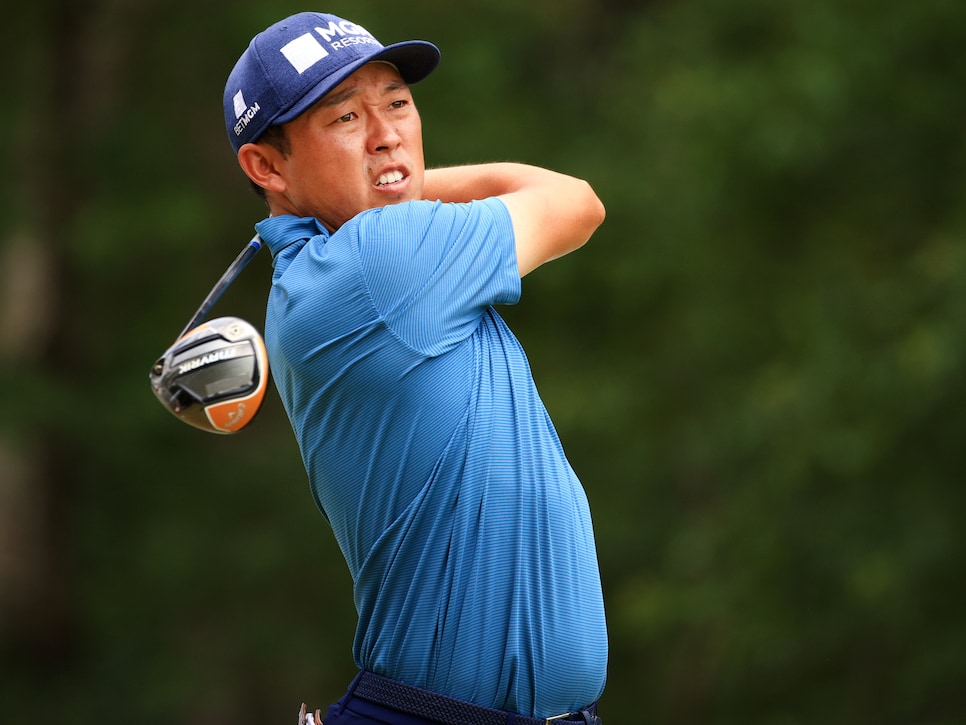 David Lipsky plays his shot from the 12th tee during the final round of the 2021 Palmetto Championship.
Mike Ehrmann
COLUMBUS, Ohio — Breaking a club in the midst of a tournament usually isn't much of a concern for a PGA Tour player, who often just sends an associate to pull a backup stick out of his locker. Equipment manufacturers also have on-site trailers to assist pros prior to the start of competition.
On the Korn Ferry Tour, things can be a little more challenging.
David Lipsky, a co-leader through 36 holes of the Nationwide Children's Hospital Championship, had to scramble to find another driver after he opened the second Korn Ferry Tour Finals event with an eight-under 63 late Thursday afternoon.
Lipsky's caddie noticed that the face of Lipsky's Callaway Mavrik driver was cracked as they left the tee box on their final hole.
Fortunately, Lipsky did have an option on trying out a potential replacement club. His former college roommate and teammate at Northwestern, Jonathan Bowers, lives about one mile away from the Ohio State University Scarlet Course. Bowers, who owns his own insurance company, frequently travels to events to watch Lipsky compete, but in this case he didn't have to go far.
Lipsky, meanwhile, often gives Bowers his old clubs whenever he makes a change. "People ask me what kind of clubs I play, and I tell them, 'whatever set that David no longer wants,'" Bowers said.
After signing his card, Lipsky tried one of his old drivers that Bowers still had at his home. No good. The shaft wasn't right. Bowers then called a friend who manages a True Spec Golf fitting store in town. A demo Callaway Epic Speed driver was the closest thing Lipsky could find to his old club.
It didn't seem to hurt Lipsky too much. He hit 11 of 14 fairways on Friday in posting a two-under 69, and midway through the second round he was tied with Stephan Jaeger at 10-under 132 at OSU Scarlet. His measured driving distance was almost identical, in the 290-yard range.
"The demo driver definitely helped a little bit–better than hitting 3-wood. Not quite as good as mine, but it was good enough to get a few under today," said Lipsky, 33, who isn't playing with the pressure applied to most of the field, having already locked up his PGA Tour card by finishing 12th in the Korn Ferry Tour regular-season points standings. "It was working all right, just didn't have the same flight. It was probably going five to eight yards shorter than my driver, but it was good enough. My iron play's good right now, so that's all that matters."
Lipsky said he put in a call to Callaway Thursday night and the company shipped him a couple of new drivers. "I think they're waiting for me in the clubhouse," he said. "I'm going to go hit 'em after this."