News
Korean LPGA star holds off reigning U.S. Women's Open champ to win Hana Bank Championship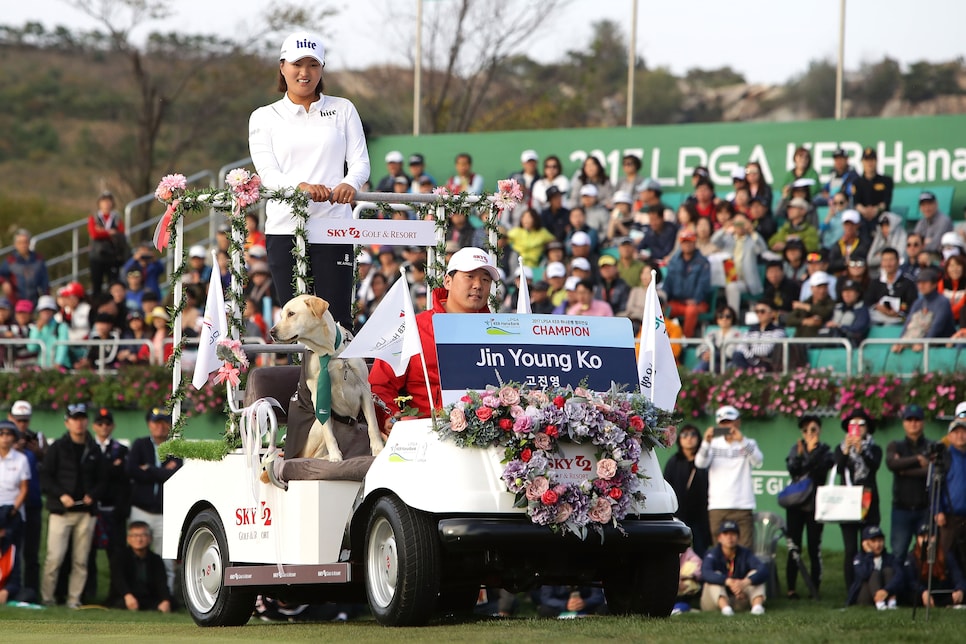 Chung Sung-Jun/Getty Images
Winning isn't anything new for Jin Young Ko. Just winning on the LPGA Tour. The 22-year-old South Korean native who has nine career victories on the KLPGA claimed her first LPGA title on Sunday at the KEB Hana Bank Championship in Incheon. And she did it in dramatic fashion, holding off Sung Hyun Park, the reigning U.S. Women's Open champ and World No. 2.
Ko never shot worse than a 68 at the Ocean Course at Sky72 Golf & Resort, with rounds of 68-67-66-68 for a 19 under total that edged Park by two strokes, In Gee Chun by three and earned her $300,000.
This was Ko's third LPGA start, and her lack of experience showed a bit during the first few holes of the final round. She bogeyed the second and third holes, while Park, who had started the day two strokes back, birdied three of her first five holes. It looked like Park, a shoo-in for LPGA rookie-of-the-year honors, was in control of the tournament, where a victory meant she could potentially take of the No. 1 spot in the Rolex Rankings.
But then Ko steadied herself and birdied four of the last five holes. She added two more birdies on the back. Bogeys on 14 and 16 for Park kept her from passing Ko again on the leader board.
"After I made the two bogeys, I had a really long chat with my caddie, Dean, about why I was so nervous," said Ko, through a translator, after her round. "I realized I had no reason to be nervous, and I was actually putting a lot of pressure on myself. So after that, Dean was there, he kept reminding me that being nervous was quite natural, that I needed to accept those nerves. I think I kept reminding myself of that. I also tried to focus on the fact that even if there are bumps along the way, I can make opportunities to make up for the bumps."
With the win, Ko has the option to join the LPGA Tour for the rest of this season and also for 2018. She may remain as a non-member for the remainder of 2017, and still obtain membership status next season.
In 2017 on the KLPGA, Ko has won twice and had nine additional top-10s in 18 starts.
Americans Lizette Salas and Marina Alex finished fourth and fifth, respectively. Salas, a member of the winning U.S. Solheim Cup Team, shot 14 under for the week and Alex finished at 13 under.
The LPGA Tour continues their swing in Asia this coming week, as they play the Swinging Skirts LPGA Taiwan Championship in Taipei, Taiwan.