News
Kirk Triplett leads Kenny Perry by one as records continue to fall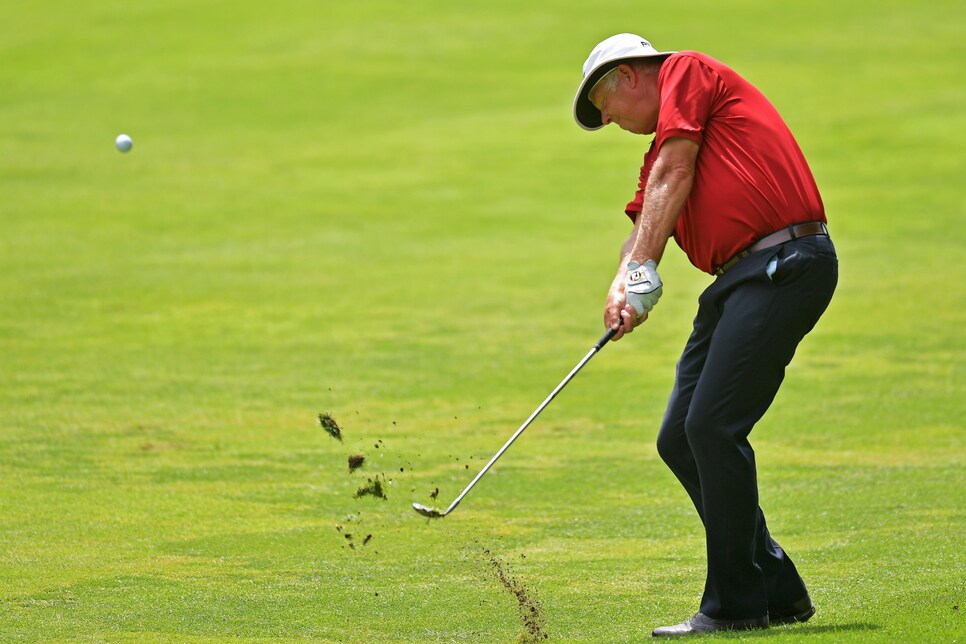 The wind came up at Salem Country Club on Saturday, giving the U.S. Senior Open the edge it lacked in the first two rounds, but records continued to fall.
Kirk Triplett, the first-round leader and second-round co-leader, shot a four-under-par 66 to take a one-stroke lead over Kenny Perry, while establishing a Senior Open scoring record for 54 holes.
Triplett and Perry, meanwhile, have turned the Senior Open into a match race. Perry, a past champion, shot a three-under 67, and the two are six and five strokes clear of the man in third place, Brandt Jobe.
"Kirk is down the middle, very controlled, doesn't get flustered, is pretty easy going," Perry said. "He's going to be a tough guy to beat tomorrow. And you all see his chipping ability."
Triplett holed out two shots from off the green, a bunker shot at six and a chip at nine.
"I've got my work cut out tomorrow, I've got to get a little bit better," Perry said. "I've got to keep making bombs. It felt a little bit like match play. It's going to be fun. It's going to be a battle."
Triplett discounted the match-play aspect, at least in the third round. "You don't want to get caught up in that on Saturday," he said. "But what we both did want to do was distance ourselves a little bit from the pack. So when we both made some birdies early I think we both felt more comfortable as the day went on, having a little more cushion."
As for Jobe, he played himself if not into contention at least in contention for third place with his round of eight-under 62, equaling the Senior Open record.
"It was kind of one of those things," he said. "The last couple of days I didn't give myself a lot of chances. Today was one of those days where I had nothing to lose. Got out there, it wasn't as windy. Played a little easier. The wind obviously picked up on the back nine."