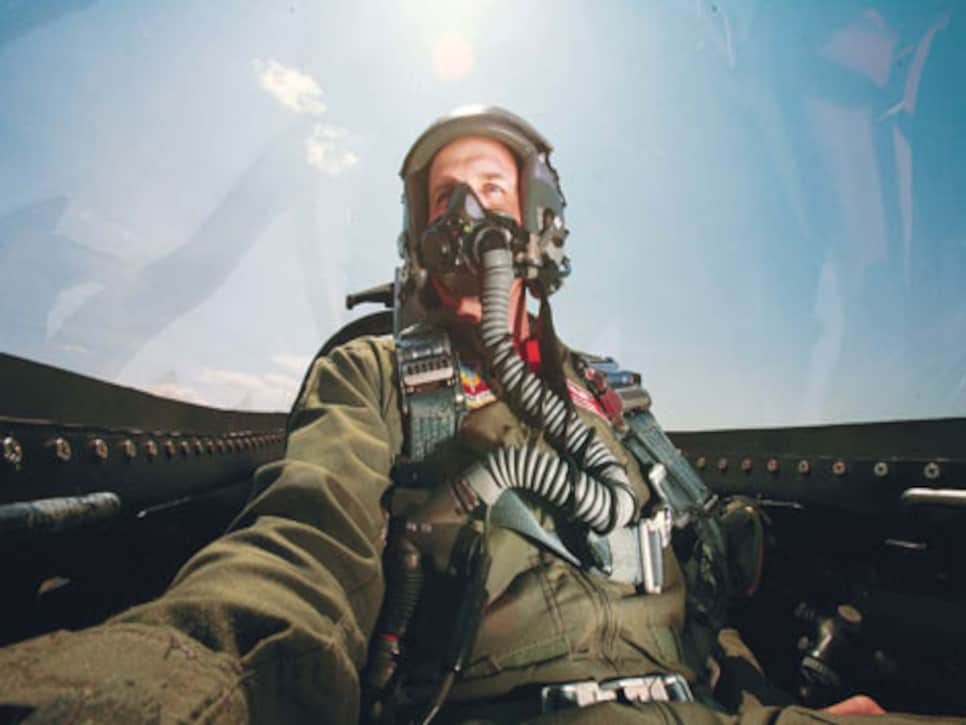 Capt. Dan Rooney of the Oklahoma Air National Guard in the cockpit of an F-16 fighter in Tulsa.
He heard the captain's voice on the plane's intercom. "We have an American hero on board"...the words soft and dignified, full of grace..."making his final journey from Iraq."
He thought the hero must be the young guy in first class. An Army corporal in his dress greens. Back from that war. Applause in the cabin.
Then the captain spoke again. "We have the remains of Cpl. Brock Bucklin on board, and his brother, Cpl. Brad Bucklin, has accompanied him from Iraq to their home here in Grand Rapids."
From his seat at 24A, an Oklahoma Air National Guard pilot named Daniel J. Rooney looked down at the tarmac. There, in the dark and sprinkling rain, he saw the coffin.
There was the hero. Killed the week before, 6,000 miles from home. An accident, a chain hoist striking him across the neck.
It was just more than a year ago that Rooney sat in 24A and saw Brock Bucklin come home. He also saw the young man's grieving father and mother. With them in the rain was a small boy, the corporal's son, 4 years old. It was getting on to midnight.
"As a sign of respect," the captain said, "please remain seated while we honor Cpl. Bucklin and his sacrifice."
Dan Rooney knew men and women died in Iraq. Of course he knew. Almost 3,900 Americans. He did two tours there, the last in 2005, and might do a third next year. But Rooney flew an F-16, sometimes at supersonic speed, usually miles high. Death was everywhere below him; he just never saw it.
Then, on this night in Michigan, for the first time, he saw a soldier's coffin. For half an hour, passengers waited as Brock Bucklin's coffin, draped with the American flag, was moved from United Airlines flight 664. In those moments, for the first time, Rooney saw the pain of a family wounded.
"It's now etched forever in my mind, the reality of what is happening to a generation," he says, and it brought to him the empty feeling of being far from a war he had been so near. It was as if he had been benched. He wanted back in the game. So he decided to do something about it.
Naturally, he thought of golf.
He'd grown up with the game in Oklahoma. One time in his University of Kansas days, he finished a round ahead of an Eldrick Woods, Stanford. For two seasons he played mini-tours in America's prairie heartland. Laughing: "Any bad course in any bad town, we were there." His Toyota 4Runner raised dust in a caravan of no-name dreamers, among them a Zach Johnson of Cedar Rapids, Iowa. Rooney never won more than $3,000 any week, never won a tournament.
He gave the PGA Tour one shot. But he didn't advance past the first stage of its 1997 qualifying school. The next year, he and his father, John Rooney, bought a golf course in Michigan, the Grand Haven Golf Club.
The Rooneys loved the derelict course built so near Lake Michigan that players can hear water moving against the shoreline. "It's set on big, beautiful dunes, some heavily treed, but over the years it had fallen into very ill repair," Dan Rooney says. "It was like finding a Picasso in your attic."
Even as the father and son began a six-year makeover, Dan started the long pursuit of another dream: flying a jet fighter. First problem, he'd never flown anything. Second, he was old.
At 27 he was at the age limit to start training.
But in 2 1/2 years, Rooney moved from virtual rubber-band airplanes to literal $45 million F-16s armed with cannons and GPS-guided bombs, capable of speeds (1,333 miles per hour) that put pilots under such physical pressure that capillaries burst and vision narrows to soda-straw circles. Not to mention the bruises: "It throws you around so much, a sortie is like playing four quarters of football."
The night before his first mission in Iraq, he didn't sleep much. "Loneliest night of my life," he says. People waiting to kill you does that. The good thing is, at altitude and speed over the desert, an F-16 is practically untouchable. In time, a certain Top Gun attitude arrives: "As long as my landings equal my takeoffs, everything else is a nuisance."
Because much of his F-16 work is classified information, Rooney can't say what he did in Iraq other than "close air support, protecting our guys on the ground who are in infinitely more danger than we are—and we drop bombs." One such F-16 bomb likely killed an al-Qaida leader, Abu Musab al-Zarqawi. (That happened on June 7, 2006, two days before Brock Bucklin's funeral in Michigan.)
Rooney, now 34 years old, believes a lifetime of golf under pressure prepared him for the F-16. "You learn to perform when your heart is racing and your palms are sweating," he says. "Flying the F-16 is like facing a five-foot putt. It's a meld of mind and body. And just like there's never a perfect round, there's never a perfect F-16 flight."
He flies eight to 10 days a month. So this year he played only six rounds of golf before a U.S. Open qualifying round in Wichita. His 77 included five missed putts inside five feet, a failing that caused him to declare, with no audible trace of irony, "Those five-footers can be scarier than night missions over Iraq."
Scarier: A five-footer? Or artillery fire?
I, for one, would prefer the little putt, thank you.
That night in Michigan, in United 664's seat 24A, seeing a coffin under a flag, seeing a child in the rain, Rooney decided to bring together war and those little putts in a way that served both.
At his club in Grand Haven, Dan Rooney planned The West Michigan Fallen Heroes Golf Tournament, proceeds to go to Michigan families who lost parents in Iraq and Afghanistan. Then he pushed the envelope. To raise funds for all the children of soldiers killed in the war, he took the idea national.
He created Patriot Day. It's Sept. 1. On that Saturday, golfers around the nation will be asked to pay an extra $1 on their public-course green fee. That dollar will go to the Fallen Heroes Foundation. Private clubs will accept donations, and the foundation will solicit corporate contributions.
"The foundation's purpose is to help financially with education, counseling and the total caring for children of our fallen heroes," Rooney says. "In addition to financial aid, we want the families to know that their sacrifices are not forgotten. We want everyone to play golf one day, give one dollar, and remember men like Brock Bucklin."
Rooney is thinking millions of dollars, and why couldn't it be millions? He has promises of support from the PGA of America, the National Association of Golf Course Owners, the Golf Writers Association of America, Golf Digest, the universities of Tulsa and Oklahoma and CBS Sports.
CBS plans to do a Patriot Day feature before the PGA Championship in Tulsa. Rooney intends to fire up an F-16 to give a thrill ride to a member of the broadcast crew, David Feherty.
And the world's only F-16 pilot/golf pro says, "David's going to get a different perspective on Southern Hills."
"We'll definitely be upside-down over the course."
I, for one, would prefer a five-footer, downhill, sidehill, left to right, 12.4 on the Stimpmeter, past a rattlesnake.