News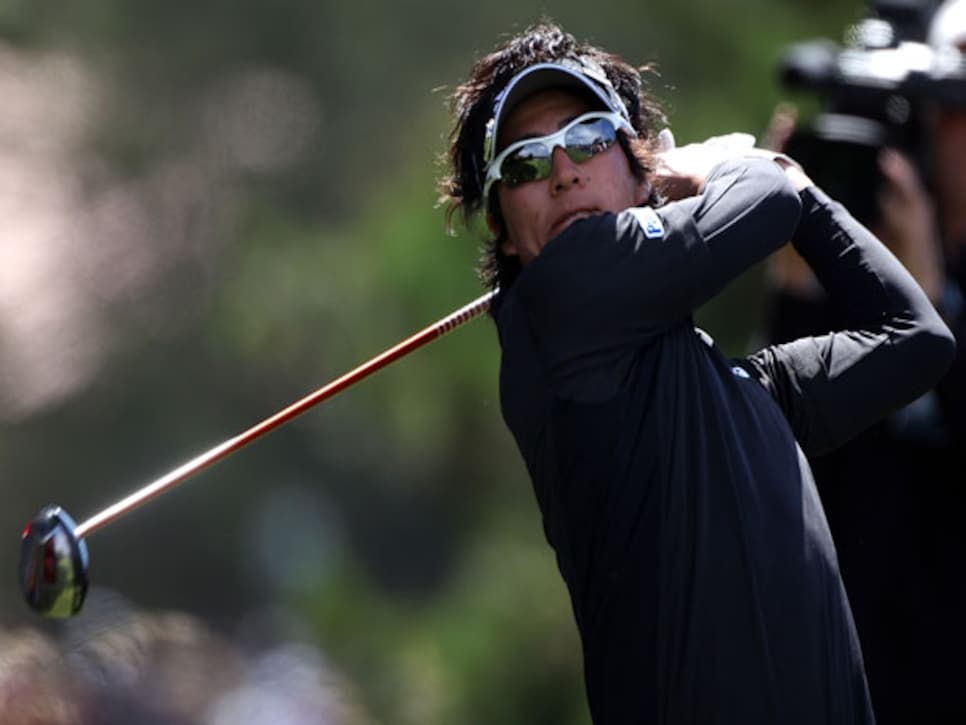 Ishikawa has played well beyond his years at Pebble Beach this week.
PEBBLE BEACH -- The greatest Japanese golfer ever shouted, "Perfect! Perfect! BOOM!"
Then, late Saturday afternoon, Isao Aoki strode up the 11th fairway of this U.S. Open.
He carried a microphone and was trailed by television technicians.
So I moved into his path and asked, "Mr. Aoki, how good is Ryo?"
Dumb question. By acclamation, the prodigy Ryo Ishikawa has been declared the future, certainly of golf in Japan, perhaps golf in the world, if not the universe itself. Who else, after all, has shot a 58 on a major professional golf tour? Only Ishikawa, last month. Who else at age 18 is more than two years removed from his first victory in a professional tournament? Only Ishikawa, who won on the hotly competitive Japan Golf Tour as a 15-year-old amateur.
Aoki considered my question.
Then he said, "Mmmm." And, in his duties as an on-course commentator for Japanese national television, Aoki marched off in pursuit of the perfect-perfect-BOOM drive that Ishikawa had rocketed up the fairway.
I wasn't sure how to translate "mmmm." Perhaps Aoki didn't understand my English. Or maybe he needed time to consider his answer. It's also possible he considered it a dumb question fully answered by Ishikawa's play. What other teenager, after all, goes into Sunday's last round of the U.S. Open two shots behind Phil Mickelson, four behind Tiger Woods, and could win the thing if seven or eight miracles happen simultaneously? Only Ishikawa.
Ishikawa came to the first tee Saturday -- pardon the movie stereotype here -- looking like one of those little, lean, lithe terrors who can spring into the air, do a backflip, land behind you, and kick you upside the head before you know he has moved. He wore all black, except for silver sunglasses. Suggestions of acne on his handsome face were the only hints he was still a kid -- though no one much past adolescence, save for the occasional aging rock star, cares to match Ishikawa's glorious mess of black hair rising in curls above his visor and falling to his collar.
Such is his manner that in Japan they call him "Hanikami Oji," meaning "bashful prince." A London journalist, Kevin Mitchell, writing in the Guardian, was so taken with the prince's achievements and promise that he moved to the fringes of messianic blasphemy, imagining a moment when Ishikawa would appear "shrouded in brilliant white light." Already he has won seven times on the Japan tour, and the young Irishman Rory McIlroy, at 21 a prodigy himself, has said, "Ryo is my hero." Best, Tom Watson laid eyes on Ishikawa for two days this week and declared that as he watched Ishikawa rattle in five-footers, "He reminded me of ME when I was 18."
Off rounds of 70 and 71, he came to Saturday tied for second place, two shots off the lead. He came no closer. On a windy day that made club selection difficult and often baffled even his playing partner, the two-time Open champion Ernie Els, Ishikawa did well for a 75 that left him tied for seventh, nine shots behind the leader, Dustin Johnson. He hit only five of the first 14 greens; he three-putted three times (missing four-footers the way Old Tom Watson does), and made only one birdie -- but that one is worth a mention here, for it came on the fourth hole, a 290-yard par-4, uphill, defended by fronting bunkers only 10 yards apart.
Witnesses knew he was up to something when he pulled his look-alike head cover off the driver.
When I say "look-alike," I mean the head cover looks like him.
Tiger has a tiger. Els, a South African, has a lion.
Ryo Ishikawa has Ryo Ishikawa. A drawing of his boyish countenance, complete with the abundance of hair.
Anyway, he knocked the driver through the opening in the bunkers, only to miss an eight-foot putt for an eagle that might have changed his day. How many 18-year-olds, after all, could go to a Saturday in the U.S. Open with a chance to win it all and play without the trembles? Not Ishikawa. After the round, pressed up against a tree by two dozen Japanese journalists, Ishikawa admitted to stage fright.
"He got more nervous this week because he played in the pairing before the final group and before a large gallery," a translator said. "Overall, he enjoyed playing with Ernie. But when Ryo tried to make a shot, he feels everyone watching."
Then I saw Aoki again. He was part of a scrum of television reporters who first surrounded Ishikawa. To see Aoki, 68 years old, a legend, a World Golf Hall of Famer, a winner on the PGA Tour, runner-up to Jack Nicklaus in the 1980 U.S. Open -- to see Aoki interviewing Ishikawa was to imagine, say, Nicklaus 20 years ago interviewing the prodigy Eldrick Woods.
Rather than ask my dumb question again, I asked a slightly different dumb question.
"Mr. Aoki," I said, "we all know Ishikawa will be very good. But how good?"
"I mean, can he be as good as you?"
Aoki raised his eyebrows.
"No," he said in perfect English.
Now, a beautiful smile. "Never!"