News
Kevin Sutherland wins Charles Schwab Cup Championship and, controversially, Charles Schwab Cup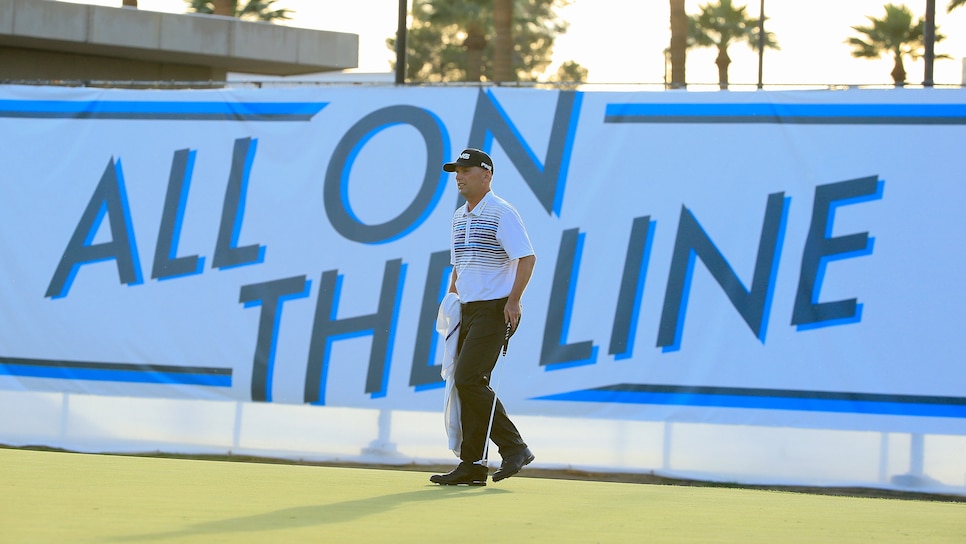 Photo By: Michael Cohen/Getty Images
Bernhard Langer's hold on the Charles Schwab Cup was never tenuous, at least until he tripped on the final lap and caused the PGA Tour Champions to stumble as well.
This is not to shortchange the man who beat him, Kevin Sutherland. By virtue of his victory in the Charles Schwab Cup Championship on Sunday and the system the tour has in place for the season-long points competition, Sutherland not only won the tournament, but the Charles Schwab Cup and its $1 million bonus, as well.
But here's the rub. It was Sutherland's only victory of the year, indeed his only PGA Tour Champions win in four years, while Langer won seven times this year, with two of the seven coming in the three-tournament Schwab Cup playoffs.
Two more points to consider. Langer, 60, would have won his fourth straight Schwab Cup had he reordered his victories in the playoff events. He won the wrong two. And with Langer's tie for 12th despite closing with a seven-under par 64 at Phoenix Country Club on Sunday, Sutherland could have won the Schwab Cup even had he finished second or third in the tournament on Sunday and gone winless for the season.
"I think it needs adjusting," Langer said of a system that includes resetting Schwab Cup points after each of the first two playoff events. "I do, personally, because you could have somebody win the whole thing that hasn't won a tournament all year and I'm not sure that's ideal. But I was on the [PGA Tour Champions policy] board. We said we're going to try this out. I'm not sure if it's perfect. It's maybe like the FedExCup. They had to adjust it two or three times to make it interesting but also make it a little fair.
"It was never meant to be fair. It was meant to be playoffs. Everybody in the field was given a chance to win. Is it fair? No, it's not, but that's how it is right now."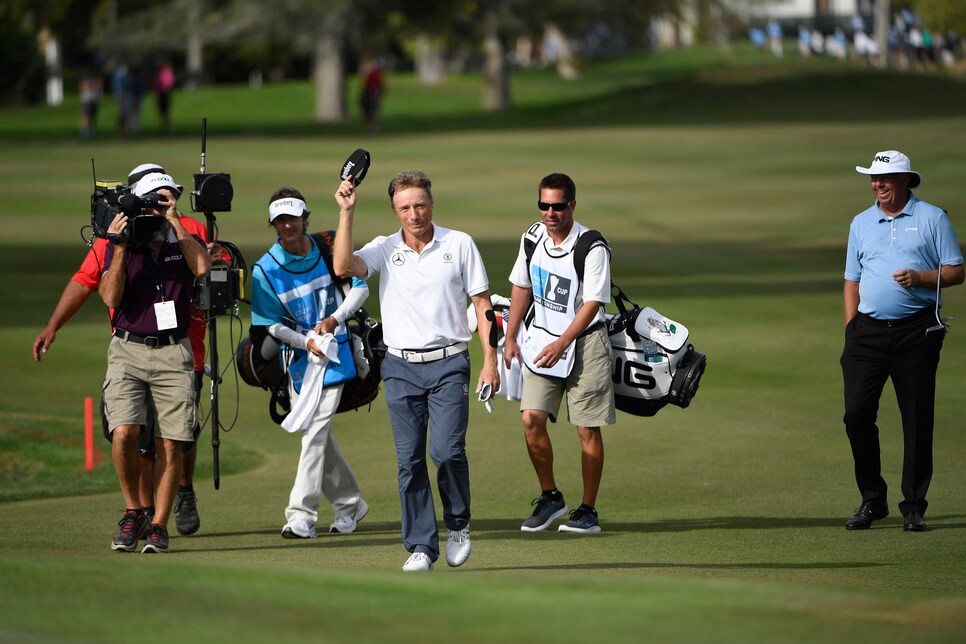 Chris Condon/Getty Images
So be it. The rules were the rules and Sutherland won according to them.
"We might revisit it in the future," Langer said.
Sutherland, to his credit, won for the first time, in 78 senior starts, when it counted most monetarily. His take for the day was $1.44 million, which included $440,000 for his victory in the tournament itself.
"It is amazing," he said, staring at the Schwab Cup he was holding. "And I know the list of champions on here is incredible, too. I'm the luckiest man in the world. Every time I come out here and play I can't believe they let me do this."
They let him do this, of course, because he has a quality golf game, notwithstanding his previous inability to win. He has finished in the top 10 in nearly half his senior starts, 38 in all, including 15 of 23 starts this year.
Victory, one might have reckoned, was imminent.
"I played really well all year and I just couldn't find a way to get a win," he said. "So to win this tournament, it's unbelievable. I'm sure in a couple days it will sink in a little bit, but right now it just seems like I'm not even sure it really happened, I keep pinching myself. It feels good and it's been a long time since I won a tournament. I haven't won since 2002 [WGC-Accenture] Match Play, so 15 years. So it feels good."
Sutherland, with a birdie at the 16th hole, broke from a crowded leader board that at various times included Vijay Singh, Lee Janzen, David Frost, Brandt Jobe and Paul Goydos, but not Langer.
Michael Cohen/Getty Images
He finished with a bogey-free five-under-par 66 that gave him a 54-hole score of 15-under 198, one ahead of Singh and Janzen.
"I hit the ball really well today," he said. "I played fantastic. I drove it great. I tweaked my driver and hit it great this week."
As for Langer, he is a cinch to win tour player of the year honors for the seventh time. And even at 60, he isn't looking for the easy chair, as he noted when asked his goals going forward.
"Just the main goal is to improve myself, to have a better technique or to have better chipping, putting, whatever it is," he said. "If I can continue to improve, I'm going to have a good chance to win tournaments, to win majors and to be one of the top five or 10 guys out here."
Keep improving. That's a worthwhile goal for any player on the senior tour. It, too, ought to be goal No. 1 for those charged with the Charles Schwab Cup points system that let them down on Sunday.