News
Kevin O'Connell, a former professional golfer, wins U.S. Mid-Amateur, earns Masters and U.S. Open starts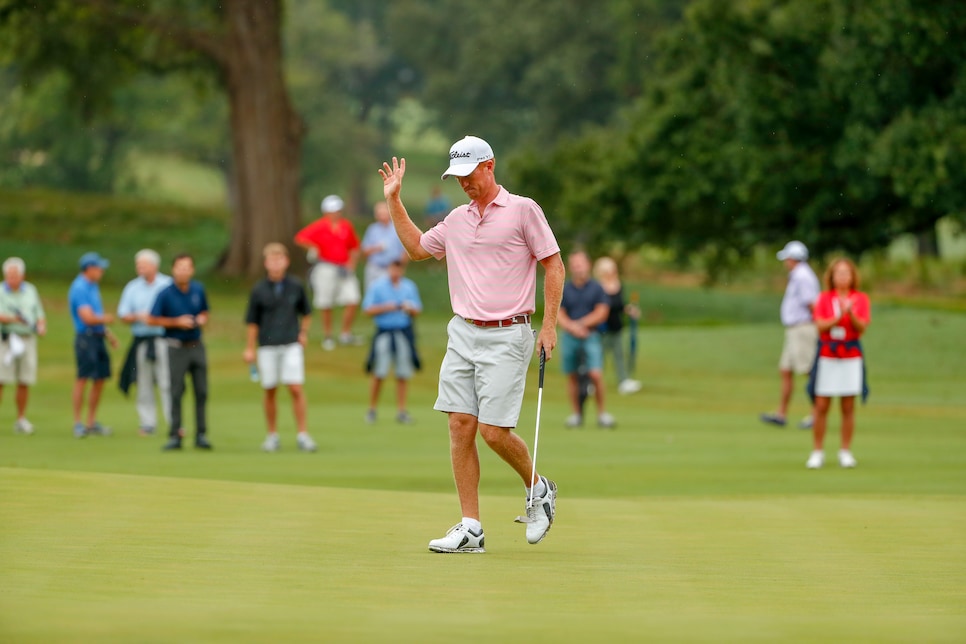 Copyright USGA/Chris Keane
Kevin O'Connell is yet another recovering professional golfer who found an alternate route to golf's biggest stages by winning the U.S. Mid-Amateur Championship on Thursday.
In an all-North Carolinian final at Charlotte (N.C.) Country Club, O'Connell defeated Brett Boner, 4 & 3, in the 36-hole final to earn an invitation to play in the Masters and an exemption into the U.S. Open next year.
O'Connell, who resides in Cary, N.C., turned professional after playing four years at the University of North Carolina and attempted the PGA Tour Qualifying Tournament three times before giving up and filing to reclaim his amateur status. He is, however, contemplating a return to professional golf, he said after winning the Mid-Amateur.
Last year's Mid-Amateur champion, Matt Parziale, also played professional golf before joining the Brockton, Mass., fire department and regaining his amateur status. Parziale missed the cut in the Masters, but made it in the U.S. Open and was low amateur.
O'Connell, 30, had to beat an opponent playing a veritable home game. Boner is a Charlotte native, who was playing before a large contingent of family and friends.
Yet Boner put himself in a deep hole early, when in the morning 18 he lost five straight holes, 10 through 14, assisted in part by his own mishaps; he played the first three of them in double-bogey, double-bogey and bogey.
Boner, 44, a financial advisor, closed O'Connell's lead to 3 up at the end of the morning session, but O'Connell won the 23rd and 24th holes, the latter on another double-bogey by Boner to again go 5 up. Boner was 4 up with four to play when his victory celebration was delayed for an hour and 10 minutes by a thunderstorm in the area. When play resumed, he and Boner halved the 33rd hole, ending the match.
"It's a very bittersweet ending because I played really poorly today for the most part," Boner said. "Made some bad decisions that I didn't realize at the time. Maybe experience has something to do with it. But it was an incredible week with an enormous amount of the memories for my friends. To have this kind of support out here, you know, it was almost a dream come true. Almost."