News
Kevin Na shoots bogey-free 62, leads by one over Charley Hoffman at the Fort Worth Invitational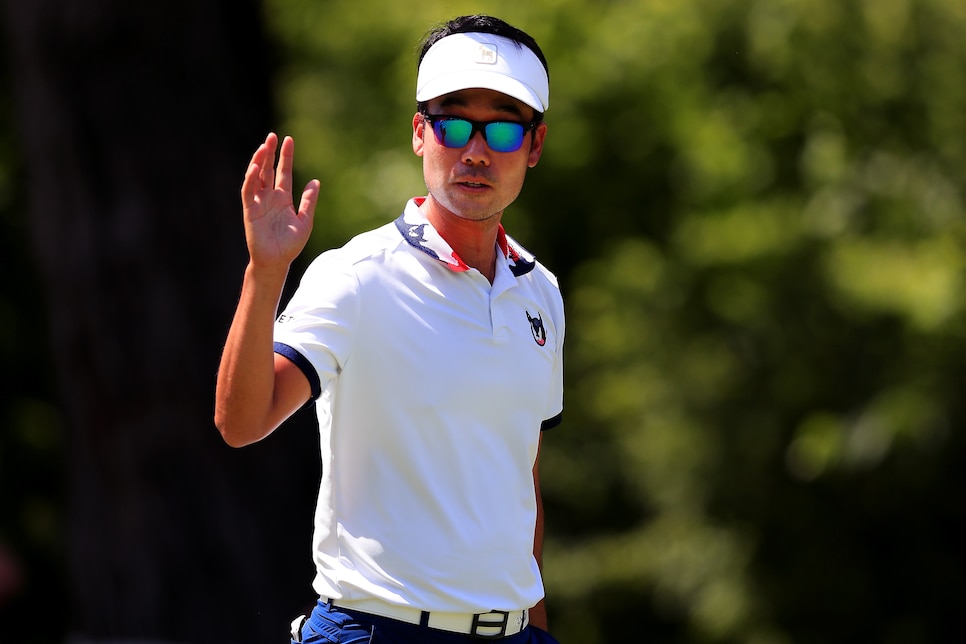 With the rate he puts himself near the top of the leader board, it's hard to fathom that Kevin Na has just one PGA Tour victory, and it's even more difficult to fathom how that lone win didn't come at Colonial Country Club. In 11 trips to Fort Worth, Na has six top-25s, three top-10s and had held the lead after 18 holes twice.
After carding a bogey-free, eight-under 62 on Thursday, Na will take the lead into Friday at the Fort Worth Invitational for a third time. Whether or not he can convert that into an elusive second victory remains to be seen, but he likes his chances on a golf course where shorter hitters have found plenty of success.
"I don't know. Southern barbecue?" Na said searching for an explanation. "Well, I do know. This is a great golf course for me. Every year I come here I have high, high expectations, high hope coming into this event.
"Course sets up nice for me. I've had some success here in the past. I really like coming here. The tournament does a great job of hosting players, too. I wouldn't miss it."
Early in the day, Na's round did not have the makings of a 62, as he opened with five straight pars on Colonial's back nine. But then he hit his tee shot to two feet at the 163-yard par-3 16th hole, and he started rolling at full speed. Birdies at 17 and 18, plus an eagle at No. 1 and another birdie at the par-4 second got him to six under on the round.
"I was hitting it really great, just making some routine pars. I had a couple chances, some misses, and then I hit it really close on 16. I would say four, five feet. Made that. Felt pretty good," Na said.
"I've had six birdies in a row. I think [it's] probably top three streaks. My best streak was I think eight under through seven holes, at the Hope. I like stretches like that."
Na made two more birdies, including an improbable 92-foot chip-in after getting a free drop at the par-4 ninth that showed why he is No. 1 on tour in strokes-gained/around-the-green.
"Where I dropped it there was a huge ridge that's going right through the middle, and I had to play up so high. Goes up and down, and before I hit the chip I say to Martin Laird's caddie take the bag behind the green and move it, because I can chip it over the green right down the other side.
"I looked at that and I go, 'Yeah, that can happen.' I just hit a perfect chip. I saw it go over the ridge and I was like, 'This is going to be good. It's going to be close.' Then it catches the right lip and goes in. I was like, 'Oh, my God.'"
Na leads by one stroke over Charley Hoffman, whose seven-under 63 was also bogey-free. After a fantastic 2017 that earned him a spot on the U.S. Presidents Cup team, 2018 hasn't been nearly as kind to the four-time tour winner, with no top-10 finishes. But a new putter could be what he needed to get back on track.
"It's new this week," Hoffman said of his new flat stick. "I had an idea literally on Sunday coming out here that I wanted to have a little more weight to my putter. I went with one that was sort of in my bag of putters at home that I could add some weight here.
"It's a new experiment that for one day has worked. Hopefully keeps rolling."
Hoffman holed seven birdies, three of them from more than 13 feet, and ranks 11th in strokes-gained/putting at the end of the opening round.