News
Kevin Na joins exclusive club with his wild scoring week at Colonial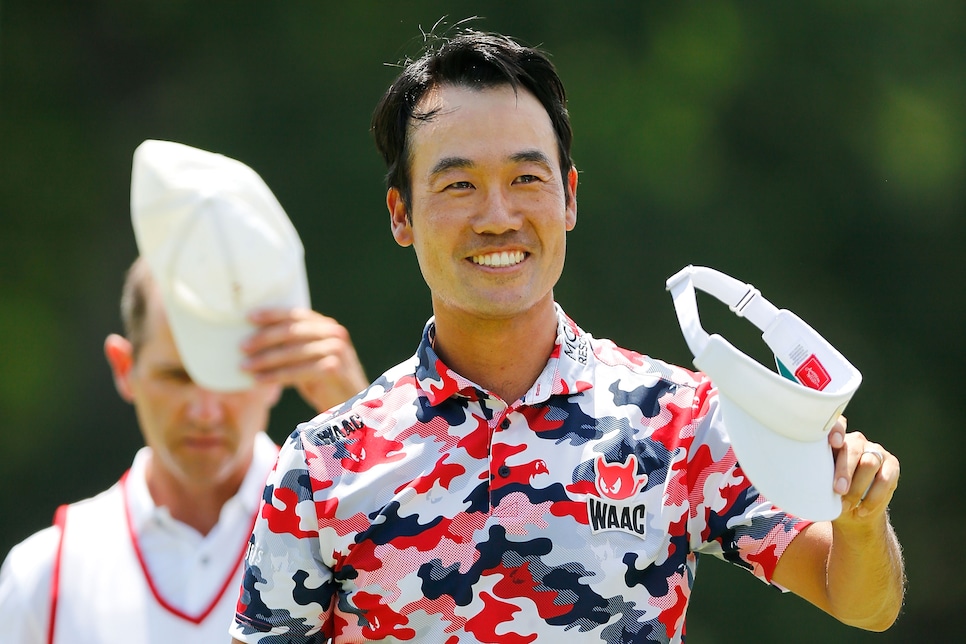 Michael Reaves/Getty Images
You would have been right to describe it as an eventful week for Kevin Na at the Fort Worth Invitational, even without going out on Sunday and shooting a closing 61 to match the course record at Colonial Country Club. If you hadn't seen it by now, Na had an all-world exchange with his caddie, Kenny Harms, during Thursday's first round over this shot at the ninth hole, his last of the day. Mind you at the time, Na was seven under on his round:
Na and Harms have been together on the PGA Tour for more than 10 years. Like an old married pair, the bickering came and passed—helped by the fact that Na's crazy birdie on the last hole did give him a 62—and they were back at it on Friday.
Unfortunately for the couple, I mean, the golfer and caddie, Na could not back up the low round with another one on Friday, shooting a disappointing three-over 73. And on Saturday, a pedestrian even-par 70 left them essentially out of the tournament after Justin Rose took the 54-hole lead with rounds of 66-64-66.
"The second round was awful," Na said. "I actually had it going was two under and then the wheels came off. But it can happen out here."
While starting the final round tied for 21st, Na felt it again on Sunday at Colonial. With nine birdies, including five on the back nine, Na shot his 61, racing him into a tied for second when he walked off the course.
"I played amazing today," Na said. "I struck it beautifully. Made a ton of putts. ... Round 1 and Round 4 felt like it was 'Groundhog Day.' "
By day's end, his 14-under 266 left him in solo fourth, six strokes back of the winner, Rose after he shot another 64 of his own.
As you might imagine, two rounds of 62 or lower in a tournament is a fairly rare feat. According to the PGA Tour, it's only been done five previous times by four golfers since 1983.
Aaaon Baddeley, 2003 Valero Texas Open, 62 in first and fourth rds.
Steve Stricker, 2009, Bob Hope Classic, 61 and 62 in the third and fourth rds.
Troy Matteson, 2009 Safeway Open, 61 and 61 in the second and third rds.
Steve Stricker, 2010 John Deere Classic, 60 and 62 in the first and third rds.
David Toms, 2011 Crowne Plaza Invitational at Colonial, 62 in the first and second rds.
Amazingly, Na made it three times where the player shooting the twin low rounds yet not win the tournament, joining Baddeley (who finished fifth) and Stricker at the Hope (T-3).
Still, Na's Sunday rally could have bigger implications when you consider that the 34-year-old tour veteran has yet to qualify for next month's U.S. Open. He ranked No. 75 in the world entering the week, and left Fort Worth ranked 62nd. If he can get into the top 60 in the World Ranking by the week of the Open, he will get an exemption into the event. He's playing at Memorial this coming week, an event where he finished runner-up in 2014.