News
Kevin Kisner's grit withstands Jordan Spieth's return to form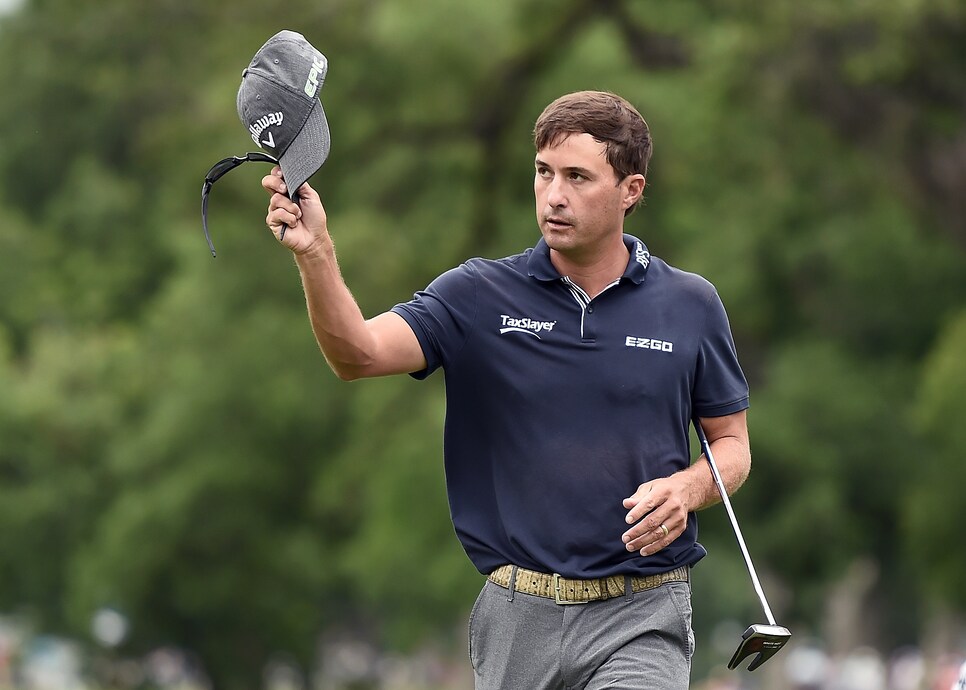 Presumably true grit is appreciated in the southwest, which ought to salve the disappointment Texan golf fans might have taken away from the Dean & DeLuca Invitational when Jordan Spieth came up short on Sunday.
Grit is a hallmark of the man who beat him, Kevin Kisner, who took the lead early on the back nine at Fort Worth's Colonial Country Club and stubbornly refused to relinquish it.
So Kisner won and Spieth lost, yet each quelled trivial talking points, that Kisner does everything but win and concerns over the state of Spieth's game.
The victory was Kisner's second on the PGA Tour, but in the interim between wins he had finished second twice, third once and fourth twice.
"You start questioning if you're going to win again after a while," Kisner said. "Everybody was questioning if I was ever going to win. Then I win, and then everybody questions if I was ever going to win again. But I knew the way I was playing I going to give myself a ton of chances to win. That's all you dream about, is having a chance coming down the last five holes. I've had that probably three or four times this year. It's always fun, and you always handle it differently."
This time he handled it expertly, by saving par from behind the 18th green and holing a five-foot putt to win.
"Hats off to Kiz," Spieth said moments after standing on a folding chair on the clubhouse veranda to get a better look at whether he might be headed to a playoff. "Kiz is such a solid player. He deserved that win."
On a course known as Hogan's Alley, one that requires Hogan-esque precision, Kisner, over four rounds, led the field in fairways hit and was second in greens in regulation, diminishing stress on the short game. Yet when the targets shrunk on Sunday—he hit only eight of 14 fairways and 12 of 18 greens in regulation—his short game was up to the task, resulting in a four-under 66 for a one-stroke victory over Spieth, Jon Rahm and Sean O'Hair.
Spieth, meanwhile, started the final round five shots off the lead, shot a bogey-free five-under 65 that, had it not been for what Spieth descried as "nasty lipouts" on the third and 12th holes, might have given the tournament its first back-to-back winner since Hogan's victories in 1952 and '53.
Still it was Spieth's best finish since he won the AT&T Pebble Beach National Pro-Am in February and came on the heels of consecutive missed cuts and an anemic start at Colonial that elicited those concerns.
"It was tough the first two days," Spieth said. "We found ourselves at the tough end of the draw, which over time things even out, but we were there last year, too. Three over, looking at three straight missed cuts, two at home, I wasn't in a great place."
Spieth avoided another weekend off by playing his back nine in four-under par 31 on Friday, shot 68 on Saturday, then gave himself a chance to win on Sunday.
"I could look back at the end of the year and this could have been the most important round of the year," he said. "I hope that's the case. Friday's second nine was tremendously important, as well. I knew I needed it and then did it. When that happens, mentally it's a breather.
"Today was a big round. Feel really good about my ball-striking. Got a little off towards the end of the round when the nerves were really on. That's what I wanted to see, where exactly is it and how do we adjust. So hopefully we get in contention next week and do a little bit better."